Elizabeth Blades
Style: World; Pop; Opera; Folk; Classical; Musical Theatre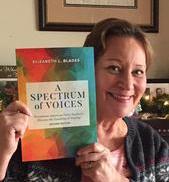 Title: Visiting Professor, Alfred University, Alfred, NY
Bio:
Elizabeth Blades, DMA Vocalhealthworks: betsy@elblades.com 7035176451 Also via FaceTime and Skype internet lessons
Elizabeth Blades holds both Doctor of Musical Arts and Masters of Music Degrees from the prestigious Eastman School of Music in Rochester, New York, where she also taught vocal pedagogy courses and voice classes and received the 1990 Graduate Teaching Assistant Award for Excellence in Teaching. Dr. Blades is a Phi Beta Kappa, Magna cum Laude graduate of Skidmore College and also received a Masters of Science degree from the University of Kansas. Since 2000, she has been regularly included in Who's Who in America, Who's Who in American Education, Who's Who in American Women, and the British publication, 2000 Musicians for the Year 2000. She was most recently Adjunct Associate Professor of Voice, Shenandoah University Conservatory in Winchester, VA. Her previous appointment was at Heidelberg College in Tiffin, Ohio, where she served as Associate Professor of Music, Coordinator of Vocal Studies and Director of Opera. While at Heidelberg, she taught studio voice, vocal pedagogy, language diction (Italian, German, French), courses in music education, supervised student teachers and directed musical theatre and opera productions. She also created a course for the Honors Program entitled "Topsy-Turvy: American Musical Theatre Meets British Social Class Structure" which culminated in a 2-week study trip to Great Britain. In addition to an active teaching, presenting and performing schedule, Dr. Blades is a committed researcher in voice performance pedagogy. She is the author of A Spectrum of Voices: Prominent American Voice Teachers Discuss the Teaching of Singing and Singing With Your Whole Self: The Feldenkrais Method and Voice (with Dr. Samuel Nelson, Certified Feldenkrais Practitioner), both with Scarecrow Press. Her most recent research studies are concentrated on using spectrographic analysis to document the effects of Feldenkrais work on the singing voice. She presents national and international workshops to share the results of this research and to advance understanding of the impact Feldenkrais work can have for performance enhancement.
Dr.Blades is an active soprano experienced in all forms of voice performance: opera, oratorio, musical theatre, folk and recital and has performed with major companies and symphonies throughout the United States. She is a well-known director of both opera and musicals including Amahl and the Night Visitors, The Tender Land, The Student Prince, HMS Pinafore, Brigadoon, How to Succeed in Business (Without Really Trying), Oklahoma!, Man of La Mancha and My Fair Lady. She is also a frequent adjudicator for NATS (National Association of Teachers of Singing) auditions and competitions. Her workshops, master-classes and lecture-demonstrations have received glowing reviews: most recent presentations include those for Colorado State Music Teachers, Indiana University's summer voice workshops; "Feldenkrais and Voice" at Karlstad University, Sweden, Colorado-Wyoming NATS Fall Workshop; Pan-European Voice Conference in Groningen, the Netherlands; the Physiology and Acoustics of Singing in York, England, the National Federation of Music Clubs Colorado Chapter, the National Association Teachers of Singing Intern program, South Carolina chapter of NATS fall workshop and the Physiology and Acoustics of Singing Conference in Denver. In addition, she is the Founder-Director of Vocalhealthworks, dedicated to advancing healthy vocal technique and to rehabilitating injured or endangered voices. In 2010, Dr. Blades was invited to be one of the first 7 American voice teachers to receive training and certification as a CoreSinging ™ teacher. Dr. Blades is also the founder, producer and artistic director of the Allenspark Performing Arts Company which launched its maiden season in July, 2011. Dr. Blades teaches privately on-line across 4 time zones as well as in-person at Harmony House Music Studio in Hornell, NY.
Voice Type: Soprano
Music Styles Taught: World; Pop; Opera; Folk; Classical; Musical Theatre
Availability: I am available as a performer; I am currently accepting private students; I am available as a clinician or presenter; I offer lessons in a group environment; I accept students through a college or university program
Contact Information
Studio