What They Are Saying: Past NATS Interns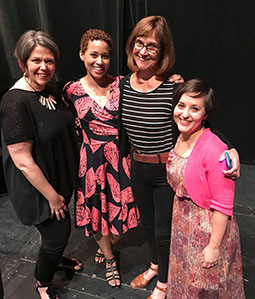 Pictured: Master teacher Mary Saunders Barton (third from left) with 2017 interns Michelle Markwart Deveaux, Katherine Jolly, and Tara Nixon
"The perfect storm of teamwork, vulnerability, and high expectations
has encouraged us all to blossom. Coupled with the extensive vocal
literature resources... I know we will all leave energized to continue this important work!"
— Tara Nixon, 2017 NATS Intern

"The new collaborative piano program is equally beneficial to the teaching interns as we continue to learn and address skills that help our students become more artistic collaborators, while the collaborative piano interns gain field experience accompanying
lessons and masterclasses."
— Bridget Moriarty, 2017 NATS Intern
---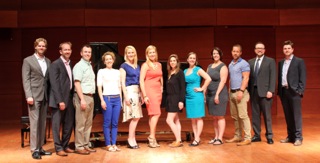 Pictured: 2016 NATS Intern Program Participants
I've often heard that the Intern Program is the best thing that NATS offers, and I couldn't agree more. The ripple effect of this Program is endless. Every Intern will forever be a better teacher and their students will be better teachers because of it. I'm so grateful for the experience and for the lifelong bonds that were formed during those formative weeks together.
- Aaron Humble, 2016 NATS Intern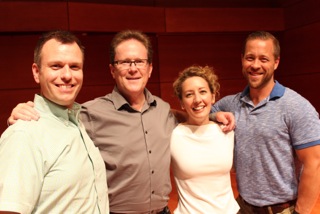 Pictured: NATS 2016 Interns (from left) Aaron Humble, Master Teacher James Doing, Jamie-Rose Guarrine, and Derek Chester.
I feel that the Intern Program not only enriched my teaching, but also was a forum to nurture my own performance practice and technique. I left the Program feeling incredibly inspired by both the master teachers and my fellow Interns, who I now consider not only colleagues but dear friends. I have so many new strategies to apply to my own teaching, and left the Program with so much information on voice science, pedagogy, repertoire, and contemporary commercial vocal performance. I'm so excited to apply my new knowledge in my studio.
- Jamie-Rose Guarrine, 2016 NATS Intern
---
Thank you so much for the wonderful opportunity! This program was an amazing learning, teaching, academic and networking experience for me. I cannot thank NATS enough for their investment in me and my teaching. I only hope that I will be able to give back to NATS what has been given to me so freely.
- Chadley Ballantyne, 2015 NATS Intern
---
The NATS Intern Program was an enriching experience that provided me with new ideas and tools to take back to my students. I was able to work with my master teacher to hone my teaching skills and style, while strengthening my understanding of the application of various vocal techniques and ideas about performance practice. It was also a wonderful opportunity to meet and work with other colleagues from across the nation to share our passion for teaching and performing. 
- Joshua May, 2014 NATS Intern
The NATS Intern Program strengthened and deepened my teaching skills. It was an excellent place to connect with professional colleagues in an open environment of observation and learning from one other. I only wish I could attend every year!
- Laura Hynes, 2014 NATS Intern
I found my participation in the National Association of Teachers of Singing Intern Program absolutely transformational. The master-class approach to the applied teaching process has forever changed the way I approach my teaching.
- Minnita Daniel-Cox, 2014 NATS Intern
---
Really I thought it was a great, well-rounded program. I would not trade this experience for anything – it was life-changing!
- Anna Hersey, 2013 NATS Intern
---
It was tremendously beneficial to have my teaching observed daily, and to receive constructive criticism from my master teacher and colleagues. My master teacher encouraged our group to write reflections and lesson plans with attention to specific goals for future lessons. This helped me approach my teaching in a more mindful way. As a result, I become more effective and efficient in my teaching. My master teacher helped guide me to find real solutions with my respective students that were successful and yielded positive outcomes. I feel as if I just experienced a teaching "growth spurt"
- Bronwen Forbay, 2013 NATS Intern
---
I loved every second I spent in the internship and hope it continues for many years to come. Learning, growing, and being stretched in a supportive and positive environment once you've become a professional is a rare opportunity, and was one of the highlights of my career thus far.
-Chuck Chandler, 2012 NATS Intern
---
The warm and supportive atmosphere gave us permission as interns to try new things and take risks in the lessons we were each teaching.  I was truly blown away by the master teachers, and also learned so much from my colleagues.
- Meredith Ziegler, 2012 NATS Intern
---
The NATS Intern program was the ideal learning environment in which to grow. Working alongside a group of brilliant peers while interacting with generous master teachers created an education of intense, dynamic and insightful proportions.
A flood of valuable information from lectures, recitals, and observing my peers and master teachers instructing other singers was the most productive class in teaching pedagogy I've ever been a part of.

This was a tremendous opportunity that bonded me forever with my peers and master teachers and gave me much more than information--it gave me affirmation to teach with confidence and value what I do--teaching is art!
-Jared Schwartz, 2011 NATS Intern
---
I am very pleased to say that my experience attending the NATS Intern program was tremendously fulfilling. At the same time that I was challenged to stretch myself as a voice teacher, singer, and academic, I felt affirmed in my particular strengths as a vocal pedagogue and performer. My master teacher, Marietta Simpson, was an inspiring mentor who led us through our days with compassion and wisdom. The other faculty and staff were both brilliant and kind hearted. And my fellow interns were wonderfully supportive as friends and colleagues. I will be forever grateful for this opportunity.
-Jennifer Farrell, 2011 NATS Intern
---
The NATS Intern Program is, without a doubt, the most beneficial post-graduate training a young voice teacher could receive. The training was intensive and concentrated and each day left us feeling saturated with excellent information. I would repeat the process without hesitation and only wish I could complete the program again! I was paired with an excellent mentor, Dr. Christopher Arneson, who diligently guided my colleagues and I through each session with discipline, humor and kindness and a clear understanding of pedagogy. In short, I equate the NATS Intern Program with the best, most effective semester/year of graduate school I have ever had.

Additionally we received I generous collection of vocal repertoire and books to add to or start our own library. This contribution by the various authors, composers and publishers is a wonderful perk to an already invaluable program. I also found the lectures, master classes, reading sessions, etc. to be valuable and contain truly helpful information.

I will be forever grateful to the NATS organization for investing in me and allowing me to participate in this extraordinary program. Thank you thank you!
-Holly Wrensch, D.M.A., 2011 NATS Intern
Assistant Professor of Voice
Concordia College
---
THIS is what continuing education is all about. Meeting amazing people in my beloved field and unashamedly stealing each other's ideas, concepts, methods, and knowledge. Actually giving our best stuff away. Here, it's free! Take it! Making connections between seemingly unrelated concepts that suddenly reach a confluence so powerful you know it will revolutionize the pesky recurring pattern that Student ABC has been having trouble releasing. So much fabulousness we have to actually stretch our brains bigger to hold it all, and guess what? We are stretching (excerpted from Katy's Blog).

A fellow intern, Dr. Holly Wrensch, described the NATS Intern Program as the best doctorate level graduate course she had ever taken. I arrived feeling a little like a fish out of water listening to this flock of highly educated opera birds who just flew past me, blowing me away. It was inspiring just to be in the same room with these brilliant minds and soaring voices full of not just knowledge and technique, but passion and desire. Thinking I was the one who needed all the educating, I swallowed what semblance of pride I had and started asking questions. Graciously, everyone, both mentor teachers and fellow interns alike, were more than happy to answer everything I threw at them. And lucky me, they knew the answers I was seeking (excerpted from Katy's Blog).
-Katy Peterson, 2011 NATS Intern