History of NATS
The 1940s
NATS was founded on March 23, 1944 in Cincinnati, Ohio at an MTNA convention through the efforts of three organizations: American Academy of Teachers of Singing, the Chicago Singing Teachers Guild, and the New York Singing Teachers Association.
Founding Fathers John C. Wilcox, Leon Carson Richard De young, Homer Mowe and William Allen Stults formed the first Executive Committee. They also became the first five presidents of the organization.
President John Wilcox (1944-46)
The Bulletin became the official publication.
Eight districts were established.
First NATS convention held in 1946 in Detroit with MTNA.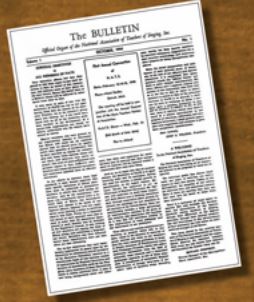 President Leon Carson (1946-48)
Dues were increased to $5.
Helen Steen Huls became the first woman Vice President.
The NATS Seal, designed by President Carson, first appears in the May-June 1946 issue of TheBulletin.
Carson became editor of the Bulletin in 1948.
President Richard De Young (1948-50)
De Young secured the recognition of NATS as a "Learned Society" through the Association of Schools and Colleges.
In 1949, the first official chapters (Boston, Colorado, Los Angeles, and Chicago) were chartered.
Established a committee on Basic Fundamental Requirements of the Teacher of Singing. This Committee created a document with 14 tenets. The committee was later renamed ACOVE (Advisory Committee on Vocal Education).
First NATS Workshop was held at Indiana University on August 12, 1949. 65 members attended.
By December 31, 1948 Membership passed 1020. Membership grew by 35% during the De Young presidency