NATS Intern Program
The NATS Intern Program is a preeminent offering for early-career voice teachers (both academic and independent) and collaborative pianists.

Hear all about the program from participants and master teachers.
---
Details
Dates: May 30 -June 10, 2022
Location: Georgia Southern University, Statesboro, GA
Director of the NATS Intern Program: Karen Brunssen, Northwestern University
Local Coordinator: Tamara Watson Harper, Georgia Southern University
Vocal Literature Liaison: Tana Field, Murray State University
All applications must be completed online at NATS.org, including submission of any and all materials by midnight on December 15, 2021.
2022 Faculty: Master Teachers


L to R: Barbara Hill Moore, Darryl Taylor, Alan Darling, Scott Piper, and Eden Casteel.
Voice
Barbara Hill Moore (Southern Methodist University)
Scott Piper (University of Michigan)
Eden Casteel (Independent Studio, RI)
Darryl Taylor (University of California, Irvine)
Collaborative Piano
Alan Darling (Northwestern, Bienen School of Music)
---
About the NATS Intern Program
The NATS Intern Program is an exceptional training experience that seeks to pair expert and recognized master teachers with talented early career members of NATS. Within an intensive format designed to promote the dynamic exchange of ideas and techniques, the goal is to improve substantially the studio teaching skills of voice interns and the coaching skills of collaborative piano interns.
Voice interns teach four lessons each to two students (preferably one male and one female) and participate in master classes and coaching under the supervision of master teachers.  Collaborative piano interns accompany lessons, perform in master classes and other sessions as appropriate, and coach voice interns under the supervision of the collaborative piano master teacher.  In addition, the master teachers, a vocal literature liaison, and selected guests present special lectures and demonstrations.
The voice master teachers typically include collegiate and independent studio teachers who specialize in 'classical' singing, in 'non-classical' styles, and who have experience in the needs of the private studio. Interns are normally assigned to work with a master teacher in the area of the Interns' area of specialization. Independent studio teachers are strongly urged to apply.
NATS and the NATS Endowment provide tuition, housing, and meals.  Interns are responsible for their travel expenses, though they may request financial assistance from their NATS chapters or regions as well as from their institutions of employment.
---
Testimonials 
Testimonials from 2019 interns:
"It was, indeed, career-shaping, and I will never forget the things I learned and the people who have now become part of my vocal family."
"The most valuable part was absolutely working with my master teacher…. He went above and beyond for us pianists."
"This program was exactly what my mentors told me it would be and more: the single most formative experience of my early teaching career…. And more than anything, I am so thankful for the lasting relationships I forged with the other interns."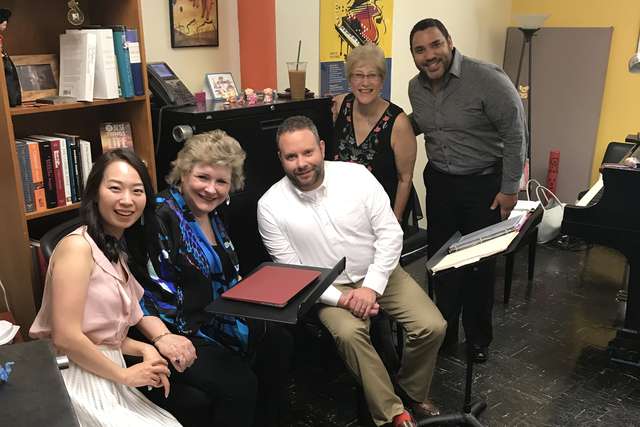 Pictured: From the 2018 intern program (from left) Angela Yoon, Margaret Cusack (master teacher), Todd Wedge, Arlene Shrut (master teacher), and Mark Kano
Testimonials from 2018 interns:
"This was really an extraordinary opportunity. Of all the NATS events and programs I have experienced, this one was by far the most helpful for developing my teaching style."
"Our team environment was so inspiring. We would discuss voice teaching, voice science, and various pedagogical approaches almost nonstop throughout the day..."
"The literature/publication was very interesting – I enjoyed seeing the new materials available. I LOVED all of the teacher's sessions. Seeing what each master teacher brings to their craft was very valuable."
"As a young educator, it might be overwhelming when you jump into the teaching field. It was great to have mentors to ask questions and have other interns to share their experiences on particular issues."
---
Hosting a Summer Intern Program
If your school or facility would be interested in coordinating/hosting a future NATS Summer Intern Program, please contact  for details and facility requirements.

Supporting the Summer Intern Program
If you are interested in contributing to the support of the NATS Intern program, please contact NATS Development Director  or call the office at 904-992-9101.