Journal of Singing - Article Submission Guidelines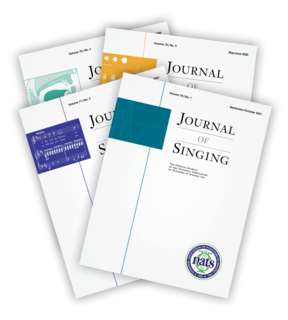 Journal of Singing welcomes contributions on all subjects relating to the voice, such as—but not restricted to—structure and function, history and literature, scientific and laboratory research, performance, care and nurture, and current and historical pedagogy. All articles become the property of National Association of Teachers of Singing, a nonprofit organization. Authors receive no compensation for their submissions. It is assumed that no article has been submitted simultaneously to or has appeared in another journal.
Articles submitted to Journal of Singing are forwarded to the Editorial Board for evaluation. The Board is made up of eight members of the Association chosen for their expertise in a variety of voice-related fields. Upon completion of the peer review, the Editor in Chief makes a final decision concerning publication. Three courses of action are possible: (1) the article is accepted as submitted or with minor emendations; (2) the article is returned to its author for revision; or (3) the article is rejected.
If an article is deemed to require an accelerated publication cycle it may be published online ahead of print. Such articles will later be assigned to a volume and issue and published traditionally, both print and online.

A submission should be of topical interest to a significant part of the widely varying constituency served by the periodical and advance the literature in its particular subject area. The latter criterion may be addressed by synthesis, amalgamation, or critical examination as well as by original research. The article should be well organized with a clear statement of purpose in its introduction. Where applicable, it should contain a review of the literature and should include a list of selected references appropriate to the subject area. Great care should be exercised with written style and form and in use of language. First-person pronouns should be avoided unless they are essential to the nature or content of the article.
Please note that the Journal of Singing has migrated to a new ScholarOne Manuscripts submission and peer review platform. All contributors must now upload submissions through the ScholarOne site; please do not email articles directly to the Editor-in-Chief as of July 28, 2022.
First, please download and review the updated Guidelines for Contributors. There you will find information about the ScholarOne manuscript submission process, with other updates throughout.
Before submitting, you must create a user account in ScholarOne following these steps:
Navigate to the Journal of Singing ScholarOne Manuscripts site.
Click the Create Account link at the top left of the page.
Supply the requested information. You must enter information in fields marked with a red 

req

., but we encourage you to fill in all fields that are applicable.
Take note of the User ID and Password you create so you can log back in later.
Once your account is created, click the link to log in.
To submit a manuscript, you will either be taken to the Author role automatically or will have to click the Author link.
Authors:
After log-in you'll find the Author tab at the top of your home page; click on that tab to enter your Author Dashboard and see all available options. From the Author Dashboard you may start a new submission, check on the status of previously submitted manuscripts, and read or send journal messages.
When you're ready to upload a new article, assemble all necessary files and email addresses for all authors, enter the Author Dashboard, click on Start New Submission, then follow the on-screen instructions to Begin Submission. 
Peer Reviewers:
Please note that the admin (Laura Carter) will need to give all Editorial Board members special permissions once user accounts are created, so Board members should notify her at laurac@nats.org after account creation. Board members will be able to work within either Author or Reviewer roles.
For all peer review tasks, Editorial Board members can visit the Review Dashboard after log-in by clicking on the Review tab at the top of the page. There they'll find a task list of all reviews to be completed and submitted. 
When Editorial Board members wish to submit articles as authors they must visit their Author Dashboard tab and follow the New Submission instructions for authors (see above, or follow the on-screen prompts).
Contact laurac@nats.org for more information.