NATS Newsletters
Reach thousands of NATS members and hundreds of other friends who work in the industry directly through e-mail newsletters.
Intermezzo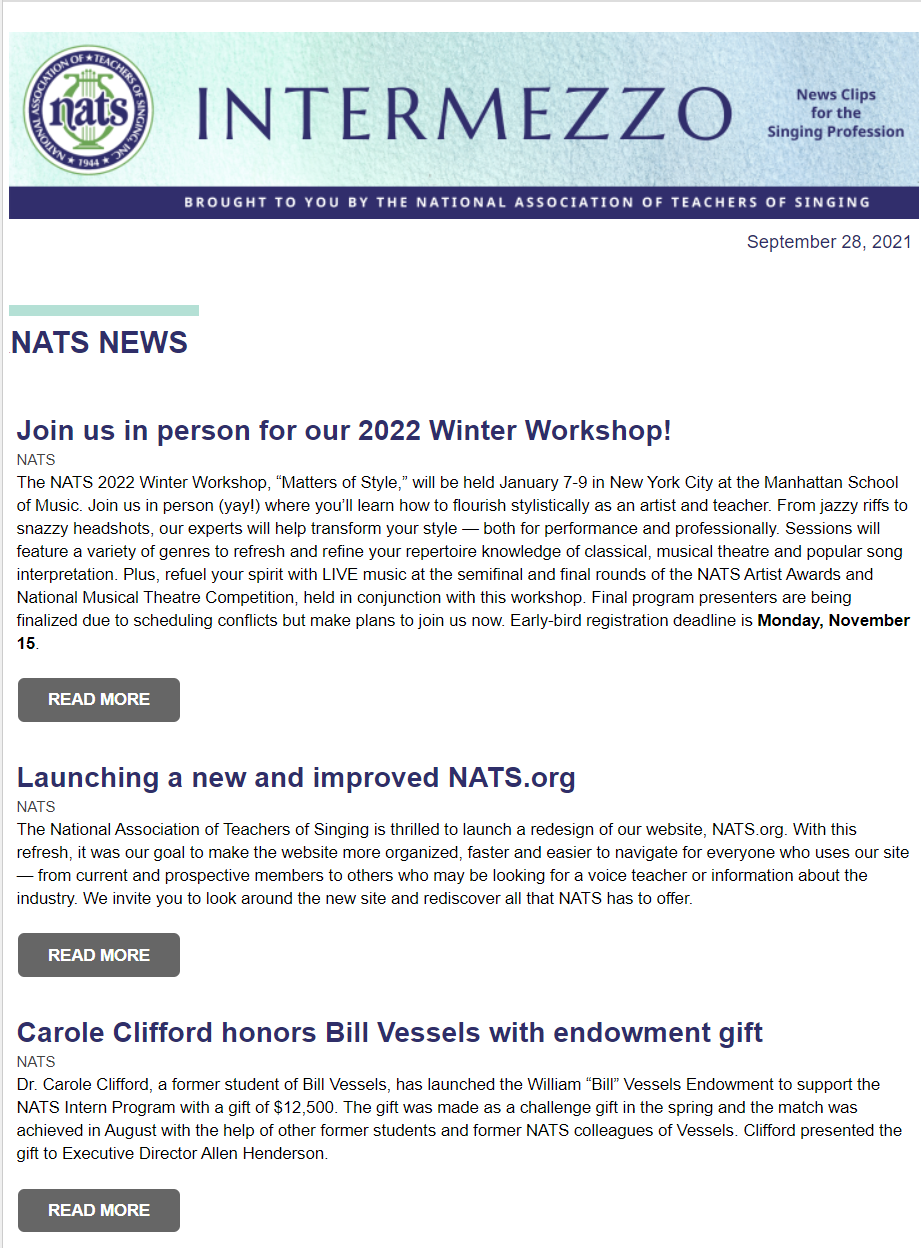 Frequency: Weekly
Distribution List: 11,000+ members and others
Intermezzo is a weekly compilation of news clips about the singing profession, in addition to NATS news, that is delivered to each member's inbox. Intermezzo tackles today's most relevant issues, gathered from sources like the Associated Press, The New York Times, Billboard and other leading industry publications. It is delivered to the inboxes of teachers of singing in the United States, Canada and more than 35 other countries.
Advertising: The production of Intermezzo is coordinated through the NATS Executive Office in coordination with Multibriefs. For more information about advertising in Intermezzo, contact MultiView sales by  or call 972.402.7070.
Inter Nos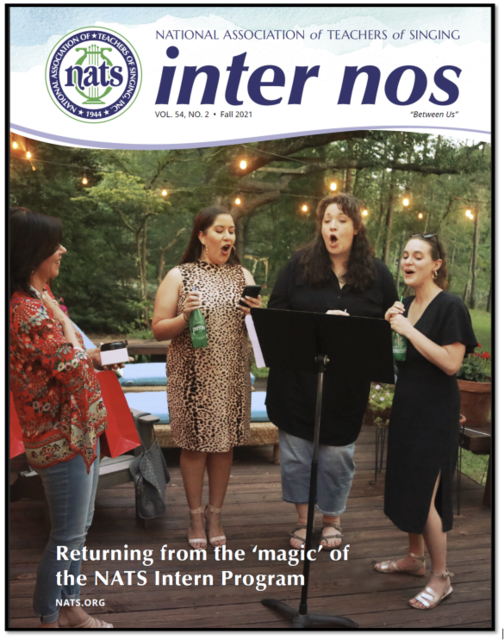 Frequency: Semiannual (March and September)
Distribution: 7,000+ NATS members
Inter Nos is a semiannual newsletter that provides important information about the work of NATS to its members. A major feature of each issue is the "Independent Voices" section, which shares stories and tips from independent teachers. 
NATS distributes Inter Nos to all members via email and archives full issues in the members-only section of NATS.org. The "Independent Voices" section is available for all (both members and non-members) to read.
Advertising: Various advertising options exist in Inter Nos. Advertising space is available in full-page and half-page sizes, as well as presenting sponsorships.
Ad dates: Ads for fall issue due August 1. Ads for spring issue due February 1.
Presenting Sponsorship (Two Issues): $1,200

Full-page ad within the publication 
Name recognition/web link placement on even-page folios.
Save 20% with purchase of two issues



Presenting Sponsorship (One Issue): $750

Full-page ad within the publication
Name recognition/web link placement on even-page folios.



Full-Page ad rate/specs (per issue): $275 - 4-color, 8.5x11, no bleed
1/2-Page ad rate/specs (per issue): $175 - 4-color, 8.5x5.5, no bleed
1/4-Page ad rate/specs (per issue): $100 - 4-color, 4.25x5, no bleed
---
For more information, download our