What's New > 2022 National Student Auditions Winners
posted on 5:36 PM, July 3, 2022
Over two days, NSA winners have received more than $44,000 in prizes for this year.
The National Association of Teachers of Singing is pleased to announce the winners of the 2022 National Student Auditions (NSA).
NATS held the final rounds live and in-person on Friday and Saturday, July 1-2 in conjunction with the NATS 57th national conference at the Chicago Marriott Downtown Magnificent Mile.
High-school categories were held July 1, and college-age & up categories were held July 2.
NATS invited 14 singers from each of the 18 NSA categories (plus the Hall Johnson Spirituals Competition) to take part in the 2022 national semifinals. (View 2022 Semifinalists.) Then, the top 3 singers from each category advanced to the national final round.

Over two days, between the high school and college & up categories winners, more than 250 top young vocalists from the across the U.S. and Canada participated in semifinal rounds, with 57 advancing to final rounds. In total, winners received more than $44,000 in prizes this year.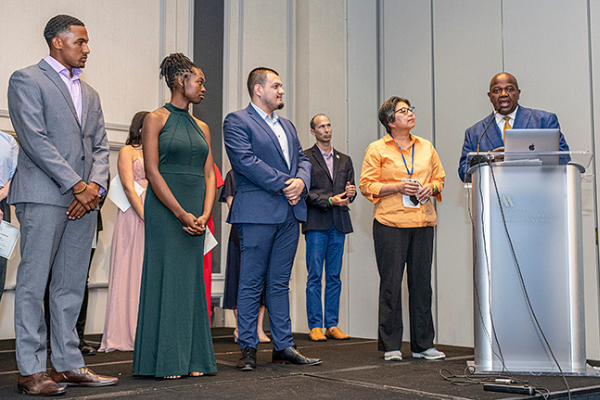 The Hall Johnson Spiritual Competition is part of this year's NSA categories since it is a conference year (or even-numbered year), alternating with the American Negro Spirituals Categories in non-conference years. Sponsors of the Hall Johnson Spiritual awards included the Hall Johnson Estate, first place prize; National Association of Teachers of Singing, second and third place prizes; Bay View Music Festival, two full tuition scholarships to the American Spirituals Initiative at the Bay View Music Festival; and American Spiritual Ensemble, one full tuition scholarship to the American Spirituals Initiative.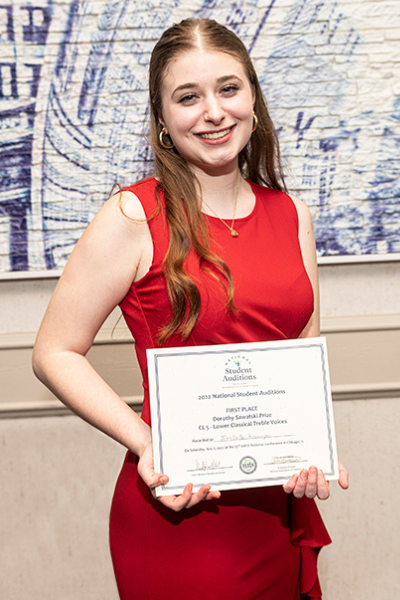 Additionally, the Dorothy Sawatski Prize was awarded to the first place of the lower classical treble voice category. NATS member and former member of the NATS Board of Directors, Nita Herrick-Colpitts, provided the prize in honor of her teacher Dorothy Sawatski who was a charter member of NATS Southern Region and served as its region governor for several years.
Staff collaborative pianists for 2022: Dana Brown, Paula Gelpi, Jonathan Gmeinder, Jodi Goble, Nick Graffagna, Steven Gross, Linda Madonia, Jeffrey Poindexter, Olga Slyanskaya and Nick Sula.
Special thanks to all NSA coordinators, NSA committee and subcommittee members, adjudicators at all levels, NATS donors, Roosevelt University for hosting semifinal rounds, collaborative pianists, and to all of the NATS members and student singers. View Finals Program
Congratulations to all for another wonderful year of NSA!