What's New > Announcing the 2019 National Student Auditions Winners
posted on 5:26 PM, June 29, 2019
More than $35,000 in prizes were awarded to our winners, who were officially announced to a capacity audience of teachers, collaborative pianists, parents, friends and family members.(Photos by Paul Witkowski)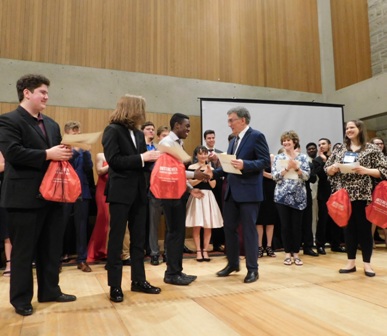 Dan Johnson-Wilmot, NSA Coordinator, presents a first prize award to Errol Service (third from left)
NORTHFIELD, Minn. – The final round of the NATS 2019 National Student Auditions (NSA) was held on Friday, June 28. The NSA semifinal and final rounds were held on Thursday and Friday, June 27 and 28, 2019, at St. Olaf College, which also served concurrently as the venue for the NATS National Summer Workshop.
More than $35,000 in prizes were awarded to our winners, who were officially announced to a capacity audience of teachers, collaborative pianists, parents, friends and family members. Nearly 180 of the top young vocalists from across North America participated in the semifinal round.
For the first time, Interlochen Center for the Arts offered each of the NATS National Student Audition High School category winners up to a $10,000 scholarship to the boarding Arts Academy high school and a 50% tuition scholarship to the Summer Arts Camp program. 
Staff Collaborative Pianists during the semifinal and final rounds included Tom Bartsch, Mark Bilyeu, Jodi Goble, Janet Hanson, Jared Miller, David Richardson, Irina Stene, and Mary Trotter.
The National Association of Teachers of Singing 2019 NSA finalists are listed below by category, prize placement, region and teacher: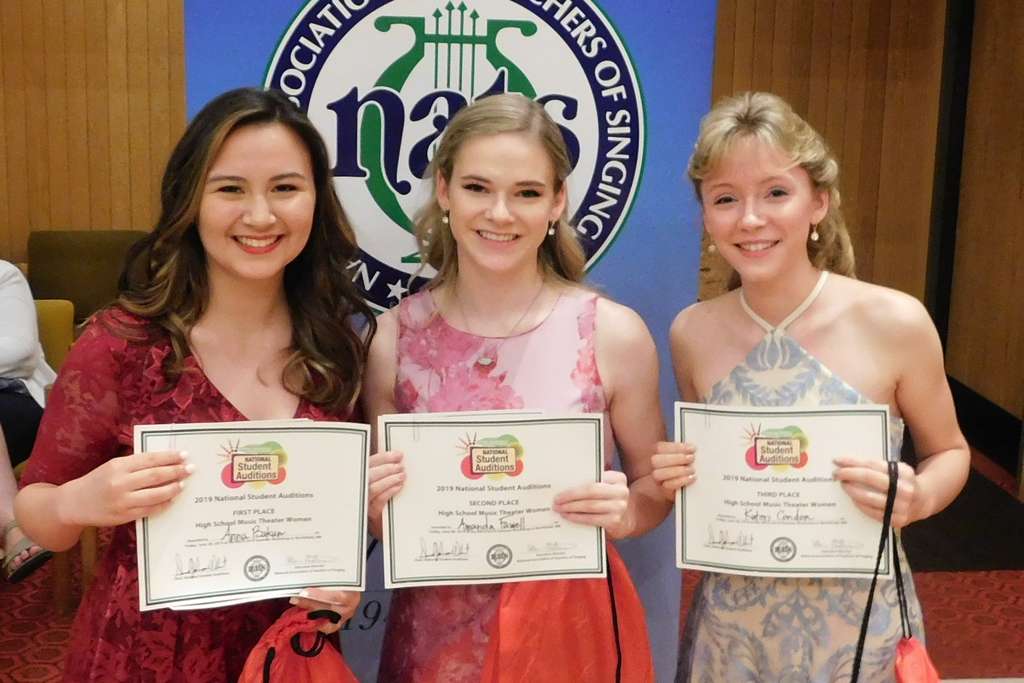 Category 1 - High School Music Theater Women
1st Place, Anna Bakun, Northwestern Region, Student of Erin G. McCarthy
2nd Place, Amanda Fawell, New England Region, Student of Eva Kendrick
3rd Place, Kateri Condon, Eastern Region, Student of Brenda Dawe
(from left) Anna Bakun, Amanda Fawell, and Kateri Condon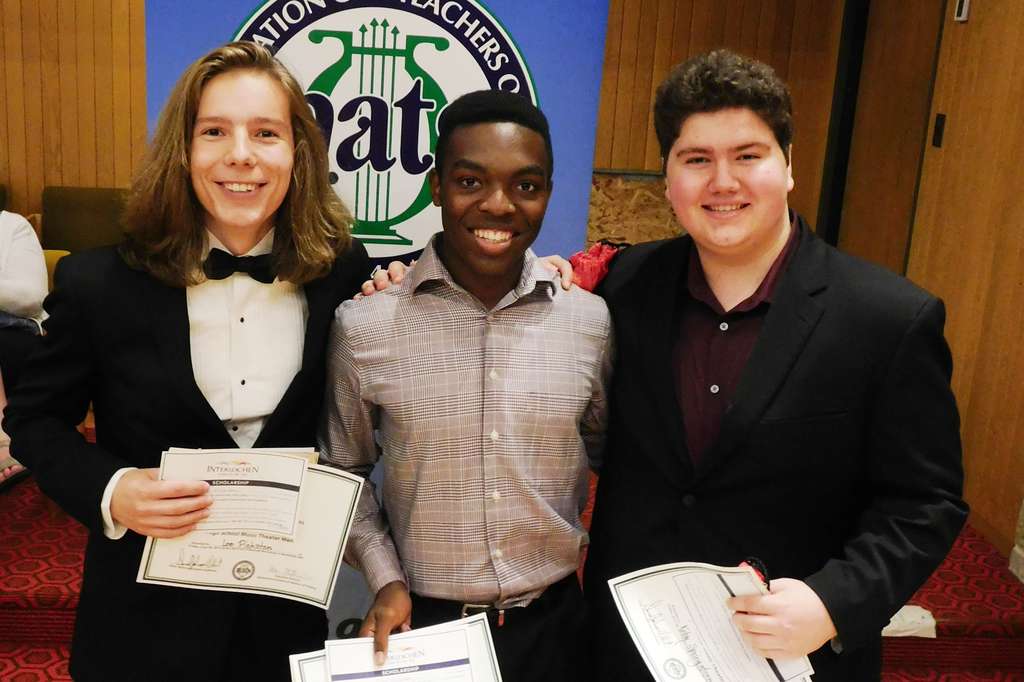 Category 2 - High School Music Theater Men
1st Place, Errol Service, Great Lakes Region, Student of Carol Perry
2nd Place, Lee Pinkston, Mid-South Region, Student of Caryn Marlowe
3rd Place, Koby Springsteen, Northwestern Region, Student of Kate Egan
(from left) Lee Pinkston, Errol Service, and Koby Springsteen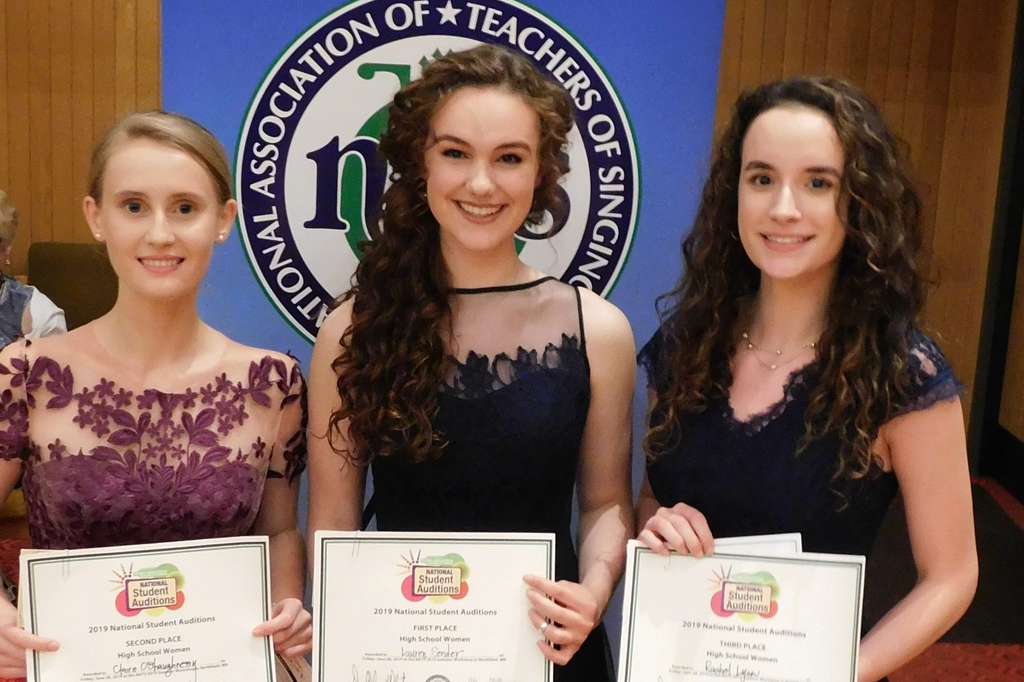 Category 3 - High School Women
1st Place, Lauren Senden, North Central Region, Student of Stephanie R. Thorpe
2nd Place, Claire O'Shaughnessy, Great Lakes Region, Student of Stephanie Henkle
3rd Place, Rachel Lyon, Central Region, Student of Catherine E. Lyon
(from left) Claire O'Shaughnessy, Lauren Senden, and  Rachel Lyon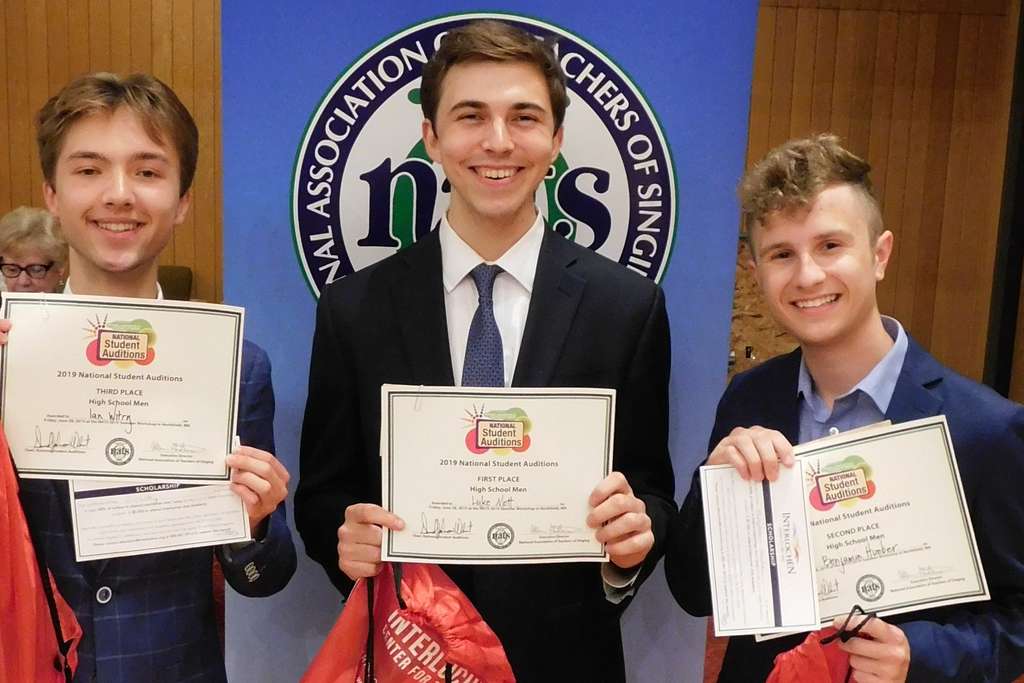 Category 4 - High School Men
1st Place, Luke Mott, Mid-Atlantic Region, Student of Elizabeth Daniels
2nd Place, Benjamin Hueber, Central Region, Student of Thomas Hueber
3rd Place, Ian Witry, North Central Region, Student of Jerome A. Elsbernd
(from left) Ian Witry, Luke Mott, and  Benjamin Hueber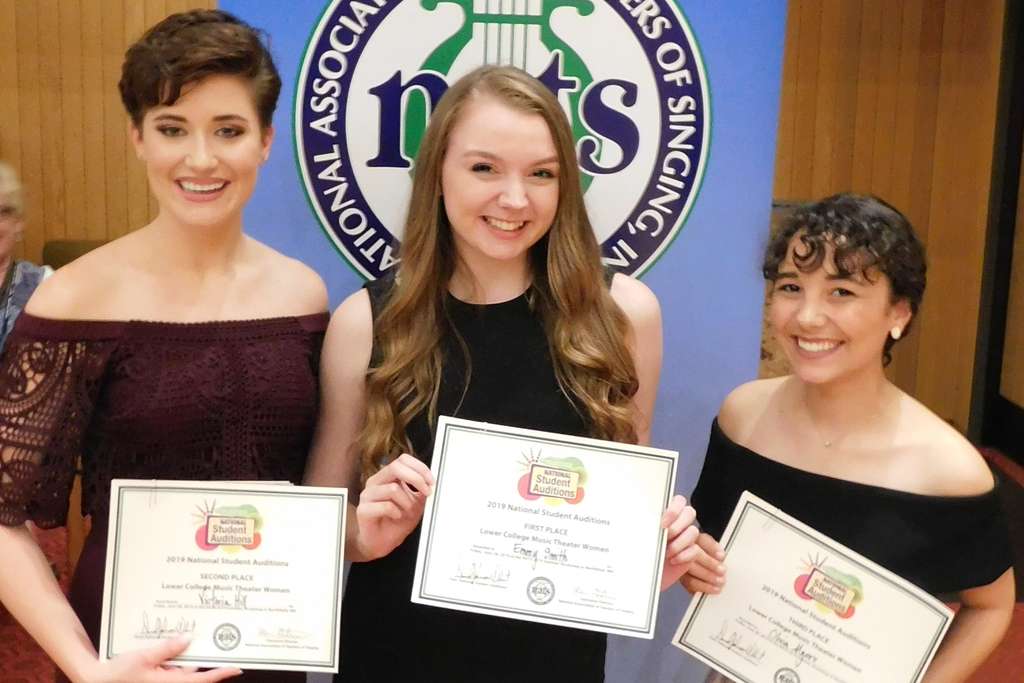 Category 5 - Lower College Music Theater Women
1st Place, Emmy Smith, Texoma Region, Student of Donna Hinds Sawyers
2nd Place, Victoria Hill, Southeastern Region, Student of Reverie Mott Berger
3rd Place, Olivia Myers, Southern Region, Student of Liesl Dromi
(from left) Victoria Hill, Emmy Smith, and Olivia Myers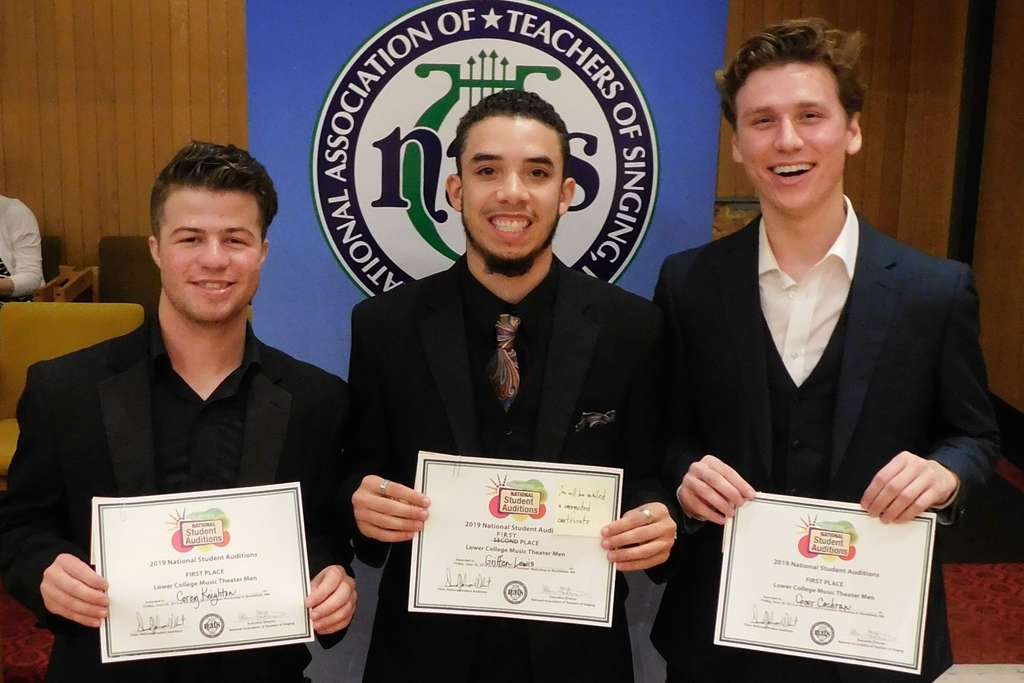 Category 6 - Lower College Music Theater Men
1st Place, Connor Cochran, Central Region, Student of Steven Tharp
1st Place, Corey Knighton, Mid-Atlantic Region, Student of David Clark
1st Place, Griffin Lewis, Mid-Atlantic Region, Student of Deirdre W. Francis
(from left) In a three-way tie (!) for first place -  Corey Knighton, Griffin Lewis, and Connor Cochran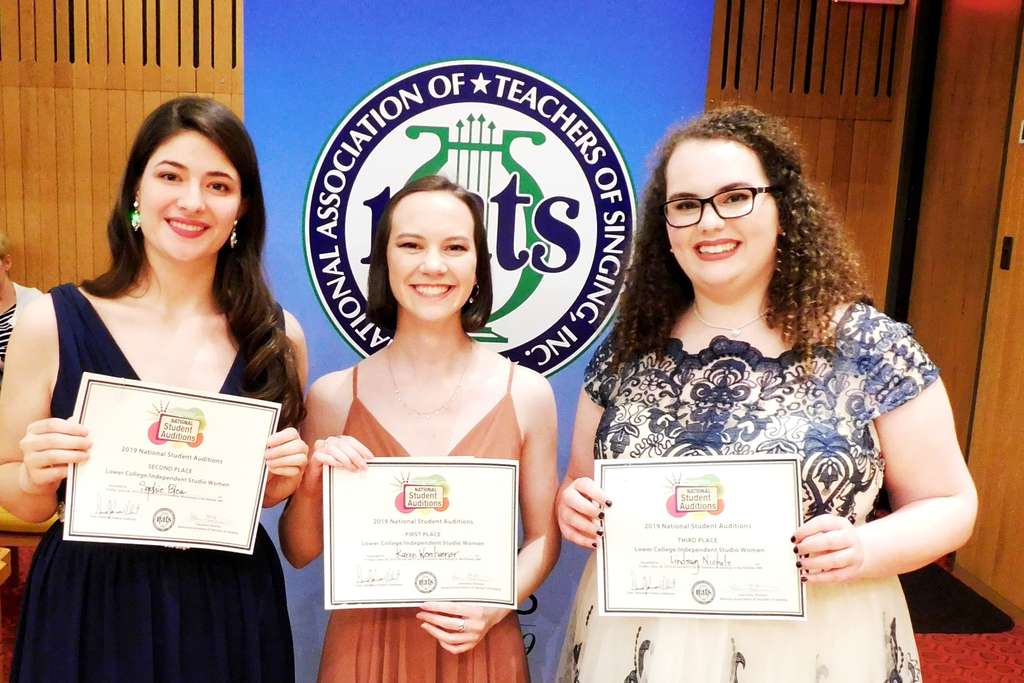 Category 7 - Lower College/Independent Studio Women
1st Place, Karen Wemhoener, Mid-South Region, Student of Lorraine Marian DiSimone
2nd Place, Sophie Blea, Central Region, Student of Carolyn Hart
3rd Place, Lindsay Nichols, Great Lakes Region, Student of Rhea Olivacce
(from left)  Sophie Blea, Karen Wemhoener, and Lindsay Nichols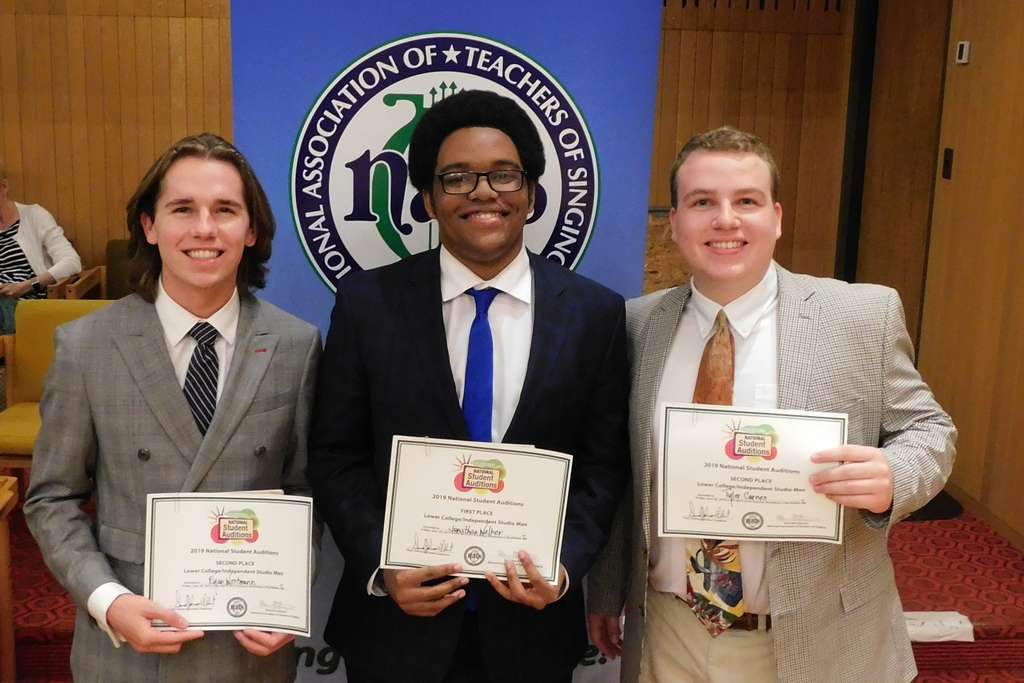 Category 8 - Lower College/Independent Studio Men
1st Place, Jonathan Walker, Texoma Region, Student of Jennifer E. Glidden
2nd Place, Tyler Carnes, Mid-South Region, Student of Chad Sloan
3rd Place, Ryan Wortmann, West Central Region, Student of Jamie Reimer
(from left) Ryan Wortmann, Jonathan Walker, and Tyler Carnes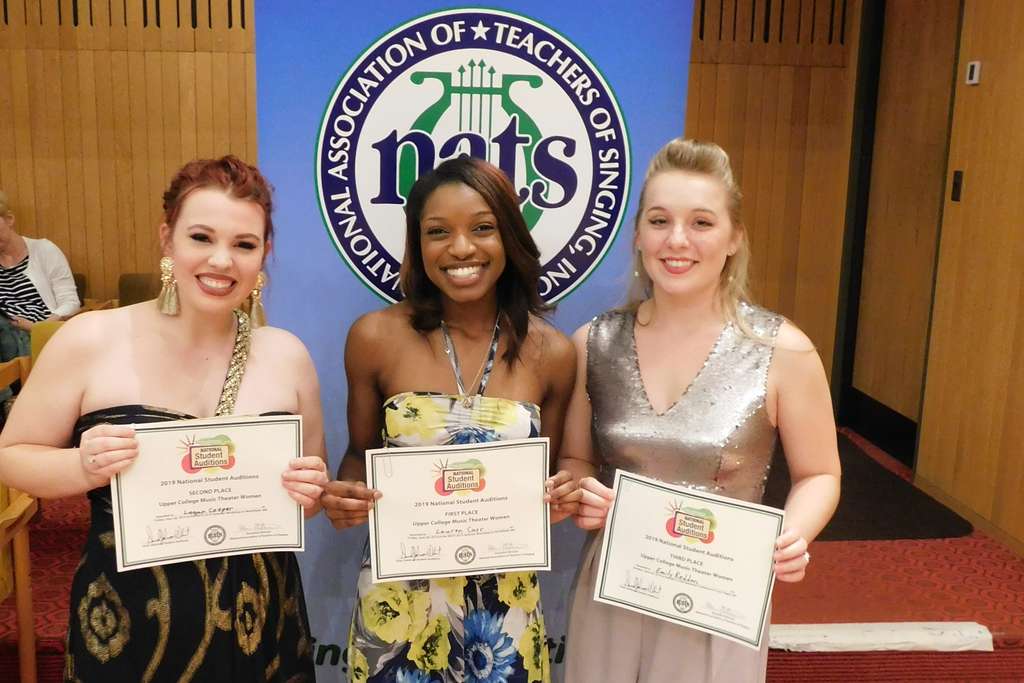 Category 9 - Upper College Music Theater Women
1st Place, Lauren Carr, Central Region, Student of Jennifer Susan Mather
2nd Place, Logan Cosper Mid-Atlantic Region, Student of Craig Allen
3rd Place, Emily Redden, Mid-South Region, Student of Angelique Clay
(from left) Logan Cosper, Lauren Carr, and Emily Redden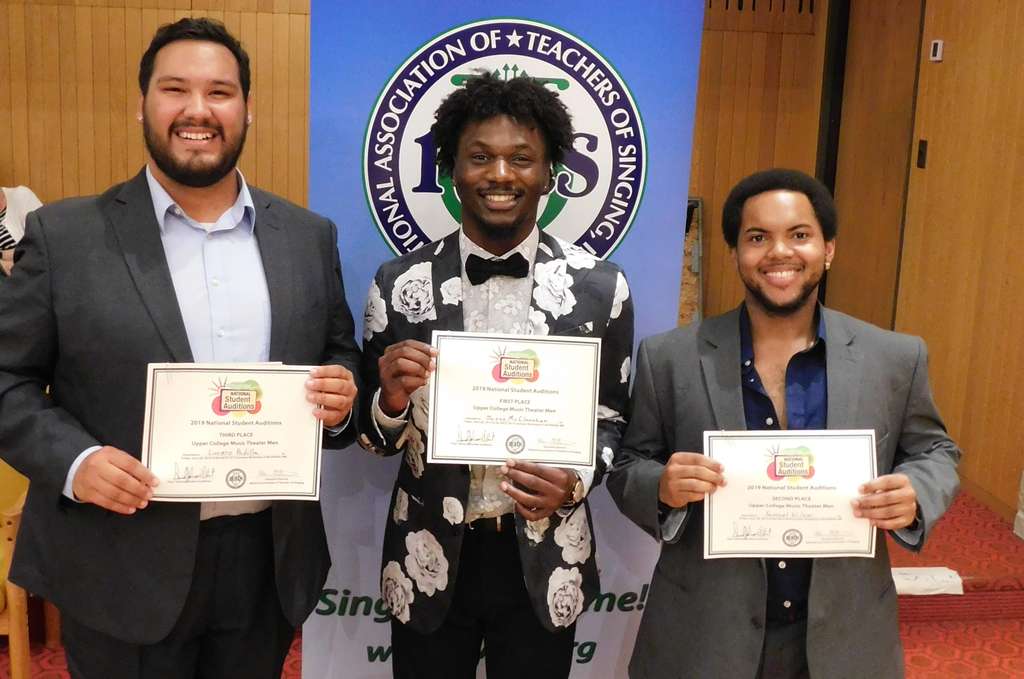 Category 10 - Upper College Music Theater Men
1st Place, Jairus McClanahan, Mid-Atlantic Region, Student of Jennifer Luiken
2nd Place, Samuel Wilson, West Central Region, Student of Reginald L. Pittman
3rd Place, Lucero Padilla, West Central Region, Student of Bryan Pinkall
(from left) Lucero Padilla, Jairus McClanahan, and Samuel Wilson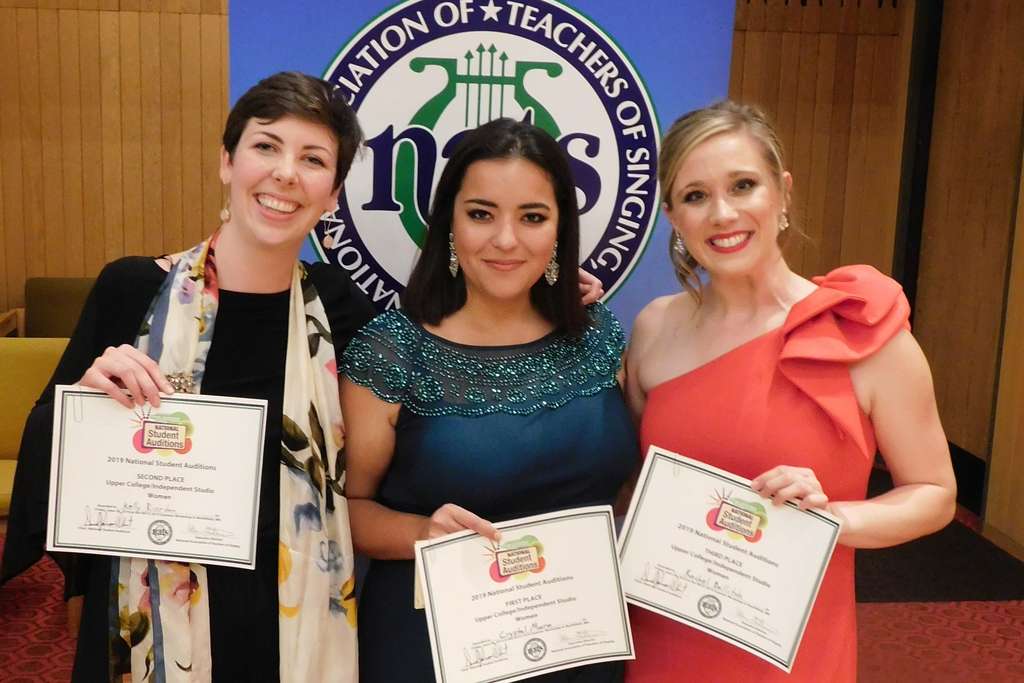 Category 11 - Upper College/Independent Studio Women
1st Place, Crystal Muro, Central Region, Student of Ingrid Kammin
2nd Place, Kelly Riordan, Central Region, Student of Ingrid Kammin
3rd Place, Rachel Ballitch, Great Lakes Region, Student of Jason A. Hiester
(from left) Kelly Riordan, Crystal Muro, and Rachel Ballitch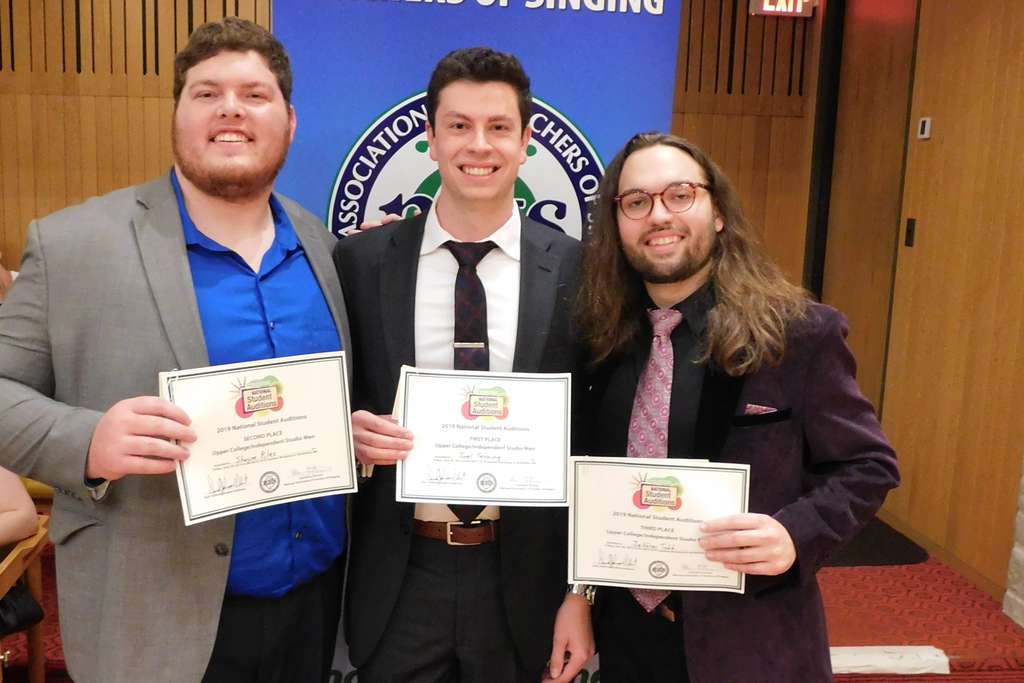 Category 12 - Upper College/Independent Studio Men
1st Place, Joel Terning, Southeastern Region, Student of Richard Gregory Kosowski
2nd Place, Shayne Piles, Central Region, Student of Chris A. Thompson
3rd Place, Jeffrey Todd, Mid-Atlantic Region, Student of John W. Wright
(from left) Shayne Piles, Joel Terning, and Jeffrey Todd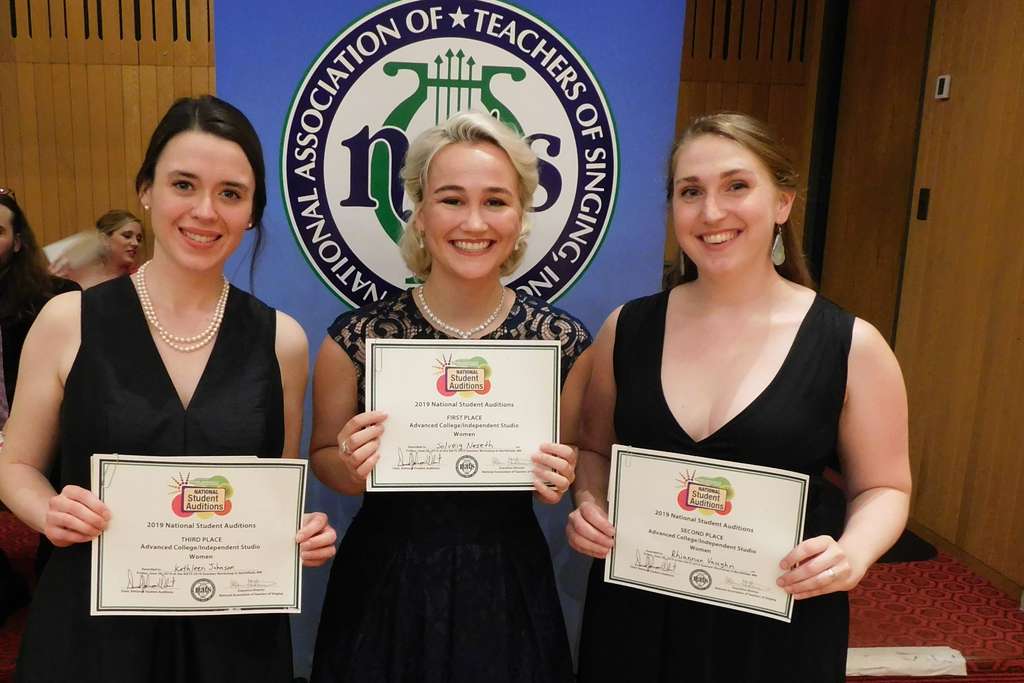 Category 13 - Advanced College/Independent Studio Women
1st Place, Solveig Neseth, Texoma Region, Student of Catherine McDaniel
2nd Place, Rhiannon Vaughn, Mid-Atlantic Region, Student of Jennifer Cabot
3rd Place, Kathleen Johnson, West Central Region, Student of Kate Butler
(from left) Kathleen Johnson, Solveig Neseth, and Rhiannon Vaughn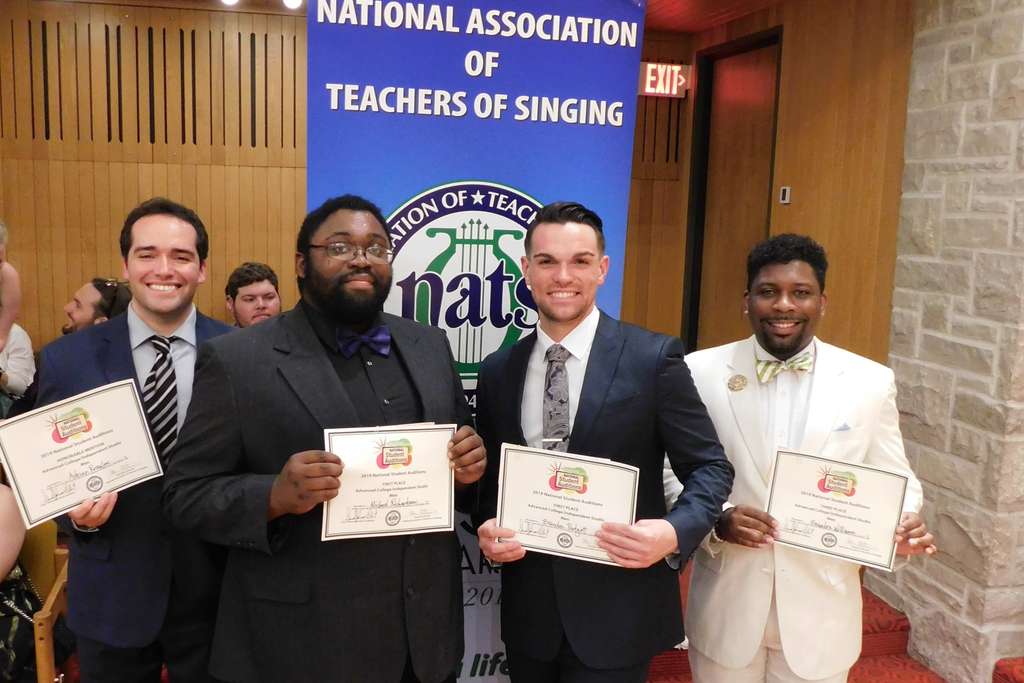 Category 14 - Advanced College/Independent Studio Men
1st Place (tie), Brandon Padgett, West Central Region, Student of Andrew Garland
1st Place (tie), Michael Richardson, Mid-Atlantic Region, Student of Kevin McMillan
3rd Place, Brandon Williams, Mid-Atlantic Region, Student of Tom Brunson
Honorable Mention, Adrian Rosales, Northwestern Region, Student of Nancy Olson Chatalas
(from left) Adrian Rosales, Michael Richardson, Brandon Padgett, and Brandon Williams