What's New > Announcing the 2023 NATS Intern Program participants
Announcing the 2023 NATS Intern Program participants
The prestigious NATS Intern Program is an annual offering
posted on 11:00 AM, February 14, 2023
Sixteen early-career voice teachers and collaborative pianists will gather May 30-June 9, 2023.
The National Association of Teachers of Singing (NATS) has selected 16 members to take part in its 2023 Intern Program.
This immersive program pairs expert and recognized veteran teachers with early-career voice teachers and collaborative pianists. Held over the course of 10 days, the intensive format fosters a dynamic exchange of ideas and techniques. Participants walk away from the training with substantially improved studio teaching skills for voice interns and coaching skills for the collaborative piano interns.
The 12 voice teachers (both independent and academic) and four collaborative pianists who make up the 2023 class represent 10 of the NATS regions — Cal-Western, Central, Eastern, Great Lakes, Mid-South, New England, North Central, Southeastern, Southern, and Texoma.
The 2023 master teachers Cindy Dewey (Utah State University), Lorna MacDonald (University of Toronto), Trineice Robinson-Martin (Soul Ingredients Voice Studio), and Nathan Gunn (University of Illinois) will work with the voice teachers. The collaborative pianist interns will work with pianist Julie Gunn (University of Illinois).

L to R: Cindy Dewey, Nathan Gunn, Julie Gunn, Trineice Robinson-Martin and Lorna MacDonald.
Carole Blankenship, director of the 2023 NATS Intern Program and immediate past president of NATS, said she is looking forward to working with this outstanding class of interns.
"We are so thrilled to invite this remarkable group of early career voice teachers and collaborative artists to attend the 2023 NATS Intern Program," Blakenship says. "The group includes active performers and scholars who are teaching in independent studios, college programs, and/or high school programs. They are already contributing to the voice profession in many different ways through their teaching and research, including serving NATS in various ways. We look forward to bringing this cohort of teacher/scholars into the 32-year legacy that is the NATS Intern Program."
The interns and master teachers will convene from May 30 -June 9 on the campus of West Chester University in West Chester, Pennsylvania. Stephen Ng of West Chester University is serving as the local, on-site coordinator, and Tana Field of Murray State University is the vocal literature liaison.
Over the years, NATS interns have maintained close professional bonds. At the biennial NATS national conference, it is a common occurrence for past intern groups to gather for a reunion and catch up with one another. Since its inception in 1991, the NATS Intern Program alumni network has grown to more than 300 voice-teaching professionals.
NATS Intern Program – Class of 2023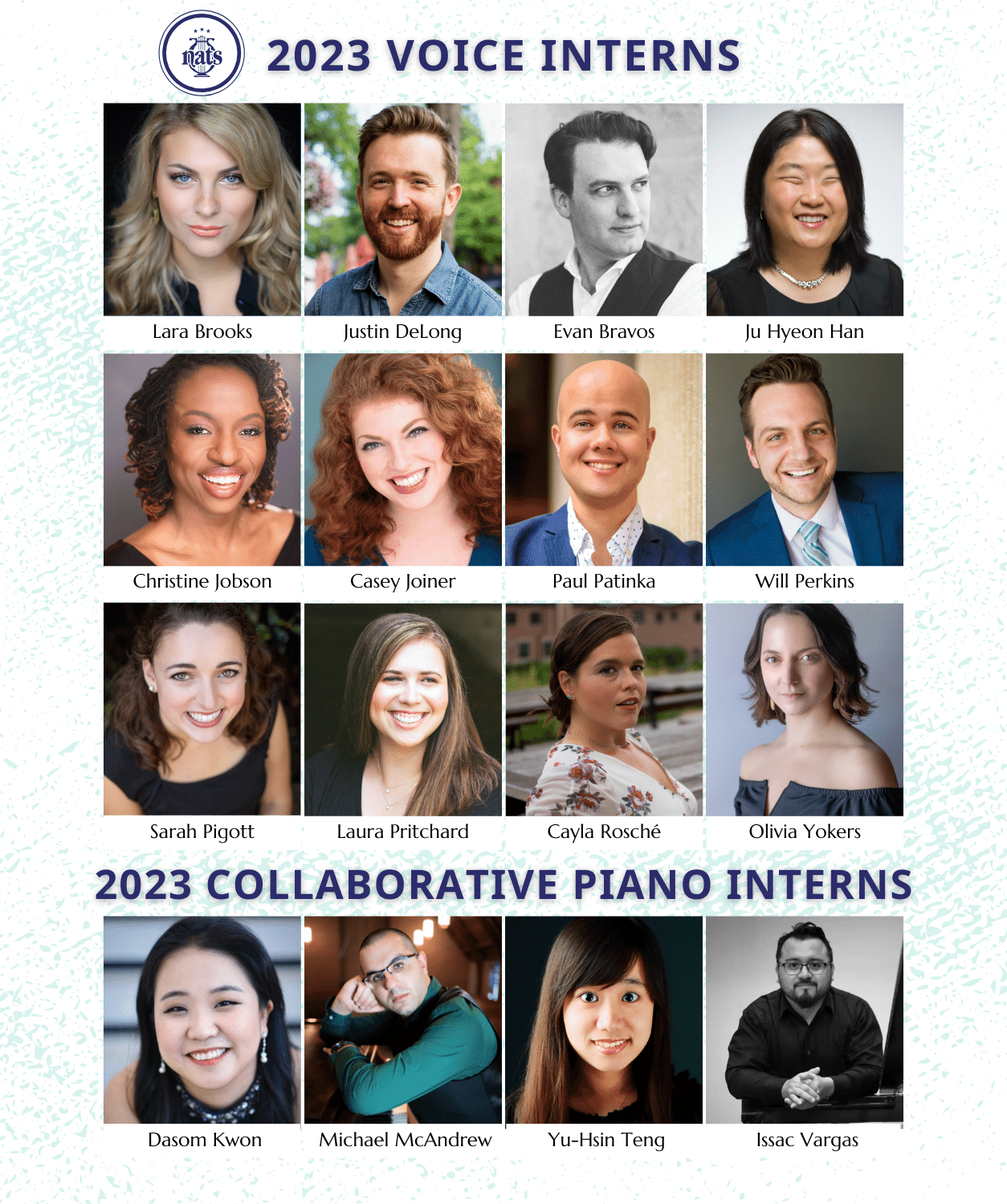 VOICE
Lara Brooks — Columbus, Ohio
Justin DeLong — Findlay, Ohio
Evan Bravos — Chicago, Illinois
Ju Hyeon Han — Brooklyn, New York
Christine Jobson — Union City, New Jersey
Casey Joiner — Lubbock, Texas
Paul Patinka — Providence, Rhode Island
Will Perkins — Murfreesboro, Tennessee
Sarah Pigott — Clinton, Mississippi
Laura Pritchard — Tuscaloosa, Alabama
Cayla Rosché — Madison, Wisconsin
Olivia Yokers — Henderson, Nevada
COLLABORATIVE PIANO
Dasom Kwon — Columbus, Ohio
Michael McAndrew — Beaumont, Texas
Yu-Hsin Teng — Austin, Texas
Issac Vargas — Amarillo, Texas
---
About the NATS Intern Program
The NATS Intern Program is an exceptional training experience. NATS structured the program environment to improve the teaching skills of the interns and promote the interdependent relationships necessary to provide the best instruction for students, who are often taught independently by collaborative pianists and voice teachers. This format encourages a dynamic exchange of ideas and techniques, with the goal to improve the studio teaching skills of voice interns and the coaching skills of collaborative piano interns. Learn more by watching the NATS Intern Program playlist on YouTube.
The NATS Intern Program is held annually. Application materials for the 2024 program will be available in late summer 2023.
---
Support of the NATS Intern Program
The program is offered at no cost to interns through generous support from NATS, and donations from the William "Bill" Vessels Endowment, the James McKinney Fund, the Barbara Doscher Fund, the NATS Intern Program Grants: Established by the 2021 Master Teachers, as well as the NATS Foundation Heritage Fund.
If you are interested in making a gift to support the NATS Intern Program, please visit the online donor portal, scroll down to make a designated gift, and select "Funding for NATS Intern Program."
You also may contact Bob Bryan at the NATS office at 904-992-9101. If your school or facility would be interested in coordinating/hosting a future NATS Intern Program, please contact the NATS past president for details and facility requirements.