What's New > NATS 2018 Art Song Composition Award goes to Benjamin C.S. Boyle
posted on 2:36 PM, February 6, 2018
The winning composition, "Spirits in Bondage," will be performed at the 55th NATS National Conference in Las Vegas.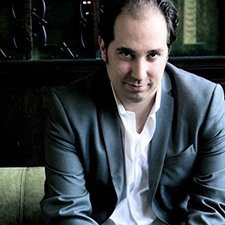 Benjamin C.S. Boyle
Composer Benjamin C.S. Boyle has won the National Association of Teachers of Singing 2018 Art Song Composition Award for his composition, Spirits in Bondage. The work is based on the poetry of C.S. Lewis and arranged for Baritone and Piano.
Richard Pearson Thomas, who served as final judge of the 2018 competition, writes of Spirits In Bondage that "…the quality of composition, the variation in color, and the excellent writing for voice are all undeniable." The work will be performed at the NATS National Conference on June 24, along with the last year's winning composition, Foursquare Cathedral, by Matt Boehler.
Benjamin C.S. Boyle's work encompasses a large variety of genres including opera, orchestral music, chamber music, choral music, art songs, and works for piano. Works have been commissioned and performed by the Royal Concertgebouw Orchestra, Chicago Lyric Opera, Montreal Chamber Orchestra, the Kobe City Orchestra, the Crossing Choir and many others the world over.  In 2008, at the piano, he gave the United States premiere of his Sonata-Fantasy with violinist Tim Fain at the Kennedy Center in Washington and Merkin Hall in New York. In 2005, Bachanalia Orchestra premiered the cantata To One in Paradise for string orchestra and four vocal soloists in New York. He was composer-in-residence with Young Concert Artists from 2005-2007 and represented by them for many years. He is particularly noted for his composition of art songs.
Second place was awarded to Tawnie Olson for her composition, Three Songs on Poems by Lorri Neilsen Glenn. On this work Thomas commented, "The poetry in 'Three Songs On Poems By Lorri Neilson Glenn' is contemporary and beautiful.  The settings are evocative and there are many beautiful moments."
Honorable Mention was given to Mark Abel for his composition, The Ocean of Forgiveness. Serving as preliminary judges were Arlene Shrut, David Sisco, and Dorea Cook.
The NATS Art Song Composition Award program was established in 1983 to stimulate the creation of quality vocal literature through the cooperation of singer and composer. With the generous support of composer Lori Laitman, the award was expanded in 2016 from a biennial to an annual event. Recent winners have included David Conte, Robert Patterson, Melissa Dunphy, David Sisco, and Matt Boehler.
NATS offers cash prizes for the first and second place winners, a two-year NATS membership, plus a performance of the winning composition at the upcoming NATS Conference. The competition is open to any composer, professional or student, whose submitted work meets the prescribed requirements. Information will be posted soon on NATS.org for the 2019 Art Song Composition Award.
FINALISTS/WINNERS
2018 NATS ART SONG COMPOSITION AWARD
"Spirits in Bondage," Benjamin C.S. Boyle - 1st-Place Winner
"Three Songs on Poems by Lorri Neilsen Glenn," Tawnie Olson - 2nd-Place Winner
"The Ocean of Forgiveness," Mark Abel - Honorable Mention
"Botany for the Gods," Judith Cloud
"The Heart of the World," Jodi Goble
"Whispers of Heavenly Death," Scott Perkins
"Songs for the Child," John Villar
"O Magnet-South," Kevin Garnica
"The Dark Gate," David Lancaster
"Songs of Death and Taxes," Patrick Wickham