What's New > NATS Art Song Composition Award goes to Matt Boehler
posted on 9:59 AM, February 14, 2017
Composer and vocalist Matt Boehler has won the National Association of Teachers of Singing 2017 Art Song Composition Award for his composition, "Foursquare Cathedral."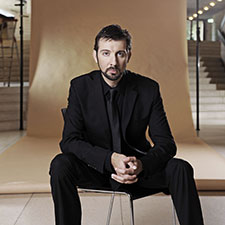 Matt Boehler (Photo: T+T Fotografie)
Composer and vocalist Matt Boehler has won the National Association of Teachers of Singing 2017 Art Song Composition Award for his composition, "Foursquare Cathedral."
With the generous support of distinguished composer Lori Laitman, the NATS Art Song Composition Award has expanded from a biennial to an annual event. Laitman also served as the finals adjudicator for this year's competition. Recent winners include David Conte, Robert Patterson, Melissa Dunphy and David Sisco.
As a singer, Matt Boehler has performed in some of classical music's most prestigious venues, appearing as a soloist with The Metropolitan Opera, New York Philharmonic, Dallas Opera, Theatre Royal de la Monnaie, Carnegie Hall, New York City Opera, Minnesota Opera, Baltimore Symphony Orchestra and Canadian Opera Company, among many others. His serious study of composition began only a few years ago. Having earned an B.A. in Theater Arts from Viterbo University and an A.D. in Opera Studies from Juilliard Opera Center, he is pursuing a M.M. in Composition at San Francisco Conservatory of Music while maintaining an active singing career. He recently earned first prize in the San Francisco Conservatory's Choral Composition Contest and the inaugural Pankonin Art Song Award.

Boehler's "Foursquare Cathedral," a song cycle for bass-baritone and piano, is a setting of selected poems from poet Todd Boss' critically lauded collection, "Yellowrocket." The cycle will be presented in a live performance during the 55th NATS National Conference, which will be held in Las Vegas, June 22-26, 2018. In her commentary on Boehler's winning composition, Laitman said, "This song cycle is absolutely brilliant, from the first note to the last. The composer brought the words to life through inventive word settings, intriguing harmonies, an interesting and varied accompaniment which contributed to the understanding of the text, an engaging dramatic sense, and a wonderful choice of poems. The performance was also excellent."
Hailed by The New York Times as "a bass with an attitude and the goods to back it up," his work as a singer uniquely informs his work as a composer by lending his music an innately theatrical sensibility. Recent commissions include pieces for Left Coast Chamber Ensemble in San Francisco and Cathedral Choir of St. John the Divine in NYC.
During his undergraduate years, Boehler was a first prize winner of the Junior and Senior Men divisions of the Wisconsin NATS competitions. His mentor and first voice teacher, Dr. Jerry Benser, encouraged him to participate in the vocal competition. Benser also prompted him to submit his work to this year's Art Song Award Competition. In accord with Stephen Sondheim's belief that teaching is a sacred profession, Boehler says that he owes Benser "a debt of gratitude" for all of his encouragement over the years. He also acknowledges the "constant generosity" of his compositional mentor, Dr. David Conte, the 2016 NATS Art Song winner.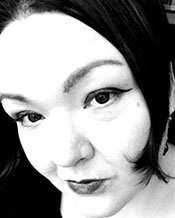 Second place was awarded to Jodi Goble (pictured, right) for her composition, "Valentines from Amherst," based on the poetry of Emily Dickinson. The award is especially significant for Goble, who earned an honorable mention in the 2016 competition. Laitman said, "This composer clearly understands the voice and poetry. The music was always beautiful. Most importantly, every aspect of the composition was in the service of the words, from the inventive word settings to the accompaniment's commentary on the words. The poetry was first-rate and the dramatic arc of the cycle was excellent."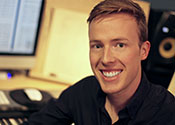 Jules Pegram (pictured, left) earned an honorable mention for his composition, "Valentines." Finalists included Sarah Hutchings, "In Seasons of Life's Pursuit"; Rachael Hutchings, "Three Rilke Songs"; Nicholas Landrum, "A Brightness and a Quickening"; Allen McCullough, "The Blue Symphony"; John Moody, "Six Songs of Spring"; Gregory Zavracky, "Sea Garden"; and Matthew Emery, "From 12 Songs of Love."
The purpose of the NATS Art Song Composition Award program is to stimulate the creation of quality vocal literature through the cooperation of singer and composer. NATS offers cash prizes for the first and second place winners, a two-year NATS membership, plus a performance of the winning composition at the upcoming NATS Conference. The competition is open to any composer, professional or student, whose submitted work meets the prescribed requirements. Information will be posted soon on NATS.org for the 2018 Art Song Composition Award (https://www.nats.org/art-song-composition.html).