What's New > NATS announces 2021 Intern Program participants
NATS announces 2021 Intern Program participants
The annual Intern Program is a premier NATS offering
posted on 9:43 AM, February 19, 2021
Sixteen early-career voice teachers and collaborative pianists will gather for an intensive training experience at Georgia Southern University in Statesboro, Georgia, from June 1-10, 2021.
The National Association of Teachers of Singing (NATS) has selected 16 members to take part in its 2021 Intern Program. This 10-day forum pairs experienced and recognized master teachers with talented early-career NATS members.
The 2021 class is a varied and unique group, with 12 voice teachers and four collaborative pianists.
Master teachers Theresa Brancaccio (Northwestern University), Frank Ragsdale (University of Miami), Michelle Markwart Deveaux (Independent Studio, CA), and Kari Ragan (University of Washington, Independent Studio) will work with the 12 voice teachers – both independent and academic.
Karen Brunssen is the director of the 2021 NATS Intern Program and immediate past president of NATS. She says it will be "truly unique" to see how this group interacts and learns from each other.
"Their repertoire specialties range from Wagner to Barbershop and Sweet Adelines, to a Singing Sergeant, to blues and gospel, jazz, art song, Korean art song, opera, voice overs, new music, concert and cabaret," she explains. "They represent teachers coast-to-coast, from the US and Canada, eight NATS regions, and range in age from 29-41. They include cutting-edge voice science expertise, a gondolier, and teachers of children through adults as well as senior adults."
The collaborative pianist interns have equally impressive backgrounds. They will work with master teacher Craig Terry (Ryan Opera Center, Lyric Opera of Chicago).
"The four collaborative pianists bring coaching experience, collaborating for recitals, summer programs, universities, colleges, opera companies (small and large), auditions and performances," Brunssen says. "They teach piano and organ, perform great orchestral concertos and solo recitals, accompany ensembles, play for voice auditions for schools and organizations, and teach diction, opera workshop, and chamber music."
She says the networking between these interns and master teachers "promises to be a profound experience" and these lessons will linger "long afterward" when they return home.
The 10-day format of the program is designed to be an immersive experience, and NATS is looking forward to some tweaks this year.
"We are excited to try out a slightly different schedule," Brunssen explains. "We will have two mornings dedicated to 'technique and lesson content,' a daily pianist 'coaching hour,' and several opportunities for interns to share their areas of expertise across genres, business models, academics, ages, and voice types."
The interns and master teachers will convene from June 1-10 on the campus of Georgia Southern University in Statesboro. Allen Henderson, NATS executive director and faculty member at the university, is serving as the local, on-site coordinator, and Tana Field of Murray State University is this year's vocal literature liaison.
Brunssen notes that safety precautions are top of mind in their event planning.
"The 2021 NATS Intern Program will be observing proper safety protocols in regards to the COVID-19 pandemic," Brunssen says. "We are in the process of giving this careful consideration as we follow the science and make the safest decisions for all involved this year."
Over the years, NATS Interns have maintained close professional bonds. At the biennial NATS National Conference, it is common occurrence for past Intern Programs to gather for a reunion and catch up with one another. Since its inception in 1991, the NATS Intern Program alumni network has grown to more than 300 voice-teaching professionals.
NATS Intern Program – Class of 2021
COLLABORATIVE PIANO
Taylor Hutchinson — Kirksville, MO
Kyung-Eun Na — Englewood, NJ
Tomasz Robak — Davidson, NC
Joseph Welch — Bunker Hill, IL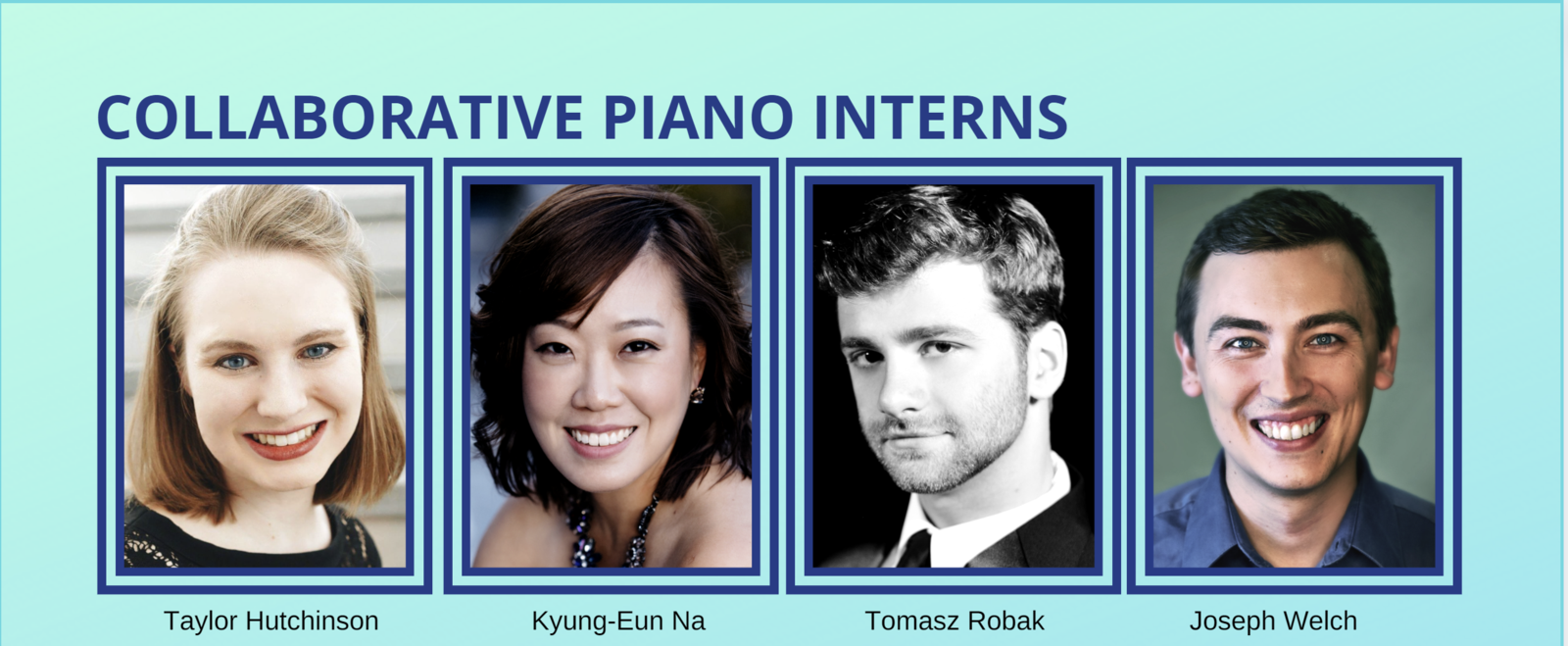 VOICE
Corie Auger, mezzo-soprano — Grand Rapids, MI
Douglas Carpenter, baritone — Las Vegas, NV
Joshua Glasner, baritone — Dubuque, IA
Lily Guerrero, soprano — San Antonio, TX
Sarah Kim, soprano — Washougal, WA
Caitlin Moore, mezzo-soprano — Denver, CO
Whitney Myers, soprano — Tulsa, OK
Aaron Paige, tenor — Muncie, IN
Meredith Pyle, soprano — Los Angeles, CA
Kyle Sackett, baritone — Madison, WI
Emily Siar, soprano — Jamaica Plain, MA
Marcy Stonikas, soprano — Tallahassee, FL



With partial funding from the NATS Foundation, the NATS Intern Program is an exceptional training experience. NATS structured the program environment to improve the teaching skills of the interns and promote the interdependent relationships necessary to provide the best instruction for students, who are often taught independently by collaborative pianists and voice teachers. This intensive format encourages a dynamic exchange of ideas and techniques, with the goal to improve the studio teaching skills of voice interns and the coaching skills of collaborative piano interns.
The NATS Intern Program is held annually. Application materials for the 2022 program will be available in late summer 2021. If you are interested in contributing to the support of the program, log on to our online donor portal, scroll down to make a designated gift, and select "Funding for NATS Intern Program." If your school or facility would be interested in coordinating/hosting a future NATS Intern Program, please contact the past president for details and facility requirements.