What's New > Updates coming to Journal of Singing
posted on 11:12 AM, April 25, 2023
New columns, writers, initiatives on the horizon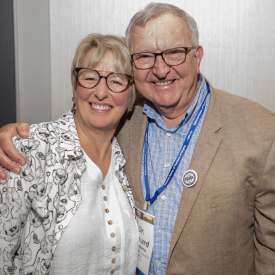 Lynn Helding and Richard Sjoerdsma
Lynn Helding officially takes over as editor-in-chief of the Journal of Singing (JOS) on May 1, 2023, but she has been serving as editor-in-chief elect since last October.
Helding has been working closely with production manager Laura Carter to transition the inner workings of the journal to all digital formats, as well as preparing for the first volume under her leadership, Journal of Singing Volume 80 no. 1 September/October 2023. She is excited to announce the following new JOS columns, writers and initiatives:
The New Vocal Point: new associate editor Melissa Treinkman will continue the tradition (begun by Leslie Holmes) of interviewing singers for the "Vocal Point," yet will take JOS in a new direction by inaugurating the journal's first hybrid column. Treinkman's interviews will be video-recorded and posted on the NATS YouTube channel, along with a written column about the interviewee and their role in the world of singing.
Collaborations: Pianists Alison d'Amato and Elvia Puccinelli are the first team to assume the new model for managing a column: joint associate editors. They will continue the work by previous associate editor Margo Garrett, enlightening the NATS membership about the vital role our collaborative partners play for singers, but under a slightly new name.
David Meyer and John Nix, the second new team of JOS associate editors, are launching a new column called Practical Voice Science. As the title implies, their charge is to focus on translating the science for practical application for our JOS readership.
Retiring editor-in-chief Richard Sjoerdsma tapped Justin John Moniz to continue covering commercial music, an initiative begun by retiring columnist Robert Edwin, yet under a new column name, The Versatile Voice.
Helding also has considerably expanded the editorial board for the Journal of Singing.
"The current editorial board, at around seven members, was rather small and therefore did a relatively large amount of work reviewing each and every submission, on a wide-ranging slate of topics," Helding said. "While these members will continue to review submissions on topics directly related to singing, repertoire and voice pedagogy, I'm particularly pleased that we are able to expand our expertise in the areas of medicine and health with the additions of laryngologists Michael M. Johns III, Lindsay S. Reder and Mark A. Williams, and speech-language pathologists Wendy D. LeBorgne and Deirdre D. Michael to the review board."
"And given my own interest in all things having to do with the human mind and the way people learn, I'm thrilled to announce that experts Heidi Moss Erickson and Elisa Monti will join our editorial board to assist in peer review on those topics, as well as Lynn Maxfield, current associate editor of the Mindful Voice column," she added, "while our voice science review panel is joined by Joshua D. Glasner, David Meyer and David Okerlund."
After these additions, the current editorial board will have a total of 18 reviewers.
Helding also has plans to launch a project "near and dear" to her heart: the Mentored Writing Initiative.
"As a member of the JOS editorial board myself, I have read literally hundreds of academic papers," Helding explained. "Over time, I have noticed a specific type of submission that often fails to be accepted outright, but not because the thoughts in the paper were not compelling, but because their execution was ill formed or obscured."
The JOS Mentored Writing Initiative will pair an expert who serves on the JOS editorial board with a submission flagged by Helding that "may even be initially rejected through the peer-review process, but merits a closer look." The mentor's role is to provide the mentee assistance with clarity of expression, cogency of argument, references to the extant knowledge in the field, and adherence to academic writing conventions.
"We can't outright guarantee that every mentored paper will be published," Helding said. "However, this new initiative is one positive way that JOS can enact the core of the NATS Diversity and Inclusion Statement that states 'we are dedicated to ensuring that all voices are valued and heard in an inclusive environment with equitable treatment for all.' "
Journal of Singing will continue to build on the legacy of the dedicated work of past editors-in-chief and editorial board members with these and future initiatives.