Fall SNATS Chat - Obstacles or Opportunities: Perspectives on the State of Voice Pedagogy in Academia
6:00 PM, November 28, 2023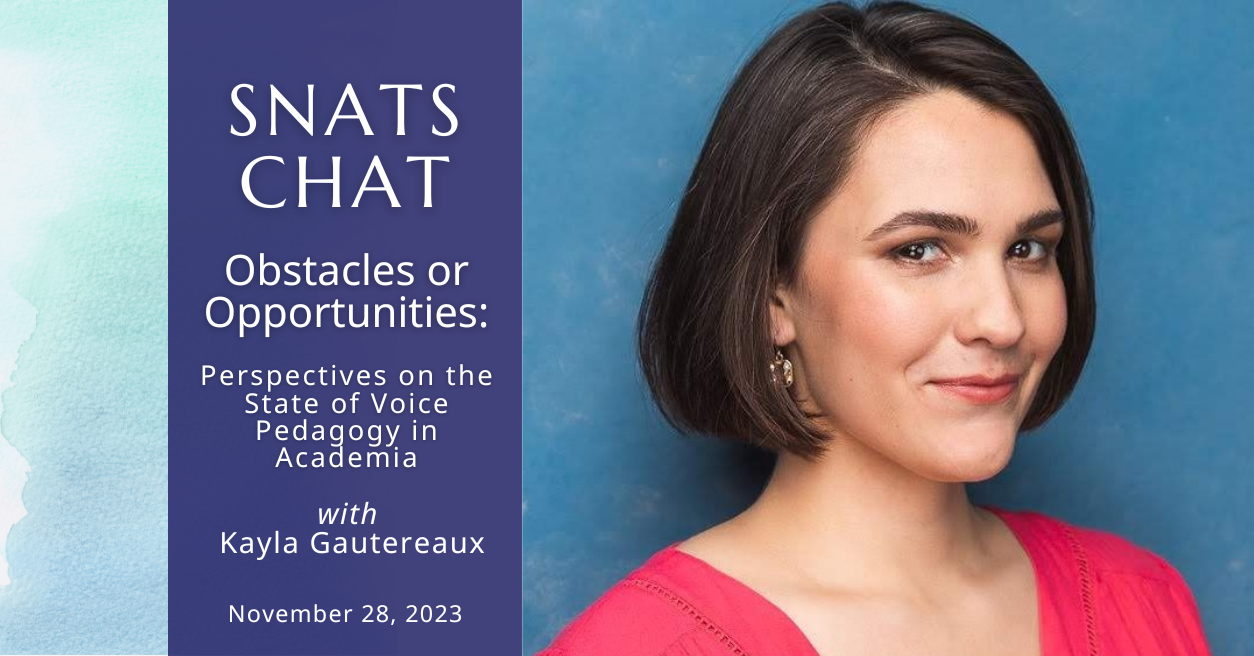 Fall 2023
Topic: Obstacles or Opportunities: Perspectives on the State of Voice Pedagogy in Academia
Guest: Kayla Gautereaux
Hosts: Austin Vitaliano and Jordan Reynolds
Date: Tuesday, November 28, 2023 at 6 p.m. ET / 5 p.m. CT / 3 p.m. PT
Pursuing a career in vocal pedagogy challenges us to understand the state of voice pedagogy in academia and as an industry, its potential directions and barriers, and what opportunities prospective teachers might find in the field. Our fall SNATS Chat welcomes Kayla Gautereaux, assistant professor of voice at Boston Conservatory at Berklee, where she guides the MFA musical theatre vocal pedagogy students through the thesis research, writing, and defense process, and Nicholas Perna, vice president for outreach at NATS. This SNATS Chat will be held via Twitch live stream.
During this SNATS Chat, topics will include: 
Skill requirements for academic job postings,
The relationship between vocal research and vocal pedagogy,
The NATS Science-Informed Voices Pedagogy curriculum,
Real-world examples of pedagogy research from the MFA in musical theatre voice pedagogy at BoCo.