Alida Annicchiarico
Style: World; Pop; Opera; Jazz; Folk; Gospel; Rock; Musical Theatre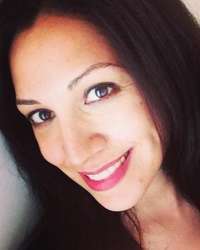 Title: Singing Teacher, Vocal Studio Owner
Bio:
I am a certified and qualified industry vocal coach who specializes in training active singers in contemporary genres. I work with singer/songwriters, touring artists, musical theatre performers and many other professional voice users. I also work with recreational singers as well as singers who are focusing on artist development.
I have been a vocal coach/singing instructor for over 12 years based in Vancouver, BC as well as online. I am a graduate of the University of British Columbia's School of Music. In 2018, I received my Level 5 (the highest level) Mentor Instructor Certificate with the Institute for Vocal Advancement, an international vocal education organization. I was also certified in Speech Level Singing technique and studied singing in the SLS technique for over 10 years. I am also a member of the National Association of Teachers of Singing (NATS).
As a singer and musician myself I have an extensive background in the performing arts including being a singer/songwriter, recording artist and musical theatre performer. As a vocal coach, I have studied and continue to study vocal pedagogy and vocal wellness. I have studied voice in Vancouver, New York City, Las Vegas and Los Angeles and have attended many international voice conferences over the years and continue to enrich my knowledge with the latest information on the voice.
I work very closely and consult with vocal health professionals and continue to work with singers who have had vocal injury and are cleared to sing again. I always make time for my professional development so that I can give the best training sessions possible.
I have worked with and consulted with some of the world's top groundbreaking voice instructors including Seth Riggs (Stevie Wonder, Madonna), Wendy Parr (Sarah Bareilles, Great Big World), Rob Raab Stevenson (Kelly Clarkson, Justin Timberlake), Mindy Pack (Brandi Carlile, The Lumineers), John Henny, Greg Enriquez, Dean Kaelin, Diane Loeb, Kathy Kennedy, Guy Babusek, Stephanie Borm-Krueger, Linda Tomkinson. and my long time mentor, Spencer Welch. What have I been up to lately? Training major label recording artists preparing for tour, mentoring other voice instructors, doing webinars on vocal health, and also continuing to work with film/tv actors on set.
I am passionate about helping singers to achieve vocal wellness, vocal balance and sing amazingly well. As a result, they can sing for longer periods of time and avoid injury or strain no matter what genre they sing. All it takes it hard work and dedication and consistency in their training!
Voice Type: Soprano
Music Styles Taught: World; Pop; Opera; Jazz; Folk; Gospel; Rock; Musical Theatre
Availability: I am available as a performer; I have a wait-list for private lessons; I am currently accepting private students; I am available as a clinician or presenter; I offer lessons in a group environment; I accept students through a college or university program
Contact Information
Studio