Hugo Vera
Style: Opera; Jazz; Folk; Rock; Classical; Pop; Musical Theatre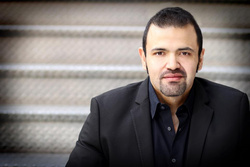 Title: Director- Vocal Academy of Orvieto
Bio:
A native Texan, tenor Hugo Vera is described as possessing a "truly heroic voice" that is both "beautiful and brilliant." Mr. Vera has performed 34 roles and 40 choral orchestral works with distinguished companies in the US as part of his musical and artistic development of the full lyric tenor repertoire. In addition to The Metropolitan Opera, Mr. Vera has sung with Spoleto, USA, Piccolo Spoleto Kansas City Symphony, New York City Opera, Illinois Symphony and Chorus, Fort St. Symphony and Chorus, Opera Memphis, Center for Contemporary Opera, New Opera NYC, Aspen Music Festival, Brevard Music Center, Sarasota Opera, the Lyric Opera of Kansas City, Glimmerglass Opera, Opera North, Aspen Opera Theatre, The Minnesota Opera, Chautauqua Opera, Nashville Opera, Shreveport Opera, Tanglewood Music Festival and The Metropolitan Opera where he return for a fifth season. As an active recitalist and clinician he has performed recitals as an Artist in Residence at Dartmouth College, University of Texas-Pan America, Westminster College, Presbyterian College, GLOW Lyric Theatre, Edinburg Consolidated School District, and Lawrence Arts Center.
Mr. Vera has performed important principal roles in his fach including Manrico (Il Trovatore), Cavaradossi (Tosca), Radames (Aida), Hoffmann (The Tales of Hoffmann), Pinkerton (Madama Butterfly), Faust (Faust), Pietro Nuttini (The Glass Blowers), Luiz (The Gondoliers), Alfredo (La traviata), Raffaele (Stiffelio) and Manuel the down and out boxer in Marcus Hummon's opera Surrender Road. He has expanded his core repertoire with cover assignments of significant roles comprising Stiffelio, Duke of Mantua (Rigoletto), Jacopo Foscari (I due Foscari), and Sam (Susannah).
As a concert artist, Mr. Vera has successfully performed works ranging from the cantatas of J.S. Bach to the works of Britten, Tippett and Vaughan Williams. Of the oratorio/concert repertoire Mr. Vera has sung Verdi's Requiem, Vaughan Williams' Mass in G minor, Schubert's Mass in G, Orff's Carmina Burana, Mendelssohn's Elijah, Haydn's Lord Nelson Mass, Handel's Messiah, and various works of Beethoven including the Choral Fantasy, the Mass in C, Missa Solemnis, and the great Symphony No. 9. He has had the pleasure of performing both Bach Magnificats, as well as the celebrated Mass in B minor.
Mr. Vera enjoyed the privilege of training with several noteworthy young artist programs including the Brevard Music Center, the Tanglewood Music Festival, Aspen Music Center, Chautauqua Opera, The Lyric Opera of Kansas City, The Minnesota Opera, and Glimmerglass Opera.
He currently is Artistic Director at the Vocal Academy or Orvieto and Executive Director at Lawrence Opera Theatre. As an educator, he currently is on summer faculty at Presbyterian College. He has served on the music faculties at New York University, The University of Kansas, and the Midwest Summer Music Institute. He taught various courses which included private voice, diction , and conducted the University of Kansas Men's Glee Club, OREAD Vocal Ensemble, and opera workshop. He keeps an active private voice studio in Tucson, AZ, New York City and on-line. He holds a D.M.A. in Voice/Opera and Choral Conducting from The University of Kansas, an M.M. in Opera from The University of Kansas, and a B.M. in Voice from the University of Utah. Further education includes The University of Michigan, and various summer vocal institutes.
Voice Type: Tenor
Music Styles Taught: Opera; Jazz; Folk; Rock; Classical; Pop; Musical Theatre
Availability: I am available as a performer; I am currently accepting private students; I offer lessons in a group environment; I am available as a clinician or presenter; I accept students through a college or university program
Contact Information
Studio