Bjorn Arvidsson
Style: Pop; Opera; Folk; Gospel; Rock; Classical; Musical Theatre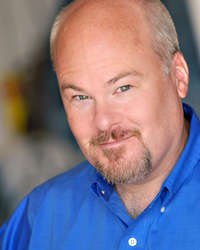 Title: Voice Teacher
Bio:
Bjorn Arvidsson has been a professional singer/stage performer for over 25 years, performing all over Europe and the United States. He has sung over 65 roles in almost as many operas, operettas, oratorios and musicals. A native of Sweden, he is fluent in Swedish, English and German and has sung in all the major, and several of the minor languages of the classical repertoire.
Bjorn started singing in High School in Sweden, where he among other things performed Rusty the steam-train in Starlight Express, and Berger in Hair. Bjorn studied at the Guildhall School of Music and Drama in London England, where he stayed and performed for 8 years, before moving to Germany, where he worked professionally for 9 years. Praised not only for his singing, but also his acting and language-skills, Bjorn was asked to sing many performances in German operetta. Bjorn has sung all types of repertoire available to a tenor; from dramatic leading roles to comic side-kicks. He has once even sung a bass-baritone role! He has sung at La Fenice, Venice Italy, the Concertgebouw in Amsterdam, the Welsh National Opera in Cardiff and the Aix-en-Provence Festival in France, to name but a few. In 2012 he sang the tenor solo in Verdi's Requiem in Sacramento, CA; a performance which was recorded and is available on Amazon and iTunes. Bjorn has also sung a wide range of concert repertoire, ranging from Offenbach operettas in French and English, to art song in all the major languages. Bjorn is right now preparing Schubert's monumental song-cycle Winterreise for performances scheduled in the fall of 2016.
In the last years Bjorn has excitedly ticked three major things off of his bucket-list: He directed Hansel and Gretel for Boulder Opera, was an actor in all 4 Shakespeare-plays at the Colorado Shakespeare Festival in the summer of 2015, and wrote the libretto for the opera "Packer" in collaboration with Professor Daniel Kellogg at CU; a performance in which Bjorn also sang the role of Alferd Packer. He has taught several university voice-masterclasses, and has several more scheduled for the future.
In addition to his performing career, Bjorn has always had a great interest in vocal pedagogy, which led him to pursue a Masters from CU in Voice Performance and Pedagogy, graduating in 2015. At CU Bjorn taught applied voice, Class Voice, German diction, directed opera scenes and sang on several faculty performances. Bjorn believes very much in helping you find your unique voice, and letting it show the way to healthy singing with longevity and expression.
Bjorn lives in Louisville and above all enjoys spending time with his wife Jennifer, member of the CU Boulder Voice Faculty, and their 12-year old daughter Hannah, who also loves to sing and perform!
Voice Type: Tenor
Music Styles Taught: Pop; Opera; Folk; Gospel; Rock; Classical; Musical Theatre
Availability: I am currently accepting private students
Contact Information
Studio