Gregory Gallagher
Style: Pop; Opera; Jazz; Gospel; Classical; Musical Theatre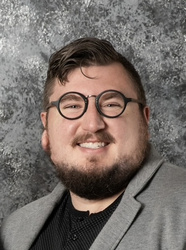 Title: Director of Worship and Music Ministries
Bio:
Dr. Gregory Gallagher is the Director of Worship and Music Ministries at St. Stephen's United Methodist Church in Albuquerque, NM, and is an independent voice teacher. He was previously an Associate Professor of Music at Eastern New Mexico University and has been proclaimed one of today's finest young singers. He is recognized for his excellent ear and cognizance of the intricacies of foreign languages to create moving performances of repertoire for the tenor voice. Gregory Gallagher's voice combines a "beautiful instrument, which is facile, wide-ranged, and capable of good dynamic command, with fine musicianship and an appealing musicality. He uses his beautiful voice to display the deepest sensitivity and understanding of text as well as to demonstrate his superb musicianship." [Robert Grayson, New York City Opera tenor and Louisiana State University Professor Emeritus]
Gregory Gallagher has appeared on the operatic stage in over 40 different productions worldwide, spanning 20 different roles including Lindoro (L'Italiana in Algeri), Beadle (Sweeney Todd), Mysliveček (Hlas lesa), Don Ottavio (Don Giovanni), St. Brioche (The Merry Widow), Ferrando (Così fan tutte), Fenton (Falstaff), Peter Quint (The Turn of the Screw), Lysander (A Midsummer Night's Dream), Rinuccio (Gianni Schicchi), the Podesta (La finta giardiniera), and Kaspar (Amahl and the Night Visitors). He has sung with numerous opera companies including Oberlin in Italy, BASOTI, LSU Opera, and Dayton Opera. Gregory Gallagher made his LSU Opera mainstage debut in the role of Peter Quint from Benjamin Britten's The Turn of the Screw, which he has reprised numerous times. His performance in the ghostly role merited such praise as, "a revelation: his voice soared as he savagely embodied this role. He was one of the most spine-chilling Quints I have ever seen… he commands the stage with a hefty saunter and evilness." And he will make his professional regional operatic debut with Opera Southwest as Gastone in Verdi's La Traviata.
In addition to his operatic performances, Gregory Gallagher has performed at numerous events as a concert soloist, including the Requiem (W. A. Mozart), Elijah (F. Mendelssohn), Messiah (G. F. Handel), and Beethoven's Choral Fantasy. In spring 2016, he performed the tenor solo in Herbert Howell's Hymnus Paradisi with the Chattanooga Symphony under the direction of esteemed conductor David Hill, Director of the BBC Singers. In the fall of 2016, he performed a world premiere of Touching the Infinite Sky by the renowned American composer Gwyneth Walker. In 2017, Gregory Gallagher was awarded first place at the Vocal Artistry Art Song Festival in Albuquerque and received the VA Wall Award. In 2018, he was awarded second place and received the Polyphony: Voices of New Mexico Award. In 2019, he was again awarded first place and received the Excellence Award. He is also a recent recipient of an Encouragement Award from the Metropolitan Opera.
As a professor at ENMU, Gregory Gallagher taught a full voice studio, Vocal Pedagogy, Practicum in Pedagogy, Stagecraft for Singers, and was music director for productions of The Pirates of Penzance, The 25th Annual Putnam County Spelling Bee, A Night at the Opera, Titanic, Dido and Aeneas, Le docteur miracle, Little Women and Opera 101. Dr. Gallagher completed his Bachelor of Music at Cedarville University, his Master of Music at Louisiana State University, and his Doctorate of Musical Arts at Louisiana State University. He currently resides in Albuquerque, New Mexico with his wife, Melody, and beagle, Strauss.
Voice Type: Tenor
Music Styles Taught: Pop; Opera; Jazz; Gospel; Classical; Musical Theatre
Availability: I am available as a performer; I am currently accepting private students; I am available as a clinician or presenter
Contact Information