Laura Good
Style: Opera; Rock; Classical; Musical Theatre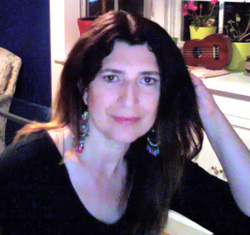 Title: Founder & Director; The Small House Music School, Winnetka, IL
Bio:
Present/Past Affiliations: American Guild of Musical Artists (AGMA); National Academy of Recording Arts and Sciences (NARAS) Professional Grammy Voting Member; National Association of Teachers of Singing (NATS); National Association of Teachers of Singing (NATS) Chicago Chapter; American Choral Directors Association (ACDA); National Association for Music Education (NAfME); Actors' Equity Eligible Performer (AEA)
LAURA GOOD--BIOGRAPHY
708.829.1625 Email: lg90@comcast.net
Mezzo-soprano Laura Good has performed on classical music and legitimate theater stages in cities both in the U.S. and abroad, as well as in the mediums of television and film. In 2016, Ms. Good appeared as Maria in highlights from THE SOUND OF MUSIC in a performance cast, directed and produced by Todd Rundgren in Stowe, Vermont. Chicago audiences saw Ms. Good sing the principle female role in Bailiwick Repertory Theatre's SHARPS, FLATS, AND OTHER ALTERATIONS. She sang the role of Eliza Doolittle in musical highlights from MY FAIR LADY for the gala reopening of the Footlik Theater at Oakton Community College with a stellar cast including Ray Frewan as Henry Higgins (Artistic Director of Drury Lane Oak Brook), Bob Scogin, Jeff winner Marilyn Campbell (Writers' Theatre, Co-founder) and Jeff Bell (Musical Director/Drury Lane). In opera, Ms. Good made her Light Opera Works of Chicago debut as Wanda in Friml's ROSE-MARIE and subsequently was reengaged the following season in Offenbach's LA PERICHOLE as Ninetta and Romberg's THE DESERT SONG in the role of Susan. She has appeared in concert versions of TURANDOT (Grant Park), BORIS GODUNOV (Chicago Symphony), and THE BARTERED BRIDE (Grant Park) with conductors Leonard Slatkin, Claudio Abbado and Lee Schaenen, respectively.
As a soloist, Ms. Good made her Orchestra Hall solo debut in the Chicago premiere of Katherine Hoover's ELENI, A GREEK TRAGEDY, a work scored for mezzo-soprano and full orchestra with the Classical Symphony Orchestra, and was seen in a televised performance of works by Chicago composer, Paul Levy. Other solo engagements include concerts of Handel's MESSIAH with the Moraine Valley Community College and the Cathedral of St. Raymond in Joliet, and Bach's MAGNIFICAT in Long Grove. She appeared in New York City at Lincoln Center's Alice Tully Hall in Monteverdi's MASS FOR FOUR VOICES, and sang IN THE BEGINNING in a performance conducted by the composer, Aaron Copland.
In recital, Ms. Good has appeared on the Mostly Music Concert Series in Valparaiso, Indiana, and the Chicago Public Library Cultural Center in Preston Bradley Hall. With a three-octave range, Ms. Good is one of the few uniquely versatile vocalists who easily makes a smooth and respectable transition from classical to blues, rock and soul. In February, 2006, Ms. Good, as a singer of the NuBlu Band, had the honor of opening up for Buddy Guy at his world-renown Chicago blues club, Legends. She has been a featured vocal artist at the Old Town School of Music, and is currently writing material for The Laura Good Band, which was the headlining band at the Oak Park Peace Festival.
Equally active in musical theater circuits, Ms. Good has performed numerous leading roles including the Russian ballerina Natalia in FOUR STARS (composed and cast by David Yazbek, Broadway's Grammy-nominated composer of THE FULL MONTY) and Ann in PARTNERS during the well-received world premieres of these musicals in Providence, R.I. She was also seen as Mary in VANITIES and Gipsy in BEAUX' STRATAGEM with Kate Burton. Ms. Good has portrayed roles ranging from Guenevere in CAMELOT to the Girl in ROAR OF THE GREASEPAINT and she appeared in the premiere stage reading of TOP GALLANT as the romantic lead, Suzanna, by Northwestern composer Paul Wolf at The Theater Building, Chicago. Other guest engagements include appearances at Walt Disney World and Arthur's in New York City. On the modeling circuit, Ms. Good has done runway work for Glemby International.
Television audiences have seen Ms. Good singing on "The Bob Hope China Special" filmed in the People's Republic of China, several guest appearances on "The Flabby Hoffman Show", CBS's "Lady Blue" series, and commercials for clients such as Smith Brothers Cough Drops and the NBC News Team. Her film credits include Tri-Star Pictures' ABOUT LAST NIGHT, Edward Zwick, director, and Paramount Pictures' FERRIS BUELLER'S DAY OFF directed by John Hughes.
A recipient of the Margaret Hillis Fellowship Fund and Oak Park's Optimist Club Wards, Ms. Good received her early training with the Chicago Symphony and Grant Park Choruses under such renowned conductors as James Levine, Sir Georg Solti and Robert Shaw. In addition to her performing, Ms. Good is the Founder and Director of The Small House Music School in Winnetka, Illinois, where she teaches voice, piano and audition preparation to students of all ages ( children, young adults, seniors ) in Chicago and Chicago's Northshore suburbs. The North Shore suburbs include Winnetka, Kenilworth, Wilmette, Glencoe, Northfield, Evanston, Northbrook, Highland Park, and Lake Forest. Certified by the State of Illinos as a "highly qualified" Music and Drama teacher, she received a Master of Arts in Education"with distinction" from North Park University and her Bachelor of Arts degree from Brown University.
Voice Type: Mezzo-soprano
Music Styles Taught: Opera; Rock; Classical; Musical Theatre
Availability: I am available as a performer; I have a wait-list for private lessons; I am currently accepting private students
Contact Information
Studio
www.SmallhouseMusicSchool.com
Winnetka,Chicago's North Shore,Northbrook,Northfield,Lake Forest
Evanston,Kenilworth,Wilmette,Glencoe,Highland Park,Winnetka,Chicago, IL
USA 60093

TEL: 847-386-6170
E-mail: lg90@comcast.net
Web: www.SmallhouseMusicSchool.com
Vcard: import to my address book