Katherine Parker
Style: Pop; Opera; Rock; Classical; Musical Theatre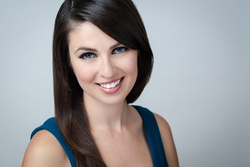 Title: Voice Faculty
Bio:
Katherine Parker has enjoyed a vibrant teaching artist career spanning opera to musical theatre to large scale puppetry to world music. Favorite projects have included performing Francesca in The Bridges of Madison County with Hackmatack Playhouse, a theatre/fully-operational bison farm in Southern Maine, The Legend of Sleepy Hollow with Quest Theatre Ensemble, a spectacle folk music/commedia dell'arte experience on the el train in the Chicago Loop, and performing/vocal coaching with Berklee College of Music the new musical Roswitha, the first cis-female playwright from the middle ages to write from a female perspective. In 2020 she premiered several new works at New Explorative Oratorio Voice Festival's "The New Morality Play" examining the intersections of voice science, extended techniques and holistic voice learning with VoiceScienceWorks in Los Angeles.
An in-demand educator, Katherine is on the voice faculty at the University of Nevada Reno and Boston Conservatory at Berklee. She previously held faculty appointments at Salem State University, Phillips Academy of Andover and Walnut School for the Arts. At SSU, she directed the Alta Voce choral ensemble for cis-gender, trans, non-binary and gender fluid treble voices. She has served as a guest artist, arranger, conductor and clinician with institutions across the country, including Harvard University, MIT, Boston Conservatory Vocal Pedagogy Professional Workshop, National Association Teachers of Singing, Massachusetts Music Educators Association and Massachusetts Instrumental and Choral Conductor Association. She most recently presented at NATS with her colleague and mentor Kevin Wilson a workshop on transitioning between belt, mix and legit style singing methods in a workshop titled "Teaching the Versatile 21st Century Cis-Female Musical Theatre Singer: Navigating the Filter." Katherine spent three summers gathering field recordings, interviews and studying singing, drumming and dance of the Ewe people at the Dagbe Cultural Arts Centre in Kopeyia, Ghana. Using this research, she authored music appreciation courses on the genesis of American popular music from West African roots for elementary and middle school music classrooms, founded/directed a world drumming ensemble for beginning percussionists, arranged several Ewe folk songs for middle school chorus and presented her research at the 2017 Massachusetts Music Educators Association Annual Conference.
Katherine holds her 200 RYS yoga teacher certification and is an active yoga teacher. Her research on physicality in the vocal warmup was featured at the Boston Conservatory Vocal Pedagogy Professional Workshop. She is currently researching how specific yoga asana sequences can improve alignment and breath efficiency in singers. Her teaching approach centers around the idea that healthy vocal technique is dependent on whole body balance. Using a combination of physical exercises, instruction on the anatomy and of the vocal mechanism and a sequential vocal warmup routine, her students develop the scientific understanding and body awareness that lays the foundation for healthy vocal development. She is based in Downtown Reno, NV and currently accepting students for virtual lessons via Zoom or Facetime.
Voice Type: Soprano
Music Styles Taught: Pop; Opera; Rock; Classical; Musical Theatre
Availability: I am available as a performer; I am currently accepting private students; I am available as a clinician or presenter; I accept students through a college or university program
Contact Information
Studio