Katrina Van Maanen
Style: Pop; Opera; Jazz; Folk; Gospel; Rock; Classical; Musical Theatre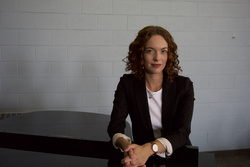 Title: Owner / Van Maanen Studios LLC
Bio:
Katrina is a coloratura soprano based in metro Detroit. In addition to her performance schedule, Katrina is passionate about teaching music to students of all ages and backgrounds. Katrina has been teaching music for over 10 years. She founded Van Maanen Studios in 2015 when she relocated back to the metro Detroit area.
As an active performer, Katrina is tuned in to the vibrant musical scene in metro Detroit. She is a member of the National Association of Teachers of Singing Great Lakes Region and has taught at institutions such as Cranbrook, Wayne State University, and currently at Oakland University's School of Music, Theater, and Dance in the Community Music program. She also leads to Youth Choir at Christ Church Detroit.
Katrina holds a Masters of Music in vocal performance from University of Houston and a Bachelor of Music in vocal performance from Western Michigan University. For more information, visit www.katrinavanmaanen.com.
Voice Type: Soprano
Music Styles Taught: Pop; Opera; Jazz; Folk; Gospel; Rock; Classical; Musical Theatre
Availability: I am available as a performer; I am currently accepting private students; I accept students through a college or university program
Contact Information
Studio