Jeremy A Powell
Style: Opera; Classical; Musical Theatre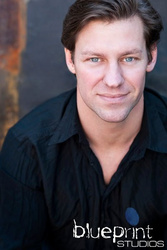 Title: Adjunct Professor (Western Connecticut State University)
Bio:
Jeremy Powell is an Australian citizen, residing in New York City. His private studio is based in Manhattan and focuses on technique, voice building and adjustment/repair work. As a performer, Jeremy was in the original Australian Casts of The Producers, Spamalot, The Witches of Eastwick, Thoroughly Modern Millie, Dead Man Walking, Romance Romance and also performed in productions of The Pirates of Penzance, Crazy For You, A Grand Night For Singing, Anything Goes, 42nd Street and others. Jeremy has also sung on several recordings of new works including the concept albums of Someone's Son, Valentino, and various works of London Composer Benjamin Till, as well as having performed considerable corporate and concert work.
Jeremy has played in the orchestras of Wicked (West End and Australia), Little Women, The Producers, The Lion King, La Rondine, A Dinner Engagement, as well as being a recital pianist for classical singers and a cabaret pianist. He has been Musical director for college/school productions of Parade, Me And My Girl, My Favorite Year, The Little Mermaid, Urinetown, Honk, Rent and others, as well as being Associate Musical Director for Naked Boys Singing in the West End.
As a voice teacher, Jeremy has taught in many different countries, in a wide variety of settings, and to a plethora of different types of students. 2018 marks the beginning of Jeremy's thirtieth year of teaching. Recently Jeremy was based in London, where he was Head of Musical Theatre at The Urdang Academy, as well as running a successful private voice studio for professionals. Prior to that, he had a high profile studio in Australia teaching mostly professional musical theatre and opera singers. Jeremy has been the company singing coach for The Lion King in Australia, The Sydney Theatre Company, and has taught masterclasses and institutions such as The Sydney Conservatorium, The Australian Institute of Music, Omaha Conservatory, Urban Dance Center, Broadway Artists Alliance and others.
Jeremy holds a Bachelor of Music Education (Sydney Conservatorium/Sydney University), Graduate Diploma of Music (Repetiteur) (Sydney Conservatorium of Music/Sydney University), A. Mus. A. (Singing), A. Mus. A. (Piano), and is a Certified Master Teacher (C.M.T.) (Estill Voice International)
Voice Type: Not Applicable
Music Styles Taught: Opera; Classical; Musical Theatre
Availability: I have a wait-list for private lessons; I accept students through a college or university program
Contact Information
Studio