Yayu Khoe
Style: Opera; Jazz; Folk; Gospel; Rock; Classical; World; Pop; Musical Theatre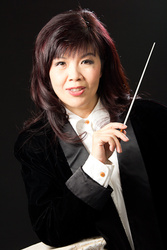 Bio:
Voice and piano studio. Instructions in voice building, breath management, vocal repertoire studies, dramatic and style interpretation, audition preparation. Piano studies from beginning to intermediate levels. Technic and repertoire studies. Spring and fall recitals plus community performance opportunities.
Yayu Khoe, artistic director and conductor of the Arizona Chinese Chorus in Phoenix, and the Ode To Peace Orchestra & Choir Concert Project with the City of Chandler in Arizona is also the artistic director and conductor of the Seattle Chinese Chorus and the Seattle Chinese Arts Group in Washington. In addition Khoe is the president and founding board of director of the American Chinese Arts & Culture Association ACACX comprises of the Arizona Chinese Chorus, the Arizona Chinese Instrumental Ensemble and the Cantonese Opera Circle and artist members. In recent years she has appeared as a soprano soloist with the Seattle Symphony; as a conductor with the Orchestra of Seattle conducting a hundred voice choir performing the Yellow River Cantata. Khoe has also coached many of her students in performance in many community performances both in AZ and WA. An accomplished coloratura soprano with three CD albums recordings to her credits, Khoe has given many solo recitals in New York Lincoln Center and performed with major music groups and opera companies in the US, Europe and China. She has lectured in Universities in China and in public schools and colleges in NYC, Fort Worth and Cedar Rapids. She currently teaches private voice and piano in Chandler, AZ and in the Seattle-Bellevue, WA area. She has worked as an arts and cultural director in NYC for over 20 years under the CMA organization producing hundreds of performances for the public. In addition to music, Khoe had enjoyed a global fashion design and buying business career based in NYC for over 15 years. She was also a former principle of the Fort Worth Chinese School and the Cedar Rapids Chinese School. Her work as a Chinese-English language interpreter was published in a series of Chinese language learning books for English speakers published by China's Shaolin Technical College. In recent years she is a touring artist for the People's of the Way Ministry. She is a member of the National Association Teachers of Singing and the American Choral Directors Association and was the featured artist in the 2014 Phoenix Chinese Week magazine. In additional to serving as a business, education and language consultant for many civic and community organizations Khoe is the director of arts & culture of the Phoenix-Chengdu Sister Cities Committee and director-secretary of the AAAA Arizona Asian American Association. She is also the mother of four talented children age 12, 16, 20 and 24. Born in Hong Kong, Khoe grew up in New York City as a child, and was a graduate of the famous High School of Music & Art in NYC. Graduated first in music of her graduating class, she received the NYC Board of Education Benjamin Chancy award. She served as a singing ambassador for NYC as a teen and often sang for civic leaders, and dignitaries. She sang many times for President Carter in the 70s to as recent as 2013 for Arizona's Governor Brewer and at the Republican convention. Over the years she has enjoyed traveling and has an appreciation for people, languages and culture of the world and has devoted much time in bringing communities together through music and the arts in New York City, Dallas-Fort Worth and in Arizona and Seattle, WA. She has studied six languages namely Chinese, French, Italian, German, Latin and English and their song repertoire and has worked as a language interpreter for many communities from civic to schools and churches. She was also a soprano soloist and music director at many churches in NYC, NJ, TX, AZ. Among them she was a long time soloist at the Grace Congregation Church in Harlem NYC. Since the 70s Khoe has actively performed in operas and cabarets and founded and conducted many choirs in NYC, namely the Univoice Chorus, Hai Yun Chorus, NJ Chinese Music Ensemble. Notable performances included the opening of the American Jazz festival in the Barbican Music Center in London and Cite de la Musique in Paris with Max Roach and the Newport Jazz festival at Carnegie Hall with Dizzy Gillespie and the John Motley Choir. She has sung coloratura soprano roles with the Brooklyn Lyric Opera, Aquarius Opera, 92nd St. Y Opera Concerts in NYC and Regal Opera in Texas. She has enjoyed many appearances in Lincoln Center with various music organizations as well as solo recitals in major US cities and in China. She was invited to give recitals and master classes in China at the Beijing Normal University, the Sichuan Music Conservatory, the Sichuan Normal University, and the Shenyang Music Conservatory.
Khoe received her M.A. in music pedagogy from Texas Woman University and was honored by the University as one out of three outstanding master graduate of the year in 2003 in the state of Texas. She received her B.A. from Queens College in New York and had also studied conducting at the Westminster Choir College in Princeton, NJ. Among her many distinguished teachers were Joan Wall, John L. Motley, Chung Mou Chu, Ellie Mok,Camilla Williams and David Britten. Khoe was honored with the title Dame of the Order de Notre Dame De Lis de France of the Bourbon Royal House by the International Nobility Association and the Association of University Presidents for highest distinguished accomplished artist. She was also the recipient of the Tarrant County Asian American Chamber Commerce Outstanding Leadership award. Among the prizes and honors she received include: professorship and medal of honor from the John Dewey University for outstanding contribution to music ministry in the community; outstanding leadership award from the Fort Worth Naval Base for contributions to the Arts, the C.B. Bellamy Music scholarship from Texas Woman University, music scholarships from the New York Daily News, New York Singing Teachers Association vocal competition winner resulting in a Carnegie Recital Hall performance, and first prize winner of the Texas Granstaff Vocal competition.
Voice Type: Soprano
Music Styles Taught: Opera; Jazz; Folk; Gospel; Rock; Classical; World; Pop; Musical Theatre
Availability: I am available as a performer; I am currently accepting private students; I offer lessons in a group environment; I have a wait-list for private lessons; I am available as a clinician or presenter; I accept students through a college or university program
Contact Information
Studio