Bertram Gulhaugen
Style: World; Pop; Opera; Jazz; Folk; Gospel; Rock; Classical; Musical Theatre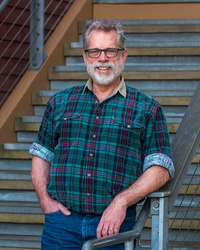 Title: MM, CMVT
Bio:
Bertram Gulhaugen MM, CMVT "Bertram the Voice Geek" www.ingoodvoice.net
I could list my education credentials at this point, and I will elsewhere on this site, but what's really important here is that I tell you about me. Education is just an exercise in amassing information, learning is when you apply the information in life after the education process and any good teacher will tell you they learn while teaching. I've been teaching, singing, conducting, creating dreams, helping people speak and sing more confidently for over 38 years and am still going strong.
I am a bonified "voice geek" meaning that ever since I started teaching in 1984, I have been obsessed with understanding the human voice. I've studied the anatomy, physiology, acoustics, and psychology of how it all works but more importantly, I've studied how to apply all of that science to helping people speak and sing better without making clients wade through technical terms…unless they want to.
In 1993 I formed a non-profit 501(C)(3) amateur choral and musical theater organization called Seattle Glee Clubs and developed and conducted the Seattle Women's Glee Club, the West Seattle Glee Club, The Olio Players Theatrical Troupe and the Offbeats Vocal Jazz Ensemble. I also taught voice classes, vocal jazz workshops, and coached a variety of vocal ensembles. The whole purpose of Seattle Glee Clubs was to have fun making music and theater.
I have extensive choral, instrumental, vocal jazz ensemble, solo, and theater experience and have presented many recitals of art song, standards, and show tunes. In addition to my own performing, I held the position of bass section leader for the Seattle Jewish Chorale from 2010 – 2013 and over the years has served as soloist/section leader and music director for synagogues, and various other denominations.
Oh, and for the record, I earned a Bachelor of Music from Pacific Lutheran University in Tacoma, WA and a Master of Music from the University of Colorado, Boulder.
You can find my website at www.ingoodvoice.net
Voice Type: Bass
Music Styles Taught: World; Pop; Opera; Jazz; Folk; Gospel; Rock; Classical; Musical Theatre
Availability: I am available as a performer; I am currently accepting private students; I am available as a clinician or presenter; I offer lessons in a group environment; I accept students through a college or university program
Contact Information
Studio