Sherna L. Armstrong
Style: Opera; Jazz; Gospel; Classical; Pop; Musical Theatre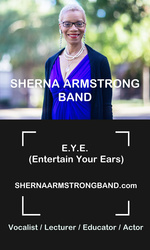 Title: Educator/Vocalist/Lecturer/Actress
Bio:
The Sherna Armstrong Band is excited for the opportunity to play for your special event. We have years of experience and have performed for everything from private parties, to weddings, to inaugural balls, to festivals. We are looking forward to helping you make your event the very best that it can be. Thank you in advance for your consideration.
Here is some information about the leader of the band, Sherna Armstrong: Born in and raised in Arkansas and now living in Dallas, Sherna Armstrong is southern soul, and a woman from humble beginnings. Sherna has headlined and shared the stage with some of the greatest artists in gospel, blues, r&b, opera; and jazz, including: Shirley Ceasar; Jr. Boy Jones; Earth, Wind, and Fire; Kathleen Battle; and Freddie Jones.
It is said, "The apple doesn't fall too far from the tree" and that's true of Sherna because her parents, were soul-filled gospel singers. They sang in separate groups but as a young girl, the unity of what gospel music is and what gospel music means, is at the core of her musical experience and her love of music. "For as long as I can remember, music was in my life and in every direction there was music. At times I sort of felt like I was music and music was me. I know music enthusiasts understand what I am saying."
Sherna is definitely an enthusiast and has been for almost a lifetime. In the mid-south, she and her siblings toured with her mother's gospel group, The Mid-South Singers; they were called the Mid-South Juniors. She grew up in a home of love, respect, religion and music and she was not alone, her siblings were right in the mix. They all loved gospel, but her brother had albums recorded by various artists and genres, and Sherna embraced them all. Of course, he had to sneak the albums in. Their mother was very religious and all music had to be what was called "church music". He had albums by James Brown, The Platters, Diana Ross, Roberta Flack, classical music and more. "Like so many artists, I started with gospel but it is not my foundation, my foundation is simply, music."
Sherna is an inspirational, award-winning artist, and international performer, who will have you salivating for more and more Sherna Armstrong. She is currently the #1 Jazz Artist in Dallas, on ReverbNation and N1M. She can be a self-contained artist, and her writing and producing skills are evident in her albums. She enjoys an extensive performance career which requires that she sing opera, musical theater, gospel, R&B, blues, and jazz. Her mixed-genre solo projects entitled, "My Soul Music I, II, & III", reflect her unique ability to perform a diverse palette of music equally well, and these projects are captivating and pure raw soul. Though the songs are not original tracks, her renditions are like the first time you have heard each and every song.
Sherna has also released an original single, "We Were Made for Each Other," and is looking forward to releasing her upcoming compilation of original songs. Whether you are blessed to hear Sherna Armstrong, the solo artist or Sherna Armstrong Band, there is one thing for sure, you will leave knowing that Sherna Armstrong is soul and that an angel just sang to you.
Sherna is not just a phenomenal vocalist; she is also doing something that she has always wanted to do, teach. She is a professor of Humanities, English, and Voice for area colleges. She holds degrees in Voice Performance and Music Education from Southern Methodist University and Humanities from University of Texas at Dallas. She is a member of the National Association of Teachers of Singing (NATS), Texas Music Educators Association (TMEA), and maintains a private voice and piano studio. Becoming a college professor means a lot to her and the transition to formal education in music "fit like hand in glove", because even before the degrees she had been a choir director, music director, and private voice teacher to many aspiring students.
For media inquiries and bookings, call (214) 924-1445. Like her on Facebook at http://www.facebook.com/ShernaArmstrongBand; follow her on www.Twitter.com/shernaa; http://soundcloud.com/sherna-armstrong, and visit her website at www.ShernaArmstrong.com. For your listening enjoyment you can find her music on Amazon, iTunes, on her website, or purchase a CD at a live performance.
Voice Type: Mezzo-soprano
Music Styles Taught: Opera; Jazz; Gospel; Classical; Pop; Musical Theatre
Availability: I am available as a performer; I am currently accepting private students; I offer lessons in a group environment; I am available as a clinician or presenter; I accept students through a college or university program
Contact Information
Studio