Andrea Kovago
Style: Opera; Jazz; Folk; Rock; Classical; World; Pop; Musical Theatre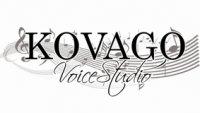 Title: Owner/Operator of KOVAGO VOICE STUDIO
Bio:
Professional voice lessons offered to all levels and voice types in a charming and comfortable studio space in Orleans Ontario.
Lessons offered to beginners of all ages (small 45 minute audition/meeting required - $40) Designed to fit your capabilities and vocal interests. Students: Beginner to advanced levels - Lessons once a week METHOD OF PAYMENT: Cash, Cheques, E-transfers, Square (with applicable fees)
Coaching and lessons given to help all singers and voice types prepare for: College and university entrance auditions Competitions recital preparation, RCM & Conservatory Canada examinations, Community events (theatre, musicals, jazz, clubs, public speaking) Solo, choral & small ensemble singing, cantoring, sacred & secular work Special singing events (weddings, funerals, birthdays, other special occasions.) Straight monologues, 16-32 bar musical theatre material Music repertoire includes but not limited to: Opera, Lieder Musical Theatre Art songs (English, French, Italian, German, Spanish, Hungarian, other…) Jazz, folk songs, sacred music Frequent master classes, seminars and classes will also be offered and typically scheduled on Sunday evenings. Guest lecturers and artists may appear throughout the coming year. Diction and Basic IPA, French Chanson, German Lieder, Italian Songs Auditioning and Performing for Musical Theatre.
To set up a 45 min. consult & small audition, please email or call for an appointment. Studio space is limited for the 2018-2019 year! Contact KVS today!
Piano Lessons are also available - Beg. to Grade 9, RCM preparation available.
Voice Type: Mezzo-soprano
Music Styles Taught: Opera; Jazz; Folk; Rock; Classical; World; Pop; Musical Theatre
Availability: I am available as a performer; I am currently accepting private students; I offer lessons in a group environment; I have a wait-list for private lessons; I am available as a clinician or presenter; I accept students through a college or university program
Contact Information
Studio