Daniel King Farris
Style: Opera; Classical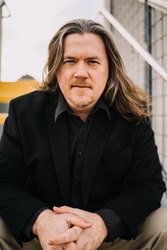 Title: Director of choral studies
Bio:
Daniel is director of choral studies and vocal area coordinator at Southwestern Oklahoma State University, and he teaches ensembles, applied voice, and the choral music education sequence to performance, education, music business, and music therapy majors. He also teaches the Southwestern summer choral camp for OMEA/OCDA preparation and other workshops during the academic year that work to further enrich and improve the audition skills needed for successful placement in the state-level honor choirs. Daniel is a fervent advocate in the consistent use of solmization, voice building, and ensemble coaching in every rehearsal to better reinforce fundamentals of vocal music pedagogy and other core music principles found throughout a rounded music education.
Currently, Daniel serves as a conductor, clinician, and adjudicator in Oklahoma and other parts of the southwestern United States and is a regional and international scholar with focused interests in choral pedagogy, score study/editing, and foreign language diction. While at Southwestern, he has presented a paper based on his doctoral research for the 2010 Athens Institute of Education and Research. He has also presented sessions at Southwestern American Choral Directors Association (2012 and 2020), Oklahoma Choral Directors Association (2017), and other conferences. In the summer of 2013, Daniel completed a two-week lectureship as a "distinguished visiting professor" at the Taipei Municipal University of Education (now University of Taipei), teaching choral and solo master classes and a series of literature and diction courses focusing on Spanish and Latin American composers from the early Baroque and Romantic periods.
Recently, Daniel has conducted honor choirs in Italy, Oklahoma, Missouri, and Arkansas, including the Kansas City Metro Honor Choirs (2019), Oklahoma Percussive Arts Society (2014), the College Music Society South Central Conference (2014), Tri-State Honor Choir (2011 and 2012), Oklahoma Music Educator Association Conference (2011 and 2017), and others. Before moving to Oklahoma, Daniel conducted at the Texas Music Educators Association conference (2005), and he has performed with the Dallas Opera Chorus (2001–2002) choirs in Italy, England, and the United States. He has been a guest artist with groups in the southwestern United States, including the Arts District Chorale (Dallas 2011–2012) and the Denton Bach Society (Denton, TX). Daniel also serves as a judge for the national music competition, The American Prize, and is an adjudicator and music advisory board member of the Oklahoma Arts Institute.
In addition to his career in music, he also teaches arnis, a Filipino martial art he has taught for twenty-four years after having tested with the late Grandmaster Ernesto Amador Presas for his Lakan Isa ranking in 1998. He teaches arnis through the SWOSU Continuing Education department's "Filipino Martial Culture" course. Daniel holds both Lakan (1st degree black belt of Modern Arnis) and Lakan Dalawa (2nd degree black belt of Kombatan arnis) rankings, and he co-founded with his top student in Oklahoma the Oklahoma Arnis Association.
Feel free to view his website (http://faculty.swosu.edu/daniel.farris/) and the Department of Music website of Southwestern Oklahoma State University (www.swosu.edu). For more information or questions about the vocal/choral division and study in Southwestern's music department, contact him at daniel.farris@swosu.edu or 580.774.3208.
Voice Type: Tenor
Music Styles Taught: Opera; Classical
Availability: I am currently accepting private students; I am available as a clinician or presenter; I accept students through a college or university program
Contact Information
Studio