Anna Hersey
Style: World; Opera; Jazz; Folk; Classical; Musical Theatre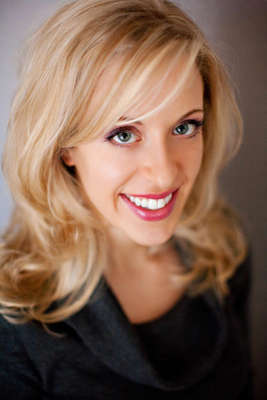 Title: Associate Professor, University of Wisconsin Oshkosh
Bio:
Hailed by critics as a "force of nature," soprano Anna Hersey enjoys performing a wide range of vocal repertoire. A native of Minnesota, Dr. Hersey has performed throughout the United States and Europe, appearing with Palm Beach Opera, Florida Chamber Orchestra, Hispanic-American Lyric Theater, Skylark Opera, The Minnesota Opera, and Theatre de la Jeune Lune (at Berkeley Repertory Theater), among others.
Past roles include the Contessa in Theatre de la Jeune Lune's Mozart/Beaumarchais adaptation Figaro at Berkeley Repertory Theatre (nominated for Best Ensemble by the Bay Area Critics Circle), Susanna (Le Nozze di Figaro), Mag (Richard Wargo's Ballymore), Despina (Cosí fan tutte), Concepción (L'heure Espagnole), La Princesse (L'Enfant et les sortileges), Frasquita (Carmen), Gretel (Hansel and Gretel), Fiona (Brigadoon), and Joanna (Godspell). Dr. Hersey was chosen as a second prize winner in the 2014 Alexander International Vocal Competition. A two-time Schubert Club Competition finalist, she was also awarded second prize in the Thursday Musical Young Artist Competition and performed with the Kenwood Symphony Orchestra as winner of their concerto competition. Additionally, she was a national semi-finalist in the Florida Grand Opera Competition, the Classical Singer Competition, and the NATS Artist Awards, receiving the Karl Trump Award from the NATS Foundation. She has performed in master classes with notable artists such as Renée Fleming, Dawn Upshaw, Jennifer Larmore, Marianne Hirsti, and Håkan Hagegård.
Dr. Hersey spent a year studying musicology at the Università di Bologna (University of Bologna) on a Rotary Fellowship. Her research on the folk songs of Siena's Palio, funded by a Walter H. Judd grant and University of Minnesota thesis research grant, was presented at the Society for Ethnomusicology.
A noted expert on Scandinavian vocal literature and diction, Dr. Hersey was a Fulbright Scholar at the Kungliga Musikhögskolan (Royal College of Music) in Stockholm, where she collaborated with pianist Matti Hirvonen. The pair recently appeared as guest artists at the Lief Eriksson International Festival. Dr. Hersey also conducted research at Det Kongelige Danske Musikkonservatorium (Royal Danish Academy of Music) and Københavns Universitet (University of Copenhagen), thanks to a post-doctoral fellowship from the American Scandinavian Foundation. She has presented her research on Scandinavian repertoire and diction at the National Association of Teachers of Singing, the University of Copenhagen Center for Internationalisation and Parallel Language Use, the International Congress of Voice Teachers, and the Yale Conference on Baltic and Scandinavian Studies.
Dr. Hersey's articles on Swedish and Danish diction and song repertoire were recently published in the Journal of Singing, VOICEPrints, and The Opera Journal. Her translations and transcriptions have been published by Plangere and by Carnegie Hall. Her first book, Scandinavian Art Song: A Guide to Swedish, Norwegian, and Danish Diction and Repertoire, is available from Rowman & Littlefield.
As a Finlandia Foundation Grantee and Sons of Norway Grantee, Dr. Hersey embarked on a recital/master class tour focusing on Nordic music, along with violinist Luis Fernandez and pianists Alan Johnson and Matti Hirvonen. Performance and master class locations include Eastern New Mexico University, Auburn University, University of Alabama, MacPhail Center for Music, University of Northern Iowa, and Pacific Lutheran University.
An active pedagogue, Dr. Hersey completed the Vocal Pedagogy Certificate at the University of Minnesota under the tutelage of Professor Clifton Ware. She is an active member of professional organizations in her discipline, acting as Program Chair for the Rio Grande Chapter of NATS, serving on the Artist Awards Steering Committee for NATS and on the Credentialing/Specialization Committee for the Pan-American Vocology Association, and presenting regularly at regional, national, and international conferences. She is a recent alumna of the NATS Intern Program, which pairs renowned teachers of voice with talented young professionals. Dr. Hersey was apprenticed to master teacher Karen Brunssen of Northwestern University.
Dr. Hersey has a keen interest in voice science and acoustic pedagogy. Her voice science research was given the "Best Paper Award" at the NATS national conference, and was also presented at the Physiology and Acoustics of Singing Conference (PAS5) in Stockholm. She attended the inaugural acoustics seminar at Lawrence University, led by Ken Bozeman and Christian Herbst, in the summer of 2015. Additionally, Dr. Hersey was awarded the 2015 Vocal Pedagogy Award from the NATS Foundation to support her attendance at Johan Sundberg's voice science seminar at the Kungliga Tekniska Högskolan (Royal College of Technology) in August 2015. Additional funding was provided by an ENMU Research Grant and an SAI Professional Development Grant. Dr. Hersey holds master's degrees in performance and musicology from the University of Minnesota, and pursued advanced studies at the Accademia Musicale Chigiana in Siena, Italy with acclaimed soprano Raina Kabaivanska. She earned a doctorate from the University of Miami, where she was a Smathers Fellow. Dr. Hersey has taught at Cleveland Institute of Music, Iowa State University, Barry University, Broward College, the University of Miami, and Eastern New Mexico University. She is Associate Professor of Voice at University of Wisconsin, Oshkosh, former editor-in-chief of VoicePRINTS, the peer-reviewed journal of the New York Singing Teachers Association, and Video Lecture Editor of the College Music Symposium.
Voice Type: Soprano
Music Styles Taught: World; Opera; Jazz; Folk; Classical; Musical Theatre
Availability: I am available as a performer; I am currently accepting private students; I am available as a clinician or presenter; I offer lessons in a group environment; I accept students through a college or university program
Contact Information
Studio