Lesley Anne Friend
Style: Pop; Opera; Classical; Musical Theatre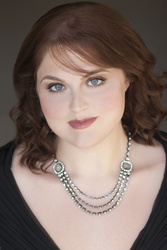 Title: Instructor
Bio:
Hello! I am a soprano and voice educator currently in the final stages of completing my doctorate at the Jacobs School of Music at Indiana University studying with Carol Vaness. I decided to pursue a doctorate because of the ever-changing and evolving world of vocal technique. Groundbreaking research in the field is happening all of the time and I want to be well-versed in everything that's happening. I've participated in a number of workshops and conferences all over the US; most recently as a participant in the Bel Canto/Can Belto Workshop at Penn State with Mary Saunders-Barton and as a presenter at the New Voice Educators Symposium.
Since developing an interest in vocal pedagogy in my undergraduate studies, I have been teaching voice. I taught for two years in Boston, MA, four years in the metro-Atlanta, GA area, and for two years in Memphis, TN. Now a resident of Norfolk, VA I teach classical and musical theatre voice to students in the Hampton Roads area and beyond, through my active online studio. My students have successfully won competitions, secured scholarships, performed well in All-State competitions, and been seen on stage in recitals, concerts, musicals, plays, and operas. You can check out my full operatic bio on my website, www.lesleyannefriend.com
Not only is my doctoral research in the field of Music Theatre repertoire and pedagogy, but musical theatre has been a passion of mine since receiving a recording of Showboat in middle school. Besides singing dozens of classic favorites at concerts and galas, I've performed a number of roles including The Witch in Sondheim's Into the Woods, Joy in Rodgers & Hammerstein's Cinderella, Aunt Eller in Oklahoma!, Peep Bo in Gilbert & Sullivan's The Mikado, Glinda in The Wizard of Oz, and Mrs. Bobby Child in The Gershwin's Crazy for You.
Voice Type: Soprano
Music Styles Taught: Pop; Opera; Classical; Musical Theatre
Availability: I am available as a performer; I am currently accepting private students; I am available as a clinician or presenter; I accept students through a college or university program
Contact Information
Studio