Rebecca E. Pieper
Style: Opera; Folk; Rock; Classical; Pop; Musical Theatre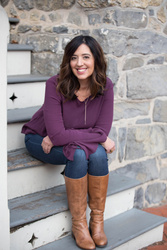 Bio:
Miss Rebecca has been heavily involved in music and theatre since a young age. Because Miss Rebecca feels an early exposure to the arts is so beneficial, one of the goals of The Musik Makers is to make students feel comfortable sharing their gift of music not only with themselves but with others. If this comfort level is reached at an early age, the possibilities are infinite. Music can be learned at any age!
Starting with piano lessons at the age of three, Miss Rebecca soon added tap, jazz, ballet, and later modern dance. By the age of eight, Miss Rebecca was performing in her first musical and her passion for the stage was rampant! Voice lessons followed shortly thereafter and Miss Rebecca began competing in vocal competitions in high school.
The highlight of her competitive career came when she was featured as a soloist in the NYSTS Young Artists Winners Recital at Carnegie Hall at the age of 17.
Miss Rebecca double majored in vocal performance and music education at Westminster Choir College. While a student, she also performed leading roles in school and local opera and theatre companies. She also studied dance at the Princeton Ballet School.
Her schooling peaked an interest in Early Childhood Development. and Miss Rebecca became certified in the musical methodologies of Orff, Kodaly, Dalcroze and in the 4Mat Teaching System. She received Early Childhood Certification through the Musikgarten Program and ran a birth through 6 year old, parent and child, music and play program from 2000-2003.
From 1997-2004, Miss Rebecca served as the Choir Director to several vocal and handbell choirs as well as for a musical drama group at Readington Reformed Church in Readington, NJ.
Since leaving the Princeton area, Rebecca has performed in various theatres throughout PA. In addition to performing she also has directed, choreographed, music directed and ran summer musical theatre camps at Chansonette, NCC, PA Playhouse, and Civic Theatre where she also served as an intern to the Artistic Director.
In 2002 Rebecca played the leading role of Susanna in Le Nozze di Figaro with the New York City Opera Forum.
In addition to teaching in her private studio, Miss Rebecca is an Adjunct Professor of Voice in the Theatre Department at DeSales University. She was also recently accepted as an accredited long distance instructor for Berklee College of Music. She can also be seen accompanying and assistant directing the Nazareth Area Intermediate School Chorus and loves the opportunity to work with students as they begin their musical journey in this nationally recognized top school district for music education.
She is currently the President of the Lehigh Valley Chapter of The National Association of Teachers of Singing and is enjoying continuing her education in the field of Vocal Pedagogy and Performance Master Programs.
Miss Rebecca finds it extremely important to teach to the individual student. Lessons are structured around the student and not a publisher's curriculum. There is a focus on the quality of the music and performance, rather than the quantity. Miss Rebecca recognizes the importance of producing a musician for life. This unique approach to teaching is a combination of her own performance experience as well as her studies in the field of music education.A passion of Miss Rebecca's is to train her students to have a healthy and functional voice. A voice that is healthy and functional is one that can be used on any stage whether it be operatic, dramatic, concert, or coffee house.
Alumni of Miss Rebecca's studio can be found performing in opera houses, symphony Halls, Broadway theatres, national tours, off Broadway theatres, dinner and community theatres throughout the country. Students have been accepted into some of the most exclusive undergraduate and graduate Performing Arts and Music Education, as well as Music Composition Programs in the country.Many have also gone on to be the stars behind the scenes working in technical theatre and others have become directors, music and drama teachers, and accompanists themselves! Lehigh Valley residents would recognize several of the faces that cross the stage as Freddy award nominees and recipients as students from the studio of Rebecca Pieper. In Miss Rebecca's life outside the studio she is a mother of two not so little boys, Carson, 20 and Brandon,18 years and loves fitness, food, fashion and her friends. Rebecca and her sons reside in Nazareth and are active on their worship teams at church.
Voice Type: Soprano
Music Styles Taught: Opera; Folk; Rock; Classical; Pop; Musical Theatre
Availability: I am available as a performer; I am currently accepting private students; I offer lessons in a group environment; I am available as a clinician or presenter; I accept students through a college or university program
Contact Information
Studio