Allison Cecilia Arends
Style: Pop; Opera; Jazz; Folk; Rock; Classical; Musical Theatre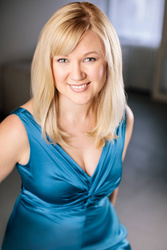 Title: Soprano, B.Mus, M.Mus.
Bio:
Allison has taught private voice and theory for over fifteen years and takes a great deal of joy in imparting her musical knowledge to students from various musical backgrounds of all age groups. While she is most active in the classical music community, she is also experienced teaching students from other singing traditions, including jazz, musical theatre, popular music, and singer-songwriters. Since music has always been a source of great joy in her life, she aims to provide a fun, open, and encouraging environment in which her students can freely explore, experiment, and discover.
Skills she may seek to improve include pitch recognition and accuracy, breath control, vocal range, vocal timbre and production, musical style, posture and alignment, and diction. Allison's strong background in languages enables her to teach her students to sing in English, German, Italian, Spanish, Latin, and French. Allison is also able to prepare her students for Royal Conservatory examinations, auditions, and performances. Her students have been accepted into many prestigious programs, including the Etobicoke School for the Arts, the Claude Watson Secondary Arts Program, Wilfred Laurier University, York University, Cowtown Opera Summer Academy, Long Reach Opera Workshop, Ontario's Provincial Choir, the Canadian Children's Opera Chorus, the Randolph Academy for the Arts, Acting Upstage, the Stratford summer training program, and the Liverpool Institute for Performing Arts.
Allison is a newly appoined member of the Royal Conservatory of Music's College of Examiners and looks forward to adjudicating at music festivals this season in Pembroke, Ontario, Woodstock, New Brunswick, and Humboldt, Moosomin, and Lloydminster, Saskatchewan. A faculty member of St. Michael's Choir School, and formerly a teacher for six years at Timothy Eaton Memorial's Choir School, she is a registered member of the Canadian Music Festival Adjudicators Association, the National Association of Teachers of Singing (NATS – International, Ontario, and University of Toronto chapters), the Ontario Registered Music Teachers' Association (ORMTA), and the Heliconian Club of Toronto. She has conducted public masterclasses and workshops for the music department at the University of Mississippi, Opera Atelier, the Saskatchewan Music Festival Association, the British Columbia Provincial Music Festival, the Regina Conservatory of Music, Ryerson Oakham House Choir, the Royal Canadian College of Organists, the voice studio of Diana Woolrich in Regina, and the Edna Manley Music College in Kingston, Jamaica. She has adjudicated on various occasions for the Saskatchewan Music Festival Association, as well as the British Columbia Provincial Music Festival, Scarborough Music Festival, Kips Music Festival in Markham, Port Coquitlam Music Festival, and the NATS Ontario auditions.
Allison completed a Bachelors of Music in Voice Performance at the University of Victoria, a Masters of Music in Opera at the University of Toronto, and an internship through the Calgary Opera Young Artists Program. Further studies have taken her to prestigious summer programs across Canada, as well as in England, Italy, Germany, Austria, and Israel. In addition to a strong background in languages through high school French Immersion studies (International Baccalaureate) and post-secondary German and Italian courses, she has studied Italian, German, French, and Spanish on an ongoing basis at the Centre for Opera Studies in Italy, the Alliance Française, the Goethe Institute, and the Spanish Centre, respectively. Her various teachers and mentors have included W. Stephen Smith, Mary Morrison, Timothy Noble, Wendy Nielsen, Selena James, Alexandra Browning, Diana Woolrich, and Norma Bertsch.
For lesson inquiries or more information, please contact Allison directly. She would be delighted to hear from you!
For more information on Allison's performing and teaching engagements, please visit her website: www.allisonarends.com
Voice Type: Soprano
Music Styles Taught: Pop; Opera; Jazz; Folk; Rock; Classical; Musical Theatre
Availability: I am available as a performer; I am currently accepting private students; I am available as a clinician or presenter
Contact Information
Studio