Eric McCluskey
Style: Opera; Classical; Musical Theatre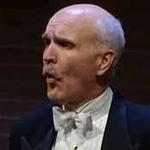 Title: Instructor of Voice at Lamar University
Bio:
Eric McCluskey is an Instructor of Voice at Lamar University. He currently teaches Applied Voice, Vocal Diction, Elements of Music, Music Appreciation, and Co-produces the Lamar Opera Workshop. Prior to coming to Lamar University, Dr. McCluskey taught at the University of Evansville in Evansville, Indiana, and Shorter University in Rome, Georgia. Dr. McCluskey has had the privilege to study with several great Voice Instructors in his life, including, Distinguished Professor, Timothy Noble of the Jacobs School of Music at Indiana University, Richard Best at Southern Illinois University Carbondale, Marlena Malas in New York City and the Chautauqua Institute in New York State, and with the late Andrew White at the Musicians Club of America in Franklin, North Carolina. Additionally, Dr. McCluskey received training while participating in the Merola Opera Program of the San Francisco, California.
Before beginning a teaching career McCluskey sang professionally and continues to perform as often as his teaching will allow today. His career spans thirty-six years and began with Opera Theatre of St. Louis in 1985 singing the role of Fiorello in Rossini's Il Barbiere di Siviglia with Leonard Slatkin, conducting. After completing a Masters Degree in 1986 his career began to escalate and by the early 1990's he had sung with opera companies across the United States. His performances include touring with the San Francisco Opera's Western Opera Theater and two tours with the New York City Opera's National Company. He has sung side by side with some of the great ladies of opera including, Susan Graham, Anna Marie Martinez, and Christine Brewer. McCluskey has also worked with some of the leading conductors, coaches, and stage directors including, Patrick Summers, Leonard Slatkin, John Nelson, Donald Palumbo, Stephen Lord and the late Colin Graham.
His singing career has given him the opportunity to sing world premieres including, Gian Carlo Menotti's The Singing Child with the Spoleto Festival USA and two operas with Opera Omaha: Weisgall's Gardens of Adonis and Casken's Golem. A unique performance that Dr. McCluskey was pleased to have been involved in was, singing Mahler's Songs of a Wayfarer with the Paris Opera Ballet. McCluskey sang the performance from the orchestra pit while the late international ballet star, Rudolf Nureyev danced. Dr. McCluskey has also spent over six months at sea singing Opera performances on board the HMS Sagafjord and Vistafjord on three different occasions. Several awards helped jump start his career including: the William Matheus Sullivan Award, the Richard Gaddes Award from Opera Theater of Saint Louis, the Merola Opera Awards, and the Young Artist Competition from the Women's Association of the St. Louis Symphony Society. He also credits competitions in which he competed as a finalist in support of his career including: The Bruce Yarnell Competition and the Zachary Competition.
Dr. McCluskey while completing his doctoral degree at the Jacobs School of Music began building a web site for the songs of Gerald Finzi and one can now visit an expanded version of the site under construction at: www.finzisong.com
Voice Type: Baritone
Music Styles Taught: Opera; Classical; Musical Theatre
Availability: I am available as a performer; I am currently accepting private students; I am available as a clinician or presenter; I accept students through a college or university program
Contact Information
Studio