Dana Varga
Style: Classical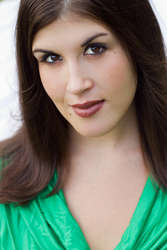 Title: Voice Faculty, Longy School of Music
Bio:
Dr. Dana Lynne Varga is a sought-after soprano, voice teacher and career coach, as well as the Founder and Artistic Director of MassOpera. She has served on the voice faculties of the University of Massachusetts Amherst, the New England Conservatory Preparatory School and the Boston University Tanglewood Institute. Dana regularly presents vocal master classes as well as classes on business and entrepreneurship for singers all over the east coast, and publishes articles frequently in Classical Singer Magazine.
An avid concert soloist, Dana's recent performances have included Beethoven's Missa Solemnis with the Cantata Singers (Jordan Hall), Mozart's Mass in C Minor and Haydn Lord Nelson Mass with Coro Allegro (Sanders Theatre), the Fauré Requiem and Neilsen's Symphony No. 3 with the Springfield Symphony, Amy Beach's Mass and Handel's Israel in Egypt with the Commonwealth Chorale, the Bach B Minor Mass and Christmas Oratorio with the Rhode Island Civic Chorale and Orchestra, and Mendelssohn's Psalm 42 with the Andover Choral Society. She performs Handel's Messiah regularly with dozens of organizations across the northeast.
Past concert highlights include both Vaughan Williams' Sea Symphony and Dona Nobis Pacem as well as the Brahms Requiem and the Dvořák Te Deum with the Metropolitan Chorale, Orff's Carmina Burana with the Granite State Choral Society, Dubois' Seven Last Words with Coro Allegro, the Bach Magnificat, Mozart Requiem and Mendelssohn St. Paul with the Choral Art Society, and Beethoven's Mass in C at Tanglewood (Ozawa Hall).
Dana was the first place winner of the 2016 Classical Singer National Competition, and the second place winner of the 2016 Rochester Oratorio Society Classical Idol. She has placed first in the Arlington Philharmonic competition as well as in several divisions of the NATS competition. She has been a regional finalist for the Metropolitan Opera competition and a recipient of the St. Botolph Artist Grant.
Dana has amassed accolades for her numerous operatic roles, which include Musetta in La bohème, Fiordiligi in Cosi fan tutte, Anna Maurrant in Street Scene, Rosalinda in Die Fledermaus, Micaëla in Carmen, Alcina in Alcina, Hanna Glawari in The Merry Widow and First Lady in The Magic Flute. She has performed with Boston Lyric Opera, Odyssey Opera, PORTopera, Opera Boston, Boston Opera Collaborative, PANopera, Connecticut Lyric Opera, Commonwealth Opera, Boston Baroque, the Aldeburgh (Britten-Pears) Festival, and the prestigious Caramoor Festival in New York.
For more information and to view upcoming performances, please visit www.danavarga.com. Please also visit Dana's career coaching site at www.theempoweredmusician.com. Dana is represented by Wade Artist Management.
Voice Type: Soprano
Music Styles Taught: Classical
Availability: I am available as a performer; I have a wait-list for private lessons; I am available as a clinician or presenter; I accept students through a college or university program
Contact Information
Studio