Stephanie L Aston
Style: Pop; Opera; Jazz; Folk; Rock; Classical; Musical Theatre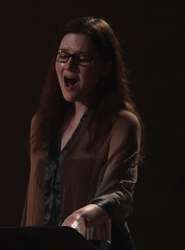 Title: Adjunct Applied Voice/Musicianship, Moorpark College, Applied Voice, MSMU
Bio:
Stephanie Aston Voice Studio Stephanie teaches voice lessons, both individual and group, out of her home studio in North Hills, CA. She has her Doctorate in Voice Performance from UC San Diego. She has taught individual and group lessons, both privately and at the college level, for eight years. Stephanie teaches many styles of singing including classical, opera, musical theater, jazz, pop, and rock, and can teach all levels, from beginning to professional. She believes in establishing and maintaining a healthy vocal technique, connecting with the body and also with the music. Each student is unique, and lessons are catered to the abilities and goals of the student. Stephanie has an infectious love for music that she passes along to her students. Topics covered, depending on student needs, include: Breathing/Support
Projection/Resonance
Music Reading
How to warm up the voice
Pronunciation for singing
Working on Songs
Please contact Stephanie if you have questions and are interested in taking lessons.
Voice Type: Soprano
Music Styles Taught: Pop; Opera; Jazz; Folk; Rock; Classical; Musical Theatre
Availability: I am available as a performer; I am currently accepting private students; I am available as a clinician or presenter; I offer lessons in a group environment; I accept students through a college or university program
Contact Information
Studio