So You Want to Sing Jazz:
A Guide for Professionals
By Jan Shapiro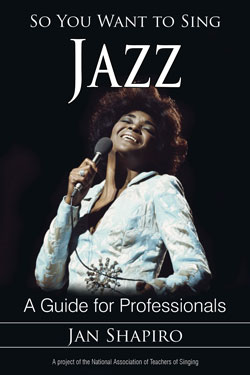 In So You Want to Sing Jazz, singer and professor of voice Jan Shapiro gives a guided tour through the art and science of the jazz vocal style. Throughout, Shapiro hones in on what makes jazz singing distinctive, suggesting along the way how other types of singers can make use of jazz.
Shapiro looks at such key matters in jazz singing as the role of improvisation, the place of specific singers who influenced and even defined vocal jazz as we know it today, and the unique way in which
jazz incorporates vibrato, conversational delivery, rhythmic phrasing,
and melodic embellishment and improvisation.
The book includes guest-authored chapters by singing voice researchers Dr. Scott McCoy and Dr. Wendy LeBorgne, as well as audio and visual examples from the website of the National Association of Teachers of Singing. In So You Want to Sing Jazz, singers and voice teachers finally have the go-to resource they need for singing vocal jazz.
About the author: Jan Shapiro has been on the faculty of Boston's Berklee College of Music for the past 31 years, and is a world -class practitioner of the art of jazz singing. She served as chairwoman in Berklee College's vocal department for more than a decade.
TOC
List of Figures
Foreword
Preface
Acknowledgments
Introduction
Chapter 1: The History of Jazz and Elements of Jazz Singing
Chapter 2: Singing Jazz and Voice Science
Chapter 3: Vocal Health and the Vocal Jazz Artist
Chapter 4: Jazz Vocal Characteristics
Chapter 5: Developing Jazz Ears
Chapter 6: The Great American Songbook
Chapter 7: Scat and Interpretation
Chapter 8: Jazz Vocal Performance
Chapter 9: Jazz Singing as a Career
About the Author
So You Want to Sing Jazz is the third volume in the So You Want to Sing: A Guide for Professionals series of works devoted to providing a complete survey of what it means to sing within a particular genre. Each contribution functions as a touchstone work for not only professional singers, but students and teachers of singing as well. Titles in the series offer a common set of topics so readers can navigate easily the various genres addressed in each volume. The So You Want to Sing series is produced under the direction of the National Association of Teachers of Singing, the leading professional organization devoted to the science and art of singing.
Rowman & Littlefield Publishers
Pages: 208 • Size: 6 x 9
978-1-4422-2935-8 • Paperback • December 2015 • $35.00 • (£23.95)
978-1-4422-2936-5 • eBook • December 2015 • $34.99 • (£23.95)