2015 National Student Auditions
Semifinalists By Category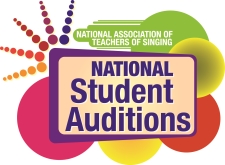 Congratulations to the YouTube round participants who have been selected to advance to the on-site national semifinal round at the 2015 National Student Auditions in Greensboro, North Carolina.
Each of the YouTube round judges did take the time to provide comments on each audition. To access these comments, participants should log on to their NATS account (with Username and Password). From the "Member Home" page, click to "View" the application. Comments will be listed toward the bottom.
The semifinal and final round of this competition will be held on July 7 at UNC-Greensboro. Semifinal rounds will begin no later than 9 a.m., with registration opening no later than 8 a.m. The final round will take place the evening of July 7. Further details including the exact time and place of your audition will be communicated soon VIA EMAIL to all the winners of the online round. 
For information on the 2015 Summer Workshop, please visit the NATS Summer Workshop webpage.
Below is a complete list of the singers selected to participate in the live semifinal round:
Category I - High School Music Theater Men
| | | |
| --- | --- | --- |
| First Name | Last Name | Region |
| Andrew | Bonomolo | Mid-Atlantic |
| Luke | Dooley | Northwestern |
| William Bradley | Fielding | Mid-Atlantic |
| Benedict | Hensley | New England |
| Joshua | Horst | North Central |
| Chris | Hutton | West Central |
| Luis | Ibarra | Southeastern |
| Alex | Kosick | Eastern |
| Niko | Mancera | Cal-Western |
| Michael | Perez | Mid-Atlantic |
| Leo | Plante | North Central |
| DaShawn | Williams | Texoma |
| Garrett | Wilson | Mid-Atlantic |
| Austin | Zhuang | Cal-Western |
Category II - High School Music Theater Women
| | | |
| --- | --- | --- |
| First Name | Last Name | Region |
| Macey | Arrington | Southern |
| Kira | Arrington | Mid-Atlantic |
| Phoebe | Bawmann | West Central |
| Laura | Bright | Mid-Atlantic |
| Katie | Glasgow | Eastern |
| Claire | Griffin | Mid-Atlantic |
| Sarah | Heylmun | Central |
| Lee | Metaxa | Texoma |
| Morgan | Montgomery | Texoma |
| MarShae | Morris | Texoma |
| Caitlin | Palmisano | Central |
| Janna | Sokolow | New England |
| Abbie | Weinel | Mid-Atlantic |
| Rachel | Williams | North Central |
Category III - High School Men
| | | |
| --- | --- | --- |
| First Name | Last Name | Region |
| Erik | Belz | North Central |
| William Bradley | Fielding | Mid-Atlantic |
| Mark | Garrepy | New England |
| Ricky | Goodwyn, Jr. | Mid-Atlantic |
| James | Hoskins | Mid-South |
| Niko | Mancera | Cal-Western |
| Grayson | Milholin | Mid-Atlantic |
| Benjamin | Morrow | West Central |
| Thomas | O'Neill | Mid-Atlantic |
| Krishna | Raman | Eastern |
| Christopher | Short | Mid-Atlantic |
| Hayden | Smith | Mid-South |
| Drew | Sprague | Eastern |
| Fredrick | Thompson | Southeastern |
Category IV - High School Women
| | | |
| --- | --- | --- |
| First Name | Last Name | Region |
| Bonnie | Blackwell | Mid-Atlantic |
| Madison | Fitzpatrick | New England |
| Anna | Ginther | North Central |
| Katie | Glasgow | Eastern |
| Lydia | Grahm | Mid-South |
| Claire | Griffin | Mid-Atlantic |
| Megan | Hull | Eastern |
| Mya | Ison | Mid-Atlantic |
| Anna | Lee | Southeastern |
| Katie | Malone | Mid-Atlantic |
| Abigail | Miles | Northwestern |
| Charley Anne | Roper | Mid-Atlantic |
| Emeline | Rose | Texoma |
| Lindsay | Whisler | Central |
Category V - College/Private Music Theater Men
| | | |
| --- | --- | --- |
| First Name | Last Name | Region |
| Kevin | Beckam, II | Southeastern |
| Matthew | Billman | Cal-Western |
| Aaron | Bravo | Texoma |
| Jeremy | Brown | West Central |
| Matthew Tyler | Cook | Southeastern |
| Wesley | Diener | Mid-Atlantic |
| Zachary | Futch | Southeastern |
| Joseph | Grosso | Southeastern |
| Nole | Jones | Southeastern |
| Noah | Lindquist | West Central |
| Logan | Moore | Central |
| Nicholas | Prior | West Central |
| Craig | Smith | Mid-Atlantic |
| John | Wixted | Mid-Atlantic |
Category VI - College/Private Music Theater Women
| | | |
| --- | --- | --- |
| First Name | Last Name | Region |
| Amanda | Anderson | Southeastern |
| M. Sawyer | Branham | Southeastern |
| Sharayah | Bunce | North Central |
| Gina | Carlson | Central |
| Emma | Foroutan | Texoma |
| Gabrielle | Fuqua | Southeastern |
| Angela | Gilbert | West Central |
| Unita | Harris | Southeastern |
| Meredith | Jones | Mid-Atlantic |
| Mary-Ellen | Norwood | Southeastern |
| Lauren | Salazar | Texoma |
| Jacqueline | Savageau | New England |
| Kelsey | Seals | Southeastern |
| Sarah | Williams | Southeastern |
Category VII - Lower College/Private Men 
| | | |
| --- | --- | --- |
| First Name | Last Name | Region |
| Blake | Beckemeyer | Great Lakes |
| Tyrez | Dabbs | Mid-Atlantic |
| Logan | Dell'Acqua | Great Lakes |
| Wesley | Diener | Mid-Atlantic |
| Matthew | Feinberg | New England |
| Zachary | Futch | Southeastern |
| Andrew | Garrepy | New England |
| Jared | Jones | Southeastern |
| O'Neil | Jones | Southern |
| Logan | Kenison | Mid-Atlantic |
| Timothy | Kirby | Central |
| Ryan | LeGrand | Northwestern |
| Daniel | Satter | New England |
| Thomas | Stoysich | West Central |
Category VIII - Lower College/Private Women
| | | |
| --- | --- | --- |
| First Name | Last Name | Region |
| Gabrielle | Barkidjija | Central |
| Shannon | Barry | Great Lakes |
| Caroline | Bosworth | Mid-Atlantic |
| Angeliz | Bula | Southeastern |
| Francesca | Dawis | Cal-Western |
| Kathleen | Johnson | West Central |
| Mary | Kettlewell | Central |
| Jennifer | Kreider | Eastern |
| Jin | Lee | Southeastern |
| Katherine | Leidlein | Texoma |
| Kelsey | Lewis | Eastern |
| Julie | Moore | Texoma |
| Kathleen | O'Mara | Eastern |
| Anja | Pustaver | North Central |
| Lindsay | Webber | Texoma |
Category IX - Upper College/Private Men
| | | |
| --- | --- | --- |
| First Name | Last Name | Region |
| Hunter | Aldridge | Mid-Atlantic |
| Matthew | Billman | Cal-Western |
| Fredric | Bond | Eastern |
| Jacob | Engel | North Central |
| Deon'te | Goodman | Mid-Atlantic |
| Dylan | Harrison | Mid-South |
| Christopher | Hochstuhl | Eastern |
| Stephen | McCluskey | Southeastern |
| Vincent | McPherson | Central |
| Joseph | Rivers | Mid-South |
| Austin | Sanders | North Central |
| Benjamin | Vollentine | Southern |
| Terriq | White | Mid-Atlantic |
| Samuel | Witmer | Great Lakes |
Category X - Upper College/Private Women
| | | |
| --- | --- | --- |
| First Name | Last Name | Region |
| Kate | Doriot | Southeastern |
| Victoria | Erickson | North Central |
| Audra | Fuchsel | North Central |
| Moretta | Irchirl | Texoma |
| Katelyn | Johnson | Southeastern |
| Kassiani | Kontothanasis | New England |
| Vanessa | Martucci | Cal-Western |
| Jennifer | Mayer | Northwestern |
| Carol Anne | Osborne | Southeastern |
| Kaileigh | Riess | Central |
| Lauren | Rosas | Eastern |
| Catherine | Sandstedt | Central |
| Janell | Stallard | Texoma |
| Carly | Wingfield | Mid-South |
Category XI - Graduate/Advanced Men 
| | | |
| --- | --- | --- |
| First Name | Last Name | Region |
| Christopher | Blair | Cal-Western |
| Travis | Bregier | North Central |
| Gabriel | Curl | Mid-Atlantic |
| Jesse | Melson | Texoma |
| David | Sanchez | Central |
| Ryan | White | West Central |
Category XII - Graduate/Advanced Women
| | | |
| --- | --- | --- |
| First Name | Last Name | Region |
| Ashlee | Bickley | Great Lakes |
| Shari | Feldman | Eastern |
| Ahyoung | Jeong | New England |
| Desiree | Johnson | Great Lakes |
| Stephanie | Lange | Mid-Atlantic |
| Julie | Lenz | Cal-Western |
| Jessica | Lynn | Mid-Atlantic |
| Julia | Metry | Southeastern |
| Ashley | Mispagel | North Central |
| Therese | Pircon | Mid-Atlantic |
| Georgia | Smith | Mid-Atlantic |
| Grace | Svatek | Eastern |
| Julie | Trammel | Southeastern |
| Karolina | Wojteczko | New England |