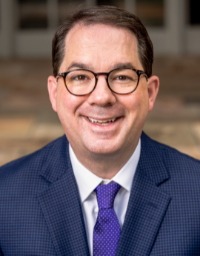 Randall Umstead currently serves as Herring Professor and Chair of the Department of Music at Furman University after 15 years on the faculty of the Baylor University School of Music. Randall spent the final four of those years having served as Professor of Voice and Associate Dean of Academic Affairs, after serving six years as Director of Vocal Studies. During his time at Baylor, he served as a full, voting faculty member on Baylor's Board of Regents and as chair of the Faculty Senate. 
Randall also served two terms as governor of the Texoma Region of NATS. As such, he also spent four years on the board of the association.  He is a former NATS Intern, Texoma Region Treasurer/Registrar, and Dallas-Ft. Worth Chapter President.
As a performer, Randall was twice a fellow at the Tanglewood Music Center. He has performed as a soloist with Bach Society Houston, Dallas Bach Society, Johannesburg Festival Orchestra, Milwaukee Symphony Orchestra, Flagstaff Symphony, Colorado Bach Ensemble, Cincinnati Baroque Orchestra, Catacoustic Consort, Richmond Symphony Orchestra, the Kwazulu-Natal Philharmonic Orchestra, the Irving Symphony, and the Bach Society of Dayton.
Randall's students have gone onto successful careers as musicians and educators, and they have been accepted into prestigious graduate programs, including the University of Cincinnati College-Conservatory of Music, Indiana University, the Yale University School of Music, and the University of Michigan.  He holds the BM from Oklahoma Baptist University, and the MM and DMA from the University of Cincinnati College-Conservatory of Music.