So You Want to Sing Country:
A Guide for Professionals
By Kelly K. Garner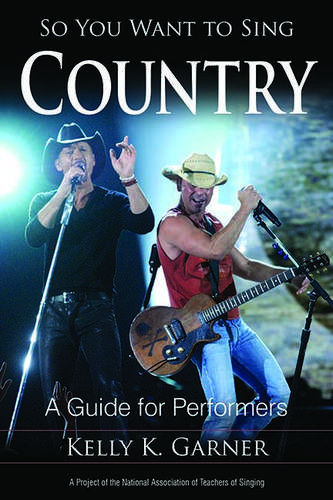 Country music, an original American artform, has been around since before the recording industry began and long before a singer even had the opportunity to sing into a microphone. From the early beginnings in the hills of Appalachia, to the rise of Hank Williams, Patsy Cline, and the more recent megastars, including Garth Brooks and Carrie Underwood, country music has proven to have staying power. It is one of the most popular styles of music in the world today, garnering more sales and downloads currently than any other genre. Many talented individuals are aspiring to sing country music and are determined to turn it into a successful career. Because of this growing popularity, there is a need to educate interested singers with information and methods that will give them the best possible chance at either having a career as a artist, working in the industry as a background vocalist or session singer, or simply realizing their potential in country music.
Kelly K. Garner's So You Want To Sing Country is a book devoted to briefly reviewing the rich heritage of country singing and thoroughly examining the techniques and methods of singing in a country style. Additional topics of discussion will include country song types and structure, instrumentation, performing on stage and in the studio, and career options in country music. Additional chapters by Scott McCoy and Wendy LeBorgne, and Matthew Edwards address universal questions of voice science and pedagogy, vocal health, and audio enhancement technology.
The So You Want to Sing series is produced in partnership with the National Association of Teachers of Singing. Like all books in the series, So You Want to Sing Country features online supplemental material on the NATS website. Please visit www.nats.org to access style-specific exercises, audio and video files, and additional resources
Series: So You Want to Sing
Rowman & Littlefield Publishers
October 2016 • 256 pages
978-1-4422-4640-9 • Paperback • October 2016 • $37.00 • (£24.95)
978-1-4422-4641-6 • eBook • October 2016 • $36.99 • (£24.95)
Author
Kelly K. Garner, DMA, is associate professor of commercial voice and coordinator of commercial music at Union University in Jackson, Tenessee. She teaches commercial voice, songwriting, introduction to audio engineering and production, music technology, and various commercial ensembles. She has worked in Nashville for twenty-eight years as a session singer, artist, producer, and songwriter.