What's New > India Chapter student is the first NSA winner from the International Region
posted on 9:17 AM, August 15, 2023
Tiana Oberoi received 1st prize in the Upper High School Classical Treble category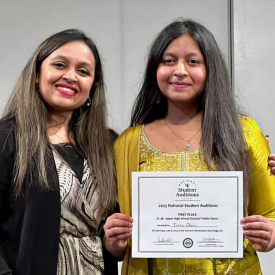 Sandra and Tiana Oberoi
NATS presented Tiana Oberoi, a student representing the India Chapter of the NATS International Region, with 1st prize in the Upper High School Classical Treble Category of the 2023 National Student Auditions (NSA) finals in San Diego last month.
Tiana Oberoi is the first-ever category winner from the newly established NATS International Region. She also was the first recipient of a travel scholarship from the new International Region Scholarship Fund.
"We are thrilled to be able to support Tiana Oberoi as the NATS International Region's very first finalist and 1st place winner in the National Student Auditions," said Sarah Holman, Region Governor for the International Region. "May this be the start of many more finalists representing the International Region. Many thanks for the generous contributions that help make international travel to NSA finals a reality."
Tiana Oberoi is the daughter of Sandra Oberoi, president of the India Chapter. Tiana will begin her bachelor's degree in vocal arts education at the Royal College of Music next month. In addition to singing, she plays the piano, drums, and violin.
The NATS International Region was officially formed in spring of 2021. It is comprised of the Hong Kong, India, South Africa, and South Korea Chapters. It held its first-ever virtual conference and student auditions February 17-19, 2023.
If you would like to celebrate and support students from the NATS International Region, please consider a contribution to the International Region NSA Scholarship Fund.