What's New > Longtime NATS staff member Deborah Guess passes away
posted on 4:21 PM, July 14, 2022
Guess worked for NATS for 25 years.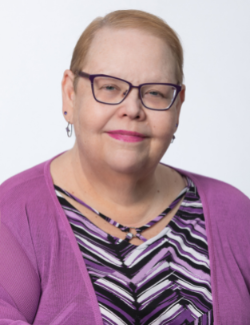 Deborah Guess
Longtime member of the National Association of Teachers of Singing (NATS) executive staff, Deborah Guess, passed away on Wednesday, July 13, 2022 in Jacksonville, Florida.
She first joined NATS as office manager in 1997 and was later appointed director of operations in 2006. In her role as director of operations, Guess was responsible for a variety of tasks, including the planning of the biennial NATS conferences.
"We are so sad to learn of the passing of our colleague and dear friend, Debbie Guess," said NATS Executive Director Allen Henderson. "Besides her family there were two things she loved most: the color purple and NATS. NATS was in her heart and mind every day. She was an essential part of the NATS team for decades, and we will miss her. We wanted to let the NATS community know as many members have interacted and worked with Debbie for years. We plan to post an update as more information becomes available. We extend our sincerest condolences to her family, friends and community, and our hearts mourn with you."
NATS members also may know her daughter Mandy Ruddock, who joined NATS as a part-time clerical assistant in 2002, working wherever extra help was needed during the busy season. Most recently, Ruddock worked alongside the executive staff at the NATS 57th national conference in Chicago. Ruddock was stationed at the registration desk and also facilitated countless hotel and catering details.
Guess had more than 30 years of experience in event and business management, as well as accounting. Before joining NATS, she held the position of public relations director at the Museum of Contemporary Art in Jacksonville and before that served as assistant to the director of the Technology Resource Center at Santa Fe Community College in Gainesville, Florida, assisting with grant writing, promotions of events and computer training for other staff members. She also served as a teaching assistant at the University of North Florida and did several research internships at the Cummer Art Museum (in Jacksonville) and the St. Augustine Historical Society in St. Augustine, Florida.
Guess was a magna cum laude graduate and earned her Bachelor of Arts degree from the University of North Florida in Jacksonville. She also was a lifetime member of The Honor Society of Phi Kappa Phi and Phi Theta Kappa. She held an Associate of Arts degree in accounting and certification in volunteer management, internal revenue income tax law, business management and graphic design. She served on the Board of Trustees of the United Methodist Church and several local charitable organizations.
Her memorial service is Monday, July 25. The visitation is at 10 a.m. ET and the service is at 11 a.m. 
Hardage-Giddens Funeral Home
Beaches Chapel
1701 Beach Blvd
Jacksonville Beach, FL 32250
904-249-2374
---
If you would like to share a tribute or memory of Deborah Guess to be included in a future update and a collection of remembrances that NATS will share with the family, please send your message to info@nats.org.
In lieu of flowers, the family has requested that contributions be made to NATS in memory of Deborah Guess. To contribute, please use our online form.