What's New > NATS 2022 Voice Pedagogy Award goes to Carissa Scroggins
posted on 8:00 AM, May 5, 2022
The annual prize is awarded to a NATS member for the purpose of studying voice pedagogy and/or voice science.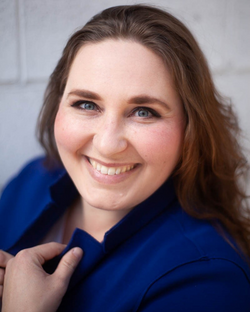 Carissa Scroggins
Congratulations to Carissa Scroggins, the 2022 recipient of the NATS Voice Pedagogy Award. The $500 prize is awarded annually to a candidate who is a member of NATS, for the purpose of study at a seminar or workshop on voice pedagogy and/or voice science.
Scroggins will apply the award money to her attendance at the NATS 57th national conference this summer, July 1-6, in Chicago. Scroggins is an adjunct professor at Colorado Mesa University and has a private voice studio.
"The selection committee was most impressed with Carissa's desire to learn more about teaching young singers, teaching body awareness, and teaching in inclusive and equitable ways," said NATS President Carol Blankenship.  "She is eager to learn from the NATS conference sessions that she believes will greatly impact her teaching especially with regard to non-Binary students and pedagogy that respects each student."
Scroggins has a special passion for serving children and their needs in Western Colorado. In addition to her responsibilities at the university level and working on a children's opera, she is also providing individual and group lessons to local children and teens who are part of the foster care system. Scroggins works regularly with the foster care administrators and caseworkers in her area.
"In exchange for free lessons, the students collaborate with foster parents and caseworkers to find community service opportunities," Scroggins explained. "I am extremely proud of this program. I also give lullaby workshops to parents and guardians in my community. Most non-singers feel uncomfortable singing to their children. These workshops boost their confidence — safety in numbers! — and they walk away able to sing several simple classical lullabies."
With help from the awarded funds, Scroggins plans to attend all sessions at the NATS national conference centered on children, such as "The Legacy of Engaging Children and Families Through Song," "Building Musical Foundations for the Young Singer," "Careers in the Children and Family Performance Space" and "Children's Songs in Hebrew."
"I'll learn new ideas and tools from these wonderful people, especially Ella Jenkins and Jazzy Ash," she added. "Through these workshops and mini recitals, my mission will take several steps forward. Imagine the impact this will have on the children and teens of Western Colorado. Not only will my service projects be positively impacted by attending the 2022 national conference, but my vocal instruction will as well."
Congratulations, Carissa!
---
More about Carissa Scroggins
Carissa Scroggins, lyric-coloratura soprano, earned her doctorate in vocal performance with a secondary emphasis in musicology from the University of Northern Colorado. Her recent opera roles include Marie from La fille du Régiment (2020) Die Königin der Nacht from Mozart's Die Zauberflöte (2018) and Ännchen from Weber's Der Freischütz (2018). She is also an experienced opera director, most recently premiering Arlene Siagian's Pride and Prejudice (2019).
In 2019, Scroggins produced her first recording titled "Beautiful Dreamer: a collection of classical lullabies." She is an active soloist in Colorado and has placed in state and regional vocal competitions.
In addition to being a member of the National Association of Teachers of Singing, she is also a member the National Opera Association, Opera America, College Music Society and Music Teachers National Association. Her current research is focused on lullabies as an art song repertoire choice, teaching community classes in how to sing to your baby and a project funneling performance arts experiences towards children in the foster care system. She is also writing a children's opera that she hopes will be used by Colorado Mesa University students to engage the Grand Junction community. Scroggins currently teaches applied voice lessons at CMU.
Scroggins' goal is to have students leave her office more solid in why they are singing. She teaches students about correlating careers, creating performance opportunities and engaging communities in the performance arts. There is room for everyone in the performing arts, it's just a matter of exploring each person's skills, strengths and values to find their perfect niche.
---
Learn more information about the NATS Voice Pedagogy Award and view the list of past award recipients. The annual application deadline is February 15 of the year in which the proposed seminar will take place.