What's New > NATS Foundation 2018 Voice Pedagogy Award goes to Julia Bentley
posted on 12:51 PM, April 3, 2018
Julia Bentley is this year's recipient of the Voice Pedagogy Award from the NATS Foundation. The prize is awarded annually to a NATS member for the purpose of study on voice pedagogy and/or voice science.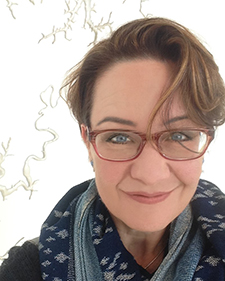 Julia Bentley
Congratulations to Julia Bentley, this year's recipient of the Voice Pedagogy Award from the NATS Foundation. The $500 prize is awarded annually to a candidate who is a member of NATS, for the purpose of study at a seminar or workshop on voice pedagogy and/or voice science. The decision was made by a committee of three NATS Foundation Board members, including Sarah Holman, Dian Lawler-Johnson, and Martha Randall.
The award will be applied toward Bentley's attendance at The Voice Foundation's Annual Symposium: Care of the Professional Voice (May 30–June 3). Bentley has attended the symposium for the past three years, most recently as a workshop presenter. She has found the event to be utterly astounding and revelatory in refining the content of her teaching.
Bentley will also be attending the NATS National Conference in Las Vegas (June 22–26), where she has been invited to present "Southern Harmony: A Song Re-cycle" during a mini-recital performance.
After teaching at the DePaul University School of Music, Concordia University and the graduate Art Song Seminar at North Park University, Bentley joined the voice faculty at the University of Missouri at Columbia, teaching studio voice and graduate voice pedagogy. She has received grants for Course Design and Technology Support, was selected as a Faculty Scholar (a state-wide interdisciplinary cohort), and was recognized by the Student Activities Council for outstanding creativity and collaborative initiative.
Since completing degrees at Indiana University and apprenticeships with the Santa Fe Opera and the Chicago Lyric Opera, mezzo-soprano Bentley has appeared in leading operatic roles from Anchorage to New York and been featured as a soloist with orchestras led by George Manahan, Raymond Leppard, Oliver Knussen, Robert Shaw and Pierre Boulez. She has performed with Chicago's many fine ensembles, including the Chicago Civic Orchestra, Chicago Symphony Orchestra, and Chicago Lyric Opera. She has appeared to critical acclaim at Weill Hall with Pierre Boulez as the soloist in Le Marteau Sans Maître. Her discography includes the complete Jugendlieder by Alban Berg with pianist Kuang-Hao Huang, and the 2015 Grammy-nominated As Dreams Fall Apart (Cedille Records).
Click HERE for more information about the NATS Foundation Voice Pedagogy Award. Application deadline is February 15 of the year in which the seminar will take place.