What's New > NATS Foundation 2019 Voice Pedagogy Award goes to Ann Cravero
posted on 12:20 PM, April 15, 2019
Ann Cravero is this year's recipient of the Voice Pedagogy Award from the NATS Foundation. The prize is awarded annually to a NATS member for the purpose of study on voice pedagogy and/or voice science.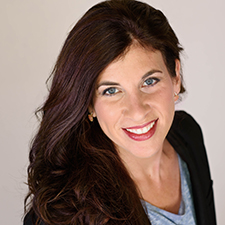 Ann Cravero
Congratulations to Ann Cravero, this year's recipient of the Voice Pedagogy Award from the NATS Foundation. The $500 prize is awarded annually to a candidate who is a member of NATS, for the purpose of study at a seminar or workshop on voice pedagogy and/or voice science. The selection was made by a committee of NATS Foundation board members.
The award will be applied toward Cravero's attendance at the Vocal Pedagogy Professional Workshop (VPPW) at Boston Conservatory (July 11-14, 2019). "As an instructor at Drake University for 16 years, my future goals include completing a certificate program in vocal pedagogy so that I may contribute more fully to the educational needs of my students both in the voice studio and in the classroom where I instruct Diction for Singers, and most recently, Vocal Pedagogy," stated Cravero. Through her current research endeavor, Cravero hopes to draw awareness to the vocal education of students on the Autistic Spectrum: Exceptional Students in the Voice Studio: Understanding and Training Students with Asperger's Syndrome.
Cravero has presented as a Speaker at a NATS Roundtable in Illinois (2015) and as a poster presenter at the National NATS Conference in Boston (2014). She has been an adjudicator of state and regional competitions since 2005, and when a student, a NATSAA district winner in 2000. She served as the Iowa State NATS Treasurer (2016-2019) and was recently elected Vice President of the chapter. Her students have been finalists in National, Regional and District Competitions in both classical and musical theater divisions.
An acclaimed mezzo-soprano, Cravero has been heard on stages in Italy, China and the United States including repeat performances at Weill Recital Hall in Carnegie Hall. Recent engagements include soloist at the Ordway Theater The Diary of Virginia Woolf directed by Håkan Hagegård (Source Song Festival), Hancher Auditorium Mahler's Second Symphony with soprano Michèle Crider, and the Overture Center To Be Certain of the Dawn coached with Stephen Paulus. As a stage director, Cravero assisted Sherrill Milnes and Maria Zouves with Don Giovanni at Estates Theater, Prague. Cravero served on faculty with the Savannah Voice Festival, and the International Lyric Academy Italy. She received Honorable Mention - Metropolitan Opera National Council Auditions, and was an apprentice with the Des Moines Metro Opera. Cravero completed her DMA in Vocal Performance at the University of Iowa. 
Click HERE for more information about the NATS Foundation Voice Pedagogy Award along with a list of past award recipients. The annual application deadline is February 15 of the year in which the proposed seminar will take place.