What's New > NATS names Amelia Rollings Bigler as first recipient of Clifton Ware Group-Voice Pedagogy Award
posted on 9:55 AM, May 24, 2022
The annual award is designed to support teachers engaging in "class-voice instruction."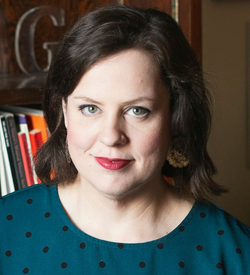 Amelia Rollings Bigler
The first-ever recipient of the Clifton Ware Group-Voice Pedagogy Award is Amelia Rollings Bigler.
Rollings Bigler currently serves as assistant professor of voice and voice pedagogy at Coastal Carolina University (CCU) in Conway, South Carolina.
Professor Emeritus (voice, voice pedagogy) of University of Minnesota Twin Cities and long-time NATS member Clifton Ware established the award earlier this year with a generous gift to NATS.
Ware designed the award to highlight the concept of "Class Voice" and its potential impact for singers through offerings in community, independent and academic settings.
To be eligible, applicants had to be active NATS members who wanted to advance the idea of learning to sing together in a group-instructional setting — formal class offerings, studio class settings, workshops, and other innovation ways.
"I am greatly honored to have been selected as the first recipient of the Clifton Ware Group-Voice Pedagogy Award," Rollings Bigler said. "Dr. Ware has done many incredible and important things to advance our knowledge in the area of group voice teaching, and I am overwhelmed to receive an award in his name. As a young undergraduate student, I was first introduced to the work of Dr. Ware through his publications in class voice and voice pedagogy. As a result, I became fascinated with group voice teaching and, like Dr. Ware, have a profound belief its value. I am excited to continue my work in this area by using quantitative, qualitative, and mixed methods research to explore efficacy and efficiency in small and large group voice teaching across a variety of styles and settings."
The award committee unanimously selected Rollings Bigler from a pool of 21 qualified applicants.
"What impressed all of us, especially me, was the extremely well-rounded qualifications Dr. Rollings Bigler had amassed," Ware said. "It seems somewhat rare within the voice profession for a singer to develop such a wide range of knowledge and skills, beginning with a love of music and singing and moving on to become proficient as a teacher, researcher-scholar, administrator, and professional colleague."
After reviewing Rollings Bigler's application, Ware added that it was even rarer for a person to develop such a profound belief in the value of group-voice pedagogy.
"I greatly appreciate Dr. Rollings Bigler's devotion to advancing this form and method of learning within the greater voice profession," Ware said. "And I applaud her contributions to date!"
Congratulations, Amelia!
---
About Amelia Rollings Bigler
Amelia Rollings Bigler currently serves as assistant professor of voice and voice pedagogy at Coastal Carolina University in Conway, South Carolina, after previously serving on the musical theatre faculty at Western Kentucky University. Rollings Bigler holds a doctorate in vocal pedagogy from the University of Kansas, and a master's degree in voice performance and pedagogy from the Pennsylvania State University. Operatic, oratorio, and musical theatre roles include the soprano soloist in Verdi's Requiem, Third Norn in Wagner's Götterdämmerung, Lady Billows in Britten's Albert Herring, Magda Sorel in Menotti's The Consul, the Witch in Humperdinck's Hansel and Gretel, and Saraghina in Yeston's Nine (Intermezzo Foundation in Brugge, Belgium).
The National Association of Teachers of Singing and The Voice Foundation selected Rollings Bigler as the winner of the 2018 Van L. Lawrence Fellowship, awarded yearly to one singing teacher engaged in empirical research. An active researcher in voice pedagogy, Rollings Bigler has presented her research in refereed symposia held by The Voice Foundation, the International Congress of Voice Teachers, the International Phenomenon of Singing, The Singing Network, the Pan American Vocology Association, the National Association of Teachers of Singing, the Fall Voice Conference, and the Ohio State Voice Forum. Her primary research interests include small and large group voice teaching, musical theatre and contemporary commercial music voice pedagogy, historical voice teacher certification and education, and the effects of shoe heel heights, head position, jaw opening, and other aspects of body alignment on acoustic and perceptual measures of singing efficiency. Rollings Bigler has published her research in the Journal of Voice, the Journal of Singing, and Voice and Speech Review.
Learn more at ameliarollingsbigler.com