What's New > Singing is a Human Right: Lessons About Equitable Access Learned From The Tacoma Refugee Choir
posted on 3:42 PM, March 19, 2020
Singing is a Human Right: Lessons About Equitable Access Learned From The Tacoma Refugee Choir
by Erin Guinup
The UN's Universal Declaration of Human Rights states in Article 27: "All persons enjoy the right to freedom of artistic expression and creativity, which includes the right to freely experience and contribute to artistic expressions and creations, through individual or joint practice, to have access to and enjoy the arts, and to disseminate their expressions and creations."
When I first heard this statement, I was struck by the realization of how many people do not experience the right to create and express themselves artistically and the implications that has for our communities.  It led to questions about how music has affected me personally and why I sing in the first place.  Like many others, music has changed my life and served as a balm of comfort during times of grief and provided motivation to do things I might not otherwise.  As I answered these questions of why I sing and how singing benefitted me, I wanted to do my small part in providing some of those benefits to others.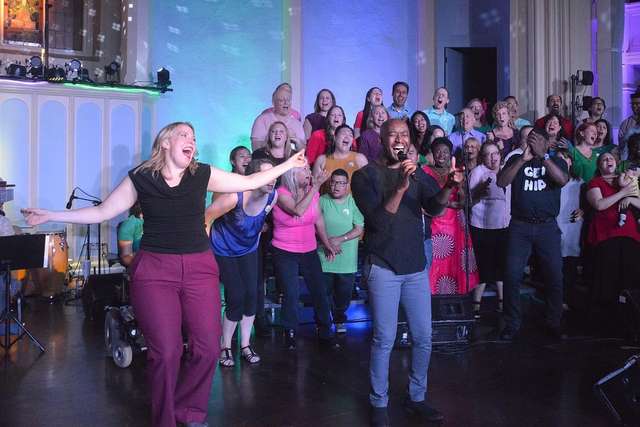 The Tacoma Refugee Choir, which I am privileged to have founded and direct, is a welcoming community of refugees, immigrants and friends who sing together united in the pursuit of love, hope and belonging.  Over the past three years, we have welcomed over 600 people from 52 countries in our non-auditioned, come-all choir.  The free program, which meets weekly and welcomes new visitors almost every time, is designed to quickly help people make friends, overcome barriers between people that might not otherwise interact in the community, and engage in a communal experience of music, food, and dance. The result is a fun, high-energy, and affirming weekly gathering that one refugee from the Democratic Republic of Congo called "my best day in America."
The experiences we have shared together have been transformative.  The biggest impact we have seen is how singing has helped provide a feeling of love and belonging.  A former refugee from Chad who had been orphaned as a young man had never sung before but found the support of many surrogate mothers in the choir who helped guide him to get a job, become a citizen, and then successfully enlist in the Air Force.  He said, "The choir healed my mistrust…the choir gave me a reason to do hard things."  A Congolese choir member said the choir "taught me how to love.  I didn't grow up with love but here, I feel so much love.  I want to help others feel this love."  A Cambodian man said, "the choir is my family.  Singing is my weekly dose of hope" and "gives me courage to use my voice in other ways."
Singing together provides us the opportunity to feel and
express and find purpose and unity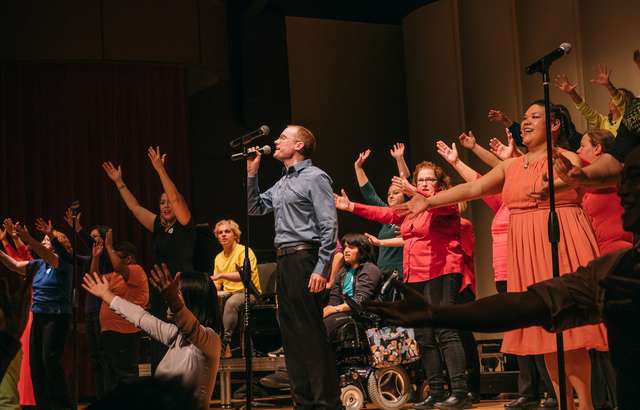 amid a world filled with negativity and divisiveness. Through singing together, we break down barriers that would inhibit the expression of love, and cultivate a family-like environment where people can express joy and pain, unite in purpose, and build friendships that can have a powerful effect on all other aspects of life.  While our focus is on creating music and friendships, we have experienced dozens of tangential benefits because of the strength of these relationships including job opportunities, help with children, tutoring support for refugees attending college, practice with English skills, cooking lessons and food support, baby showers, and even getting one young family the resources needed to avoid homelessness.
When we think of barriers to music education and music making, money is often cited as the leading obstacle but there are many other obstacles that limit individuals in equitably accessing music-making opportunities.  I naïvely thought that removing financial barriers would be sufficient to level the playing field and welcome a more diverse demographic of participants.  However, I soon learned that many other factors influence whether an individual even hears about music opportunities or walks through the door to attend concerts or feels able to engage in participating, developing, and sharing their voice.  Factors that we encountered in the Tacoma Refugee Choir include differing levels of communication skills, location of rehearsals, transportation challenges, relevance of the songs to a person's experience and needs, mistrust, power dynamics, culture and cultural expectations.  Even after these hurdles are overcome, a sense of belonging and being able to contribute in that space is crucial to retention and long-term success. 
Some of these hurdles seemed insurmountable and expensive to address but it turns out that small changes made some of the biggest differences.  For example, taking time from rehearsal and allowing choir members to share their own native songs created more of a collaborative space that both acknowledged the value of their songs and experience and opened doors for understanding.  One young woman shared a song she learned in a refugee camp and it led to an emotional conversation about desperation and where we find the strength to carry on when things are hard. 
We also took more of a song leader approach and learned many songs by rote rather than sheet music so as to utilize the strength of aural traditions that are prominent in many other cultures.  Using an aural approach encouraged more improvisation and harmony creation and freedom of sound while leading to opportunities for songwriting based on the experiences of our members.  A few members came together to write a song with the message, "Sad stories can be rewritten where fear ends and hope begins" and each performance is full of ebullient joy and connection to one another.  The catchy nature of the song enables audience members to quickly catch on and unite with the message that "Everyone can love someone" and make a difference in their own way.
The result of these adjustments has resulted in greater buy-in among members and a deeper sense of purpose and ability to contribute.  It has also helped singers to relax and sing with more confidence and support. While we still have a lot to learn yet, the process has been life-changing for both the singers and myself as we recognize the strengths of different traditions and experiences.  Our goal is not to become like one another but to connect with one another and move in the same direction as we feel, heal, and unite. 
While music may not change the world, music changes people and people change the world.  By making adaptations for the singer in front of us, even if they don't yet identify themselves as a singer, we have the privilege and opportunity as music educators to help that person experience the human right of creation and expression and to become someone able to more fully contribute their voice in our communities.