What's New > Texoma NATS Region awards first High School Vocal Music Fellowships
posted on 8:24 AM, January 31, 2023
New program provides access to private lessons
The vision of providing private voice lessons to students who otherwise cannot afford them has become a reality.
Thanks to the perseverance (and fundraising) of NATS Texoma Region members, four dynamic high school singers are now receiving private lessons from NATS members. The students were among candidates who applied online and then received a short online interview as part of the selection process.
The students selected are: Lyric Lyons from Dallas, Texas, studying with Susan Hanlon Ferrer; Josalin Bosquez from Victoria, Texas, studying with Lily Guerrero; Mari Gutierrez from Brownsville, Texas, studying with Daniel Hunter-Holly; and Aiden Moulton from El Paso, Texas, studying with Sarah Neely.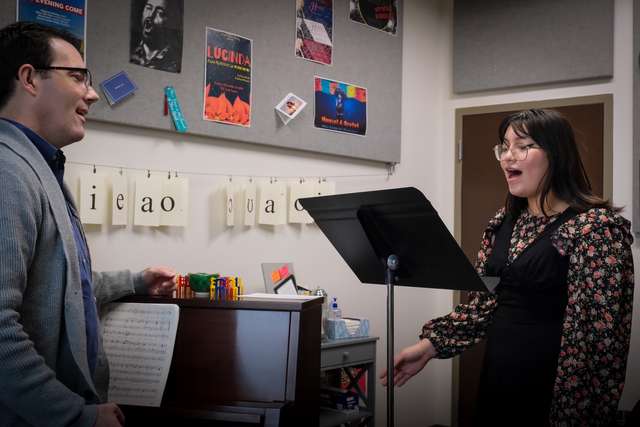 Dan Hunter-Holly working with fellow Mari Gutierrez
"Lessons with Lyric are absolutely fulfilling and weekly reminders of why I love teaching," said Susan Hanlon Ferrer. "She is a wonderful musician and an ideal student who soaks up everything we work on in lessons.
"I am thrilled to be able to help her prepare for college auditions and help her discover all of the possibilities she has ahead of her. We are working not only on repertoire, style, technique but also brainstorming ways to get gigs around Dallas and have begun songwriting. She is a complete joy to work with."
The Texoma High School Vocal Music Fellowships are designed to provide opportunity for singers who meet all of the following criteria. Candidates must:
Be high school juniors who possess a long-term goal to intensively study singing (such as majoring in vocal music in college),
Not have the financial means to take private voice lessons, and
Live in New Mexico, Oklahoma, or Texas. 
When awarded a fellowship, singers receive individual lessons at no charge with a NATS teacher. Singers also may receive assistance with music scores and materials necessary for study, recorded accompaniment tracks, and NATS National Student Audition (NSA) fees.
Texoma Region Governor Melinda Brou appointed two committees to get the Fellowship Program underway. One was a program design committee that guided the process of creating the fellowships. The other was a fundraising committee. Through emails, social media, and recital fundraisers, Texoma members have raised more than $12,000 that will pay for the lessons and leave a fund for next year's cohort of fellows.
---
If you would like to start your own chapter or region fellowship/scholarship program, contact Bob Bryan at bob@nats.org. If you are able, please consider supporting the Texoma High School Vocal Music Fellowships with a gift today.