What's New > Texoma NATS member funds fellowship to support deserving students
posted on 11:59 AM, June 20, 2023
Casey Carter believes opportunities like these can open doors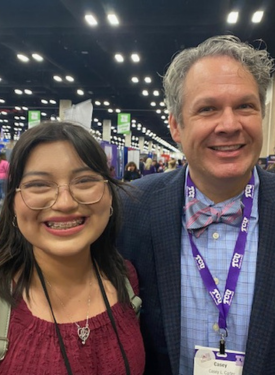 Casey Carter with fellowship recipient Maricruz Gutierrez
For Casey Carter, the vision of the National Association of Teachers of Singing (NATS) to transform lives through the power of singing goes beyond words. It's a call to action.
He has made a deliberate choice to teach in environments where his mentorship can make a significant difference. He is currently at a community college and previously at a Title 1 high school.
Carter has now decided to personally fund one of the new $2,500 Texoma High School Vocal Music Fellowships awarded to deserving students who cannot afford private voice lessons.
Carter recognizes that financial hardships can have a profound impact on young singers, shaping their future trajectories. Through these fellowships, he aims to help level the playing field and create opportunities that can change the lives of these students.
"The fellowships can go beyond the initial lessons, layering opportunities — lessons, summer camps, participation in all-state choir, mentorship on college auditions," Carter says. "These fellowships can open doors to talent-based scholarships and even enable students to graduate from college without debt."
Carter envisions that this support may pave the way for students to become future greats in the field of singing and teaching, ultimately impacting future generations.
To help fund these fellowships, Carter decided to teach an extra class.
"I said, 'Okay, what would it take to just make that donation?' and so I thought I'm just going to teach an extra course and that little bump goes to NATS every month," he explains. "And it is a commitment. I'm going to continue to do that because it's important."
In Carter's view, these fellowships align with the values of NATS and provide equitable access to the transformative power of vocal arts.
"It's that warm welcome and that warm extension to introduce them to someone who will have their best interest at heart," he says. "They are not just a number coming through your screen at auditions."
Carter believes what NATS does is important.
"To some people NATS is just about the auditions where you go and sing for your comments, but it's so much more than that," he adds.
Carter's story exemplifies the passion and commitment that many members bring to the NATS community. Their dedication ensures that the vision of transforming lives through singing becomes a tangible reality for aspiring vocal artists.
Learn more about the Texoma High School Vocal Music Fellowships.
You may donate to the Fellowship Program below.