What's New > Winners announced in 12 categories of National Student Auditions
posted on 4:18 PM, July 7, 2014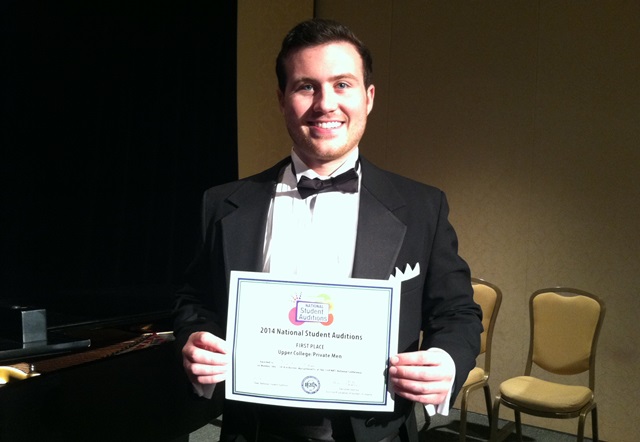 Category IX Winner Mark Thress
BOSTON – The inaugural National Student Auditions program is complete, with winners named in each of the categories at the Boston Marriott Copley place on Monday afternoon.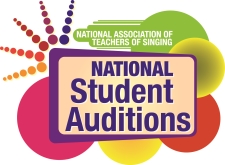 The final two rounds of the competition were held during the 53rd National Conference of the National Association of Teachers of Singing. At least three finalists in each category competed for the top award on Monday, which is funded by NATS. Winners in the upper categories received $2,000, with second place receiving $1,000. Lower division winners earned $1,000, with second-place collecting $750.
More than 150 students participated in the semifinal round, which was held Sunday at Boston Conservatory.
A complete list of winners is below:
Category I – High School Music Theater Men
1st Place - Jonah Hoskins
2nd Place - Leo Plante
3rd Place - Alex Kosick
Category II – High School Music Theater Women
1st Place - Nina White
2nd Place - Gabrielle Corsino
3rd Place (tie) - Katie Glasgow
3rd Place (tie) - Emma Rothfield
Category III – High School Men
1st Place - Trevor Rayhons
2nd Place - Zachary Futch
3rd Place - James Hoskins
Category IV – High School Women
1st Place - Anja Pustaver
2nd Place - Anna Ginther
3rd Place - Brenna McFarland
Category V – College/Private Music Theater Men
1st Place - Nathaniel Sullivan
2nd Place - Jeremy Brown
3rd Place - Nate White
Category VI – College/Private Music Theater Women
1st Place - Angela Gilbert
2nd Place - Rebecca Rafla
3rd Place - Deanna Guiletti
Category VII – Lower College/Private Men
1st Place - Eric Grendahl
2nd Place - Isaac Pulchinsky
3rd Place - Nicholas Levy
Category VIII – Lower College/Private Women
1st Place - Megan Callahan
2nd Place - Anna Tescher
3rd Place - Joylyn Rushing
Category IX – Upper College/Private Men
1st Place - Mark Thress
2nd Place - Cody Muller
3rd Place - Lawrence Mitchell-Matthews
Category X – Upper College/Private Women
1st Place - Kathryn Henry
2nd Place - Chelsea Davidson
3rd Place - Emily Siar
Category XI – Graduate/Advanced Men
1st Place - Antonio Charles
2nd Place - Joshua Powell
3rd Place - Stephen Brody
Category XII – Graduate/Advanced Women
1st Place - Ashley Mispagel
2nd Place - Chelsea Smith
3rd Place - Maria Beery