NATS 54th National Conference - Join us in Chicago!
July 8 - 12, 2016
Program Special Events Marketing Hotel/Transportation Registration Competitions
Conference Site
Marriott Magnificent Mile
540 North Michigan Ave., Chicago, IL  60611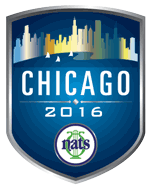 The biennial NATS National Conference attracts NATS members and others from around the world to share in programs, demonstrations, lectures, master classes and competitions that help celebrate the art of singing and increase knowledge of teachers to help them better assist their students. The 54th NATS National Conference will be held July 8-12, 2016, at the Marriott Magnificent Mile in Chicago.
The Marriott Magnificent Mile is a renowned hotel on Chicago's famed mag mile combining the epitome of luxury and convenience at the Marriott Downtown Chicago Magnificent Mile Hotel, a Windy City landmark on Michigan Avenue. Situated amongst world-class shopping and dining, this Chicago, Illinois hotel is in walking distance of top attractions, including Navy Pier, American Girl Place, Millennium Park, Theater and Museum Districts. 
Conference News 
July 2015 - Reneé Fleming will attend Chicago conference as featured artist, guest presenter
October 2014 - Coordinating Committee for 54th National Conference announced
September 2014 - NATS issues call for presentations for sessions at 2016 National Conference
Support NATS and Volunteer!
We depend on our volunteers! Members, students, and friends are invited to assist us in all areas of event operation for the 54th National Conference in Chicago. This is a great way to meet new people and have fun during the conference! Thank you to our past volunteers who have committed their service to NATS, and to our future volunteers.
SNATS members or student volunteers who contribute 15 hours will receive a complimentary student registration for the conference ($125 value). NATS Teachers are encouraged to help their students sign up for this educational opportunity.
ALL VOLUNTEERS will receive a limited edition NATS t-shirt and the satisfaction of knowing you played an important role at the national conference.
Lots of choices! Volunteer your time in Registration; as a Session Monitor; as a Welcome Ambassador; as Volunteer Support Staff; or you can volunteer in several areas.
If you would like to join us in Chicago and volunteer next year, please register to volunteer and fill out the online form by clicking on the REGISTER button below. Our Volunteer Coordinator, Robert Heitzinger, will email you about scheduling your volunteer days and times in the spring of next year. We look forward to meeting you in Chicago!