Program Special Events Marketing Hotel/Transportation Registration Competitions
Advertise! Exhibit! Sponsor!
Sponsorship/Marketing Information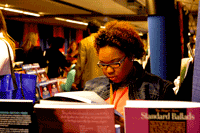 Join members of National Association of Teachers of Singing and other voice professionals for five days of networking, master classes, technology and information sessions, pedagogy discussions, competitions, concerts, recitals, and so much more!  More than 1,000 attendees will include teachers, students, collaborative pianists, doctors, scientists and other voice enthusiasts from around the world — all gathered to celebrate the art of singing and increase knowledge for teachers.  
Make your plans to exhibit at the NATS 54th National Conference. Take this opportunity to promote your products and services to more than 1,000 voice professionals at the Marriott Magnificent Mile, a renowned hotel on Chicago's famed mag mile combining the epitome of luxury and convenience. Situated amongst world-class shopping and dining, this hotel is within walking distance of top attractions, including Navy Pier, American Girl Place, Millennium Park, Theater and Museum Districts.
2016 Advertising/Sponsorship Kit: View or download  l  Rate Card Only
Learn more about: Advertising  l  Sponsorship  l  Exhibitors  l  Exhibitor Showcase  l  NATS Bonus Program
Reserve your space/advertisement in Chicago
CANCELLATIONS: Written notice of cancellation of any reserved space must be received by NATS prior to April 1, 2016. The full amount paid to NATS will be refunded less a $50 processing fee. Cancellations received after exhibit space is assigned are not eligible for refund. All refunds will be issued after the event has concluded.
NATS Bonus Program
Did you know that the more you spend to advertise, sponsor or exhibit at the 2016 NATS National Conference, the more you get in return? See the chart below to see what benefits can be earned by supporting NATS in Chicago! 


Spend $1,500
And You Receive for FREE      

1-month NATS.org Sidebar Web Ad
(Value $250)


25% off any NATS e-blast
(Value up to $335)

Spend $2,500
And You Receive for FREE

2-month NATS.org Sidebar Web Ad
(Value $500)


50% off any NATS e-blast
(Value up to $670)


Inter Nos full-page ad
(September and February issues)

Spend $3,500
And You Receive for FREE

3-month NATS.org Sidebar Web Ad
(Value $750)


75% off any NATS e-blast
(Value up to $1,000)


NATS mailing list (1-time use)
(Value up to $850)


Inter Nos full-page ad
(September and February issues)
Why should you come?
To Increase your brand recognition in the voice educator community.


To have your company logo and description in the conference program book.


To learn about new developments in voice instruction and science.


To meet colleagues and prospective customers at professional development sessions and networking events.


To show your support for the world's largest professional organization dedicated to the field of voice pedagogy and the art of singing.


To see the future of voice and performance through the more than 300 student performers who will be on site and participating in competitions during the five-day event.
Contact Information
Need more information or can't find your answers here?
Contact Deborah Guess, Director of Operations, at 904-992-9101 or email at deborah@nats.org.